Black Widow's Rotten Tomatoes Score Has People Talking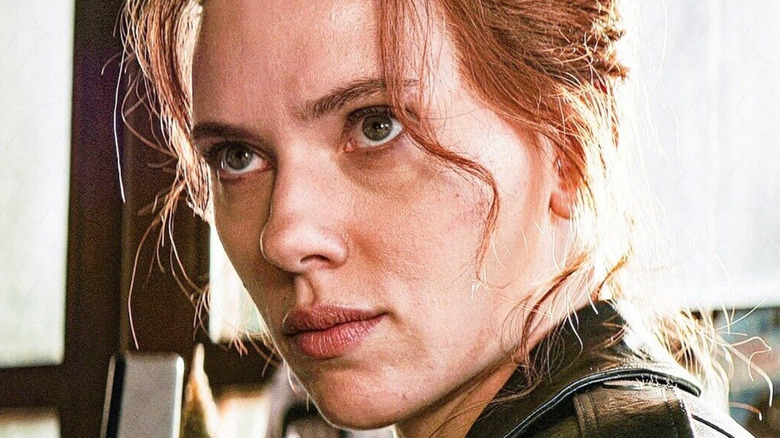 Marvel Studios/Disney
For the most part, the fourth phase of the Marvel Cinematic Universe has taken root on the small screen. "WandaVision," "The Falcon and the Winter Soldier," and "Loki" have all dazzled fans through Disney+ in the comfort of their own homes — only recently being joined by a feature-length counterpart. The long-awaited "Black Widow" solo movie arrived on July 9 via Disney+ Premier Access as well as theaters across the globe. Not only does this put an end to the COVID-19 imposed MCU movie draught, but it goes a long way in exploring one of the franchise's most prolific yet underdeveloped characters.
Set between the events of "Captain America: Civil War" and "Avengers: Infinity War," "Black Widow" puts Natasha Romanoff's (Scarlett Johansson) past, present, and future on full display. She's on the run from the United States government, confronting her bloody, shameful past working for General Dreykov's (Ray Winstone) Red Room, and figuring out what she'll do next with the Avengers going their separate ways. This premise prompted fans to turn out in droves for the film's preview night on July 8, raking in $13.2 million and leading many to believe it's well on its way to $80 or $90 million in its opening weekend alone.
Aside from its financials, "Black Widow" has also been critically evaluated numerous times as of late. Here's what the review aggregator Rotten Tomatoes has to say about Natasha Romanoff's first standalone adventure.
Black Widow has fared well with the majority of viewers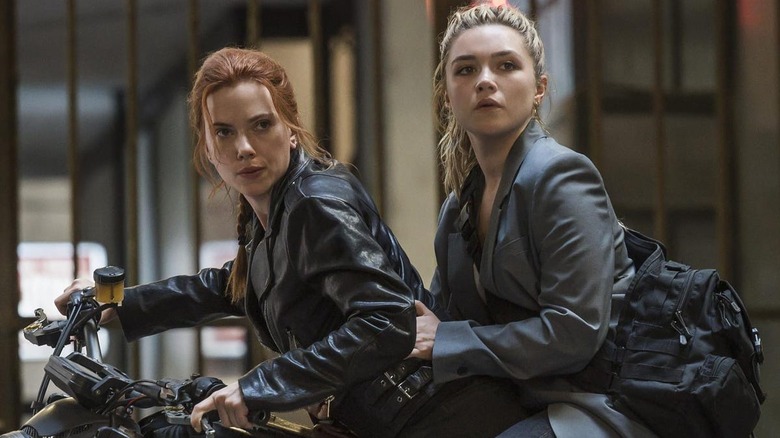 Marvel Studios/Disney
Thus far, "Black Widow" has impressed viewers of all backgrounds. It currently stands at an 80% Certified Fresh critical score, with a consensus that reads, "Black Widow's deeper themes are drowned out in all the action, but it remains a solidly entertaining standalone adventure that's rounded out by a stellar supporting cast." On the other hand, general audiences were a bit more forgiving, amounting to a solid 92% audience score. Over time, these percentages will likely shift and change, but right out of the gate, they're nothing to be ashamed of.
As far as critical reviews go, the vast majority were positive. Karen M. Peterson of Citizen Dame lamented that Nat's time in the spotlight was long overdue, but "what director Cate Shortland has given us in Black Widow is better late than never." Matthew Jackson of The Huntsville Item also gave "Black Widow" high marks, praising its intense action and the delightful cast of heroes, in particular, and regarded it as an "emotionally satisfying, forward-looking Marvel story."
When it comes to the fans, they weren't shy about sharing their thoughts on the movie either. One user cited Florence Pugh and David Harbour's performances as Yelena Belova and Alexei Shostakov as highlights, adding that they "Can't wait to see where they go from here!" Fellow Rotten Tomatoes user Melvin Crews wrote that while "Black Widow" isn't necessarily one of Marvel Studios' best solo movies, "it definitely has a heart and soul to it that must be viewed."
Meanwhile, not everyone who gave "Black Widow" a try wasn't as enthused as the majority. Maya Phillips of The New York Times felt that Natasha "never feels more than just a footnote in the story," and the flick as a whole was a needless detour in the grand scheme of the MCU. This disinterest extends to non-critics, too, as evidenced by Vicki S.'s comment that "Black Widow" falls into the same, explosive Marvel formula in its third act. They cap off their review with the note that "I feel bad for all of the fans who wanted a Black Widow movie for so long. They deserved better."
All things considered, "Black Widow" is shaping up to be another hit for Marvel Studios — one you won't want to miss on the big screen.