The Scene That Denzel Washington Refused To Do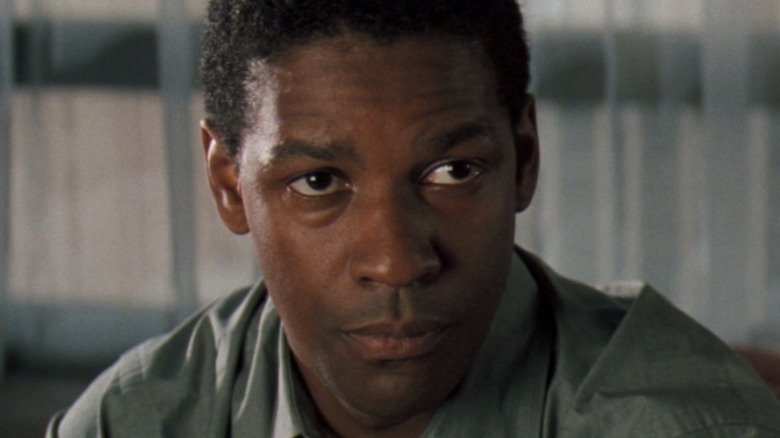 Warner Bros.
At this point, Denzel Washington has enough power as an actor, producer, and general famous person to ensure that when he says he wants a scene out of a movie, it's gone. Washington is particularly set against a certain type of scene. He's consistently refused to kiss white women on screen, but his opposition doesn't come from a personality clash or sense of prudishness. And in the most famous case, it also doesn't stem from discomfort on the part of Washington's scene partner: She was definitely up for shooting love scenes with Washington.
The best-known incident in which Washington refused to have a film show his character kissing a white woman was in 1993's legal-thriller-slash-mystery "The Pelican Brief," starring Washington as Gray Grantham, a reporter with the Washington Herald, and Julia Roberts as Darby Shaw, a law student at Tulane University. It's unclear whether the romantic scenes between Washington and Roberts' characters were ever shot, but they definitely didn't make the final cut of the film.
Many people believed the discomfort came from Roberts, but she later refuted this (via Newsweek). It also wasn't the first — or last — time Washington pushed to cut an interracial kiss. This is why Washington refused to kiss Julia Roberts in "The Pelican Brief," and what his co-star and would-be scene partner had to say about it.
Denzel Washington reportedly worried about upsetting his Black female fans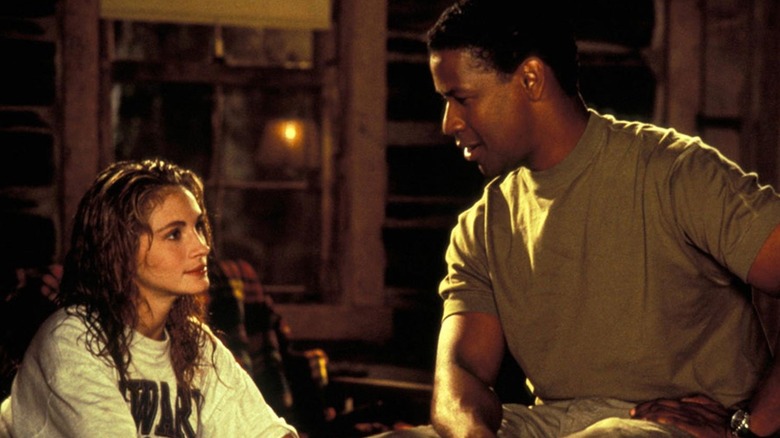 Warner Bros.
By the time Denzel Washington appeared opposite Julia Roberts in "The Pelican Brief," he'd had a love scene between himself and a white woman cut from a movie — specifically, a scene with Mimi Rogers in the 1989 thriller "The Mighty Quinn." According to Newsweek, Washington made the decision after several Black women booed the kiss at a screening.
Washington and Roberts may have shot love scenes for "The Pelican Brief," or Washington might have already been so firm in his stance that he had the scenes cut from the script before filming. However, it seems that there was lingering confusion amongst the public about whose idea it was to take the scenes out.
In a 2002 Newsweek profile of Washington for which Roberts was also interviewed, she said that she'd been asked numerous times why she didn't want to kiss Washington in "The Pelican Brief." She explained, "Don't I have a pulse? Of course I wanted to kiss Denzel. It was his idea to take the ... scenes out."
In the same piece, Washington explained that he didn't want to alienate his predominantly Black female fanbase by showing a Black man being intimate with a white woman rather than a Black woman. "Black women are not often seen as objects of desire on film," Washington said. "They have always been my core audience."
Denzel Washington has had other interracial love scenes cut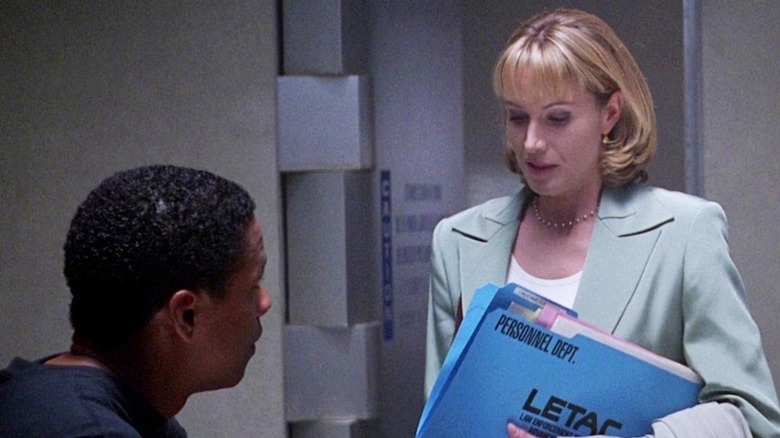 20th Century Studios
After "The Pelican Brief," there are two more instances in which Washington reportedly had interracial love scenes cut from his movies. The first was with Kelly Lynch in the 1995 sci-fi movie "Virtuosity." In this case, at least according to Lynch, Washington had a different motivation. Lynch told the Washington Post that Washington reportedly said to her, "You know what, Kelly? I hate to say it, but, you know, white men bring women to movies, and they don't want to watch a Black man with their woman."
Whether his reasoning had changed, Washington was sticking to this policy nearly a decade later. In 2004, love scenes between Washington and white actress Radha Mitchell were cut from the thriller "Man on Fire." It wasn't clear whether Washington initiated the decision, but given his history with these types of scenes, it seems plausible. Per USA Today, a representative from distributor Fox denied that there was "any agenda" behind the removal of the scenes.
However, more recently, Washington has shot love scenes with women who aren't Black, and they appear in the final cut of the movie. In 2012's "Flight," Washington has love scenes with Puerto Rican actress Nadine Velazquez and white actress Kelly Reilly.