Sweet Girl Trailer: Get A Look At Jason Momoa's Newest Movie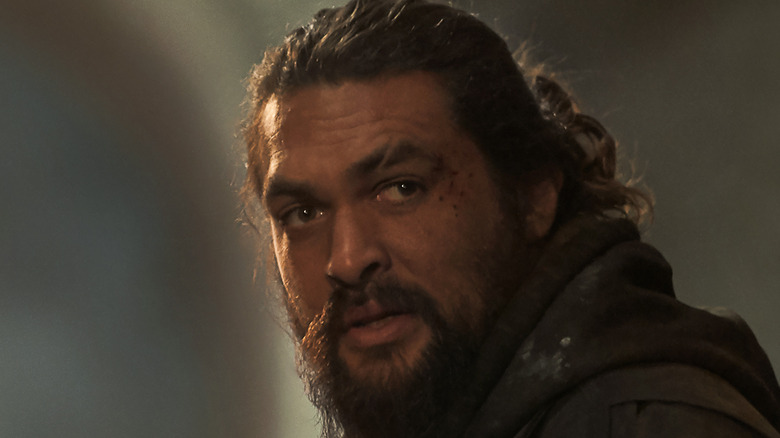 Clay Enos/Netflix
Does an action movie about a man getting revenge on the people he holds responsible for his wife's death sound like an original idea for a movie? No. Does Netflix's "Sweet Girl" look really cool anyway, because it seems to be putting a bit of a creative spin on some action movie tropes and stars one of our most likeable beefcakes, actor Jason Momoa? Absolutely. "Sweet Girl," which just got an exciting new trailer, will be released on Netflix on August 20. Here's Netflix's official synopsis: Devoted family man Ray Cooper (Momoa) vows justice against the pharmaceutical company responsible for pulling a potentially life-saving drug from the market just before his wife (Adria Arjona) dies from cancer. But when his search for the truth leads to a deadly encounter that puts Ray and his daughter Rachel (Isabela Merced) in harm's way, Ray's mission turns into a quest for vengeance in order to protect the only family he has left."
The trailer features Guns N' Roses' classic hard rock hit "Sweet Child O' Mine," Khal Drogo in Carhartt because this story is set in Pittsburgh, and Momoa tackling a guy through a hotel window with such force that the balcony railing also breaks and they fall onto a car in the parking lot.
Sweet Girl is a Netflix revenge thriller
"Sweet Girl" looks to have some interesting deviations from the usual revenge thriller blueprint. For one, the daughter who Ray is protecting already knows how to fight. Rachel is seen working out at a mixed martial arts gym and jumping onto the back of a guy trying to stab her father. She's played by Isabela Merced, best known for her roles in "Instant Family" and the live-action "Dora the Explorer" movie. It also gestures toward social relevance by making the bad guys a pharmaceutical company. And the speed with which Momoa and the guy he's fighting go through the window hint that the action will be pretty brutal.
In addition to Momoa and Merced, the cast includes "6 Underground" star Manuel Garcia-Rulfo, "Veep" scene stealer Nelson Franklin, and Justin Bartha from "The Hangover" as a smarmy pharmaceutical executive. The film is directed by Brian Andrew Mendoza, who, per Variety, is making his feature debut after working as a director of photography on films like "Braven," another violent action thriller in which Jason Momoa fights to protect his family from bad guys. The screenplay was written by Philip Eisner, Gregg Hurwitz, and Will Staples. In addition to starring, Momoa also serves as a producer through his company Pride of Gypsies.
"Sweet Girl" will be released exclusively on Netflix on August 20.