The Cameo Everyone Forgets Aaron Rodgers Made On The Office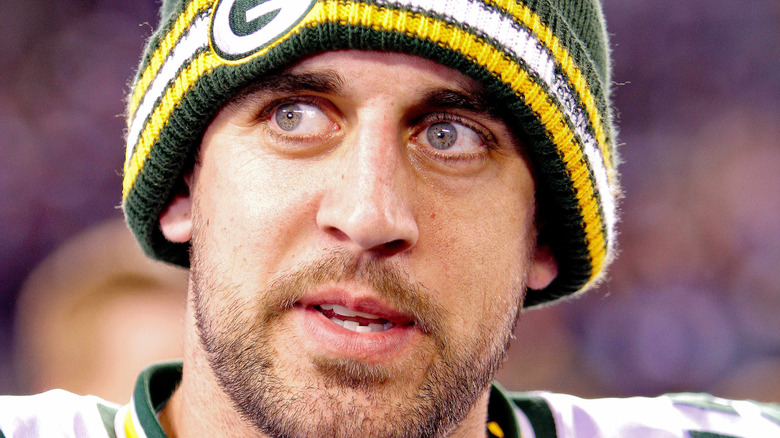 Shutterstock
With a nine-season run, a cast of lovable characters, and countless moments that evoke laughter and tears, "The Office" is a much-beloved workplace comedy among fans. The American version created by Greg Daniels is based on the Ricky Gervais-led British show, and has become such a hit that merely mentioning "Dunder Mifflin" will probably elicit numerous quotes and discussions of memorable comedic scenes from the show. Upon premiering in 2005, "The Office" went on to bolster the career of Steve Carell, as he earned numerous Emmy and Golden Globe nominations for his role as Michael Scott. But besides becoming a comedic hit and supporting the careers of its cast, "The Office" also played host to some notable celebrity cameos.
"The Office" has an impressive cameo list that includes stars like Will Ferrell as the unforgettable DeAngelo Vickers and former late-night talk show host Conan O'Brien, who appears in the series as himself. However, "The Office" didn't just pick from Hollywood for its cameos — it also opened an invite to Green Bay Packers Quarterback Aaron Rodgers. The NFL athlete might be known for his arm, but he also shows off his judging skills in a special episode of "The Office."
Aaron Rodgers judged Andy Bernard's singing abilities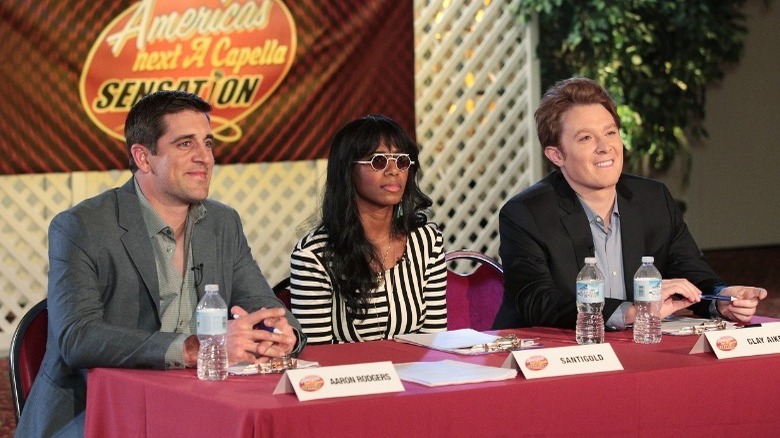 NBC/Getty Images
In the episode "A.A.R.M." (via Peacock), Andy Bernard (Ed Helms) leaves Dunder Mifflin to audition for "America's Next A Capella Sensation." Things don't progress well for Andy, as he sneaks past security to sing in front of the judges despite being told that he can't audition. It's a hilarious scene thanks to the comedic performance of Helms, whose character fails in front of the judges and completely breaks down. The panel of judges also help elevate the scene, and next to actual musicians Clay Aiken and Santigold sits Aaron Rodgers. 
It's anyone's guess as to what makes a pro quarterback qualified to judge a singing contest, but Rodgers does get to say the line "flag on the play," and that's got to be worth the cameo alone. 
As for how Rodgers wound up on the episode, it's thanks to Brian Baumgartner, who plays Kevin Malone on the show. In an interview with the Office Tally, the episode's director David Rogers said that Baumgartner is buddies with Rodgers and simply asked the quarterback if he wanted to come on the show. The rest, as they say, is history.