The Terrifying First Trailer For American Horror Stories Has Arrived
The "American Horror Story" franchise has always been an anthology. Since the Ryan Murphy-created series first season aired in 2011, each installment has told unnerving, spooky tales in a variety of settings: a haunted house, a witch coven, a circus, the literal end of the world, and more. But those seasons consisted of stories that spanned several episodes, drawing out their twisted narratives over several weeks. 
That won't be the case in the upcoming series "American Horror Stories." While it will also be an anthology, this spin-off consists of standalone stories that will unfold over the course of just one episode. The show's large ensemble cast will consist of longtime Murphy collaborators like Billie Lourd and John Carol Lynch, as well as newcomers such as Aaron Tveit and Madison Bailey.
On July 8, FX on Hulu released the first trailer for "American Horror Stories," and it looks like fans should strap in for a wild ride.
Condensed scares, familiar monsters, and an evil Santa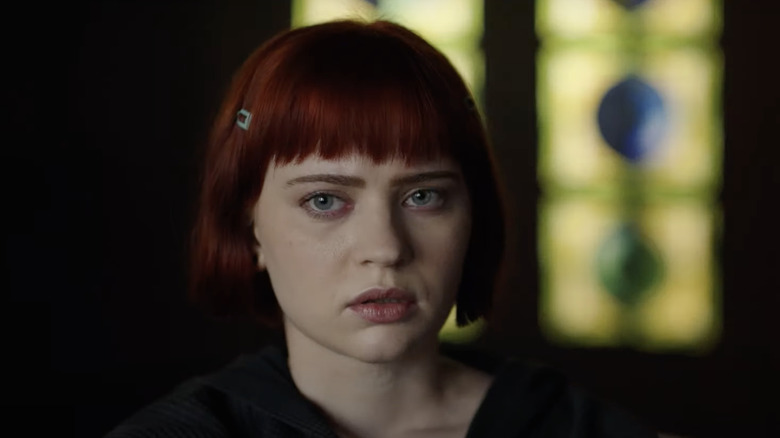 FX on Hulu/YouTube
The first season of "American Horror Story" centered around a haunted house, and fittingly, the "American Horror Stories" trailer opens on a group of friends in the infamous Murder House. From there, the trailer offers previews of the standalone tales we can expect, from stories involving demons and witchy spells to a tale about a murderous Santa Claus.
Like previous installments in the franchise, "American Horror Stories" will also draw from real-life events to influence its scares. For instance, the trailer provides a sneak peek at Amy Grabow as Tipper Gore, who in 1985 co-founded the Parents Music Resource Center, a committee that sought to put warning labels on explicit music. Through the footage, fans also get confirmation that legendary "American Horror Story" villains such as the Rubber Man will return in a new form; in fact, the first episode of "American Horror Stories" is titled "Rubber (Wo) man."
While it seems fans will recognize many trademark elements of the original franchise here, it also looks like Murphy and his team will continue to provide fun, innovative scares in this upcoming anthology.
"American Horror Stories" is scheduled to debut on FX on Hulu on July 15.