Robin Robin - What We Know So Far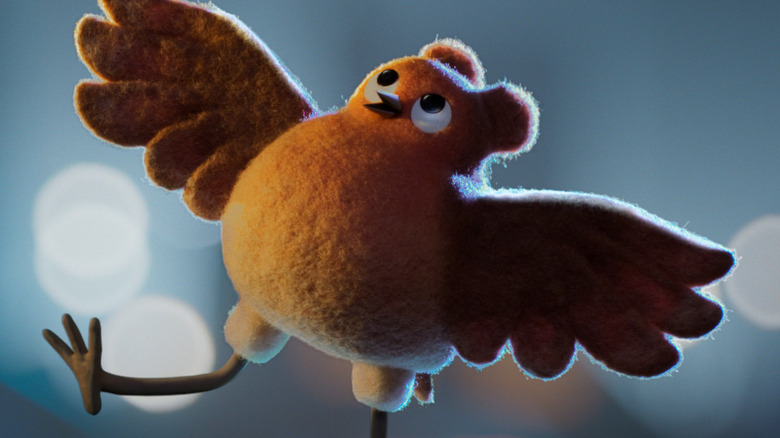 Netflix/Aardman Animation
It looks like Netflix is already preparing for their holiday offerings, and one upcoming animated film is sure to pull at the whole family's heartstrings. Called "Robin Robin," the new movie was announced back in late 2019 as the first project teaming up the streaming platform with Aardman Animations.
Aardman is a British animation studio whose work is very recognizable and renowned, with 2006's "Wallace & Gromit: The Curse of the Were-Rabbit" winning an Academy Award, BAFTA, Annie Award, and more, with other Aardman films like "Chicken Run" and "Arthur Christmas" also grabbing a few awards. Thankfully, this is only the start for this team up, as Netflix and Aardman are also producing a sequel to "Chicken Run" and a "Shaun the Sheep" Christmas special (The Hollywood Reporter).
The upcoming film "Robin Robin" will be a family-friendly animated movie at about 30 minutes long. The movie uses the same stop-motion animation style that Aardman is known for, showcasing an original story of a Robin raised by a family of mice. Here's everything we know so far about "Robin Robin."
When is Robin Robin coming out on Netflix?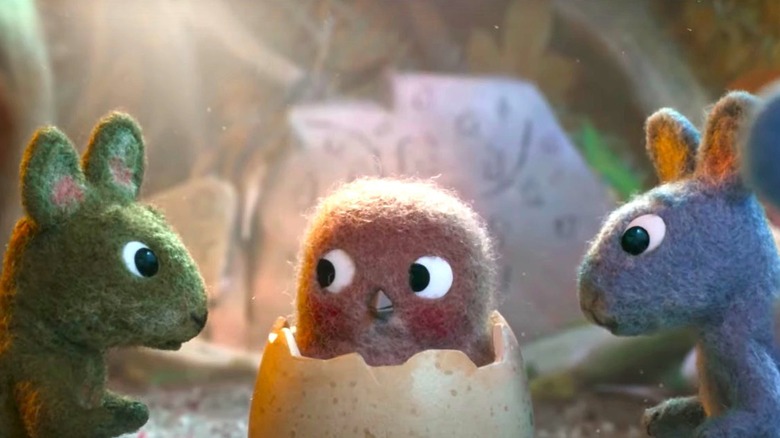 Netflix/Aardman Animation
After watching the cute teaser trailer, you're probably eager to know when you can watch "Robin Robin" on Netflix. The scheduled release date for "Robin Robin" is November 27, 2021. While it's a few months away, it comes at the perfect time, right at the beginning of the holiday season. When the project was first announced back in 2019, Variety reported that the movie had a planned release date of late 2020, but that obviously didn't happen. As stop-motion animation is much more hands-on than computer animation, the pandemic likely had a major effect on production for "Robin Robin." Although it's a year later, it's good that Aardman Animation took the time needed to produce a great short film, instead of feeling forced to rush because of the delay. 
The holiday season is a major time for movie releases, especially family features, as a lot of children have breaks from school that encourage the whole family to do activities together like going to the movies. Two highly anticipated films coming out in November are "Ghostbusters: Afterlife" and "Top Gun: Maverick," while December 2021 features the release of "West Side Story," "Spider-Man: No Way Home," "Sing 2," and more.
Who is in the cast of the animated film?
Netflix/Aardman Animation
"Robin Robin" has an all-star cast voicing the adorable characters. Bronte Carmichael voices the title character, Robin, who is raised by a family of mice and desperately wants to prove that she's just like her siblings. Meanwhile, Gillian Anderson plays the villain of the story, Cat, and you can guess what kind of character she might be. The creators of "Robin Robin" revealed further details about the film at the Annecy International Animation Film Festival as reported by THR, describing Cat as a "large Maine Coon-like feline." Richard E. Grant will voice Magpie, "an obsessive collector of shiney 'stuff' who takes Robin under his 'wing', on the journey–and whose character was inspired by Grant's Whithnail." As for Robin's mice family, there's Dad Mouse, voiced by Adeel Akhtar, as well as Pip, twins that share the same name, Flynn and Flynn, and her youngest mouse sibling, Dink, voiced by Amira Macey-Michael. 
What is Robin Robin about?
Netflix/Aardman Animation
According to Netflix's official plot summary, Robin's life with the mice starts "when her egg fortuitously rolls into a rubbish dump." She hatches and is adopted by Dad Mouse and his children, who treat Robin as if she were also a mouse. Still, Robin can't help but feel different, and she develops a strong drive to prove herself. The more she grows up, the bigger her differences to her family seem. An opportunity to show how great of a mouse she can be comes up, as "Robin sets off on the heist to end all heists to prove to her family that she can be a really good mouse – but ends up discovering who she really is." 
It was also revealed at the event in Annecy that Robin has a love of singing, and she can be quite loud. This is obviously an issue when the mice need to be quiet to sneak around and steal things. Robin also feels the extreme competitiveness and sibling rivalry that can be found in every family, which is another reason she so desperately wants to succeed at the heist. Considering that "Robin Robin" is being released around the holidays and the snow present in the teaser trailer, there will likely be some reference to the holiday season in the story as well, though it's unclear how big of a role it will play.