Netflix's Chicken Run 2 - What We Know So Far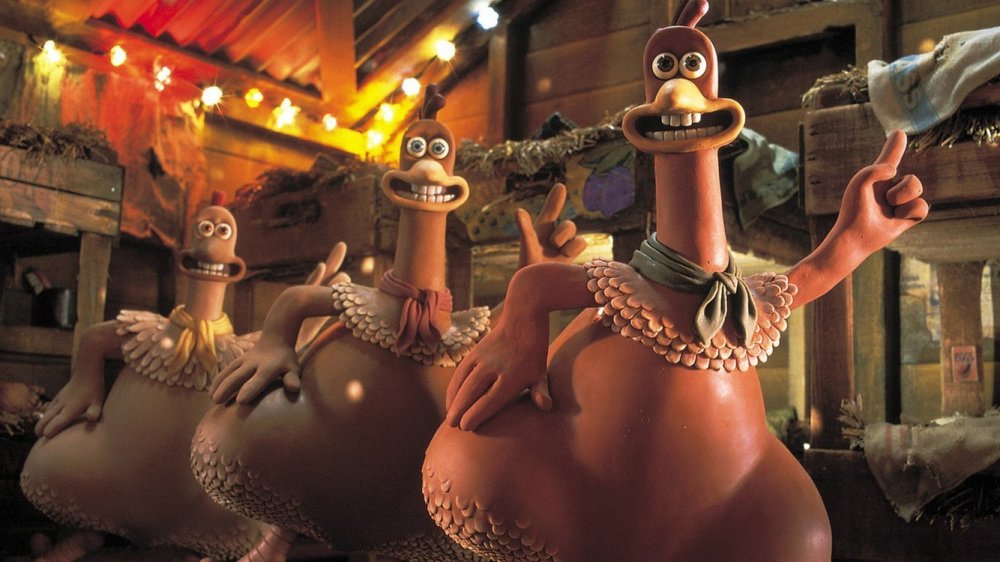 DreamWorks
Way back in 2000 — when boy bands ruled the world, everyone was still trying to get their heads around how the internet works, and computer-animated features were really starting to come into vogue — there was one animation studio bucking that last trend with a vengeance. British animation house Aardman had made its name over the prior decade with a series of acclaimed, hilarious shorts featuring Wallace and Gromit, a cheese-loving British man and his anthropomorphic dog. The studio partnered up with DreamWorks to co-finance and distribute its feature film debut: Chicken Run. 
Animated in the same stop-motion, claymation style as Aardman's shorts, 2000's Chicken Run centers on a hen named Ginger (Julia Swahala) and a rooster named Rocky (Mel Gibson) attempting to save themselves and their feathery brethren from being turned into meat pies at the hands of their farm's owners, the Tweedys.
As the Wallace and Gromit shorts were only enjoying a small cult following stateside at the time, observers could be forgiven for not expecting much from Chicken Run. But the $45 million feature ended up raking in a whopping $225 million at the worldwide box office — winning over audiences with its heart, slapstick humor, and surprising amounts of riveting action. To this day, Chicken Run is the highest-grossing stop-motion animated feature of all time, and we've always wondered why such a beloved and successful picture never got a sequel.
Well, wonder we will no more. On June 23, 2020 — 20 years to the day after the original movie's release — Netflix and Aardman announced via Twitter that Chicken Run 2 is on the way, with production expected to begin in 2021. To say we're eggs-cited would be an understatement; it'd be more accurate to say we're eggs-static. 
There isn't much concrete information out there for the time being, and the sequel movie is likely a way's off, but here's everything we know so far about Chicken Run 2.
What's the release date for Chicken Run 2?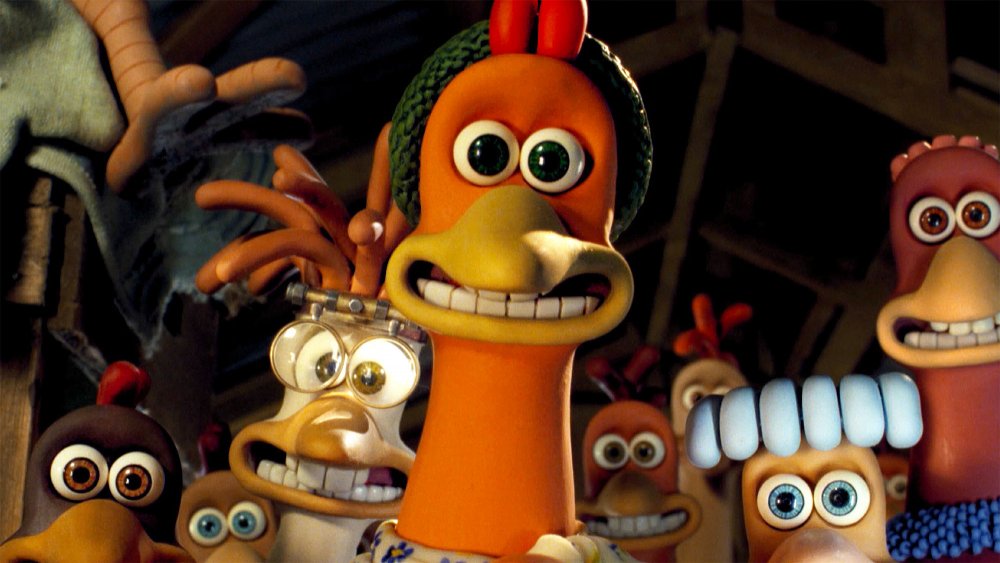 DreamWorks
Since Chicken Run 2 hasn't even entered production yet and no official release date has been announced, all we can do is speculate as to when we might see it hit Netflix.
Assuming that the wheels start turning on the sequel relatively early in 2021, we still wouldn't expect Chicken Run 2 to be completed any time before mid-2022. Animation in general is time-intensive — stop-motion even more so. Consider that each frame of the film must be shot individually, with each plasticine model being adjusted ever-so-slightly between each frame; roughly 24 frames equals one scant second of footage (via National Film Board of Canada). Working in this fashion, it took the original film's animators entire days to produce just a few seconds of film; doing a little math allows us to estimate that roughly one minute of footage could be produced per week. Considering Chicken Run ran just over 80 minutes, a year-long production for the sequel would be wildly optimistic.
Having said that, Netflix seems to like keeping turnaround times reasonably quick, and with two decades of additional experience under its belt since producing Chicken Run, Aardman should be able to work at a good clip. Also, there's currently no information available about the budget for Chicken Run 2, but the more cash Netflix is willing to throw at the project, the more animators Aardman will be able to enlist — and the quicker the sequel will get in front of our faces.
There are a lot variables at play here, but we'd expect Chicken Run 2 to hit Netflix by around Christmas 2022. You may want to bookmark this page, though, because we'll be updating it with an official release date as soon as there's an announcement.

Who's in the cast of Chicken Run 2?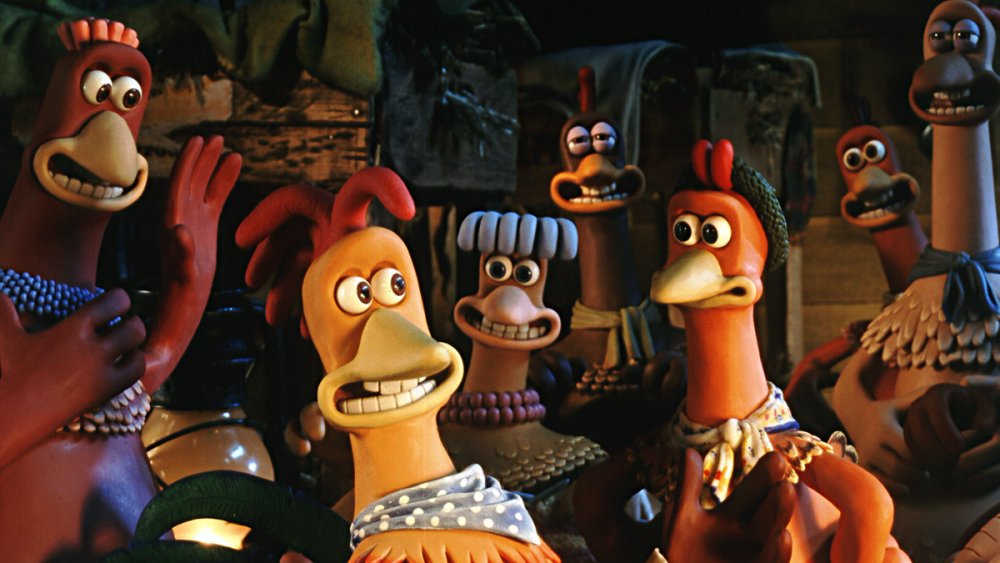 DreamWorks
The original Chicken Run sported a largely British cast (go figure), with Gibson being an American voice actor that stuck out among them. While the Chicken Run 2 announcement didn't mention whether any original cast members would be taking part in the sequel, we feel fairly confident in stating that virtually the entire British cast should be a lock to return ... an Gibson should not. In fact, it's already being reported that the role of Rocky will be recast (via The Wrap).
In June 2020, Gibson hit the news cycle when it was reported that he made homophobic and anti-Semitic remarks at a party in 1995 in the presence of Winona Ryder, who is Jewish. This is far from the only time Gibson has come under fire for such things, and while his career and image have been rehabbed a bit in recent years (he was even nominated for an Oscar for directing 2016's Hacksaw Ridge), it's pretty easy to parse out why Aardman and Netflix would be keen to avoid having him involved with Chicken Run 2.
Aside from Gibson and Swahala, the cast of Chicken Run also included Miranda Richardson (Rita Skeeter in the Harry Potter series), Imelda Staunton (Downton Abbey), and Timothy Spall (The King's Speech). Unfortunately, the roles of Mr. Tweedy and Fowler the rooster will also need to be recast; their respective voice actors, Tony Haygarth and Benjamin Whitrow, have both passed away in the years since the first film's release.
What's the plot of Chicken Run 2?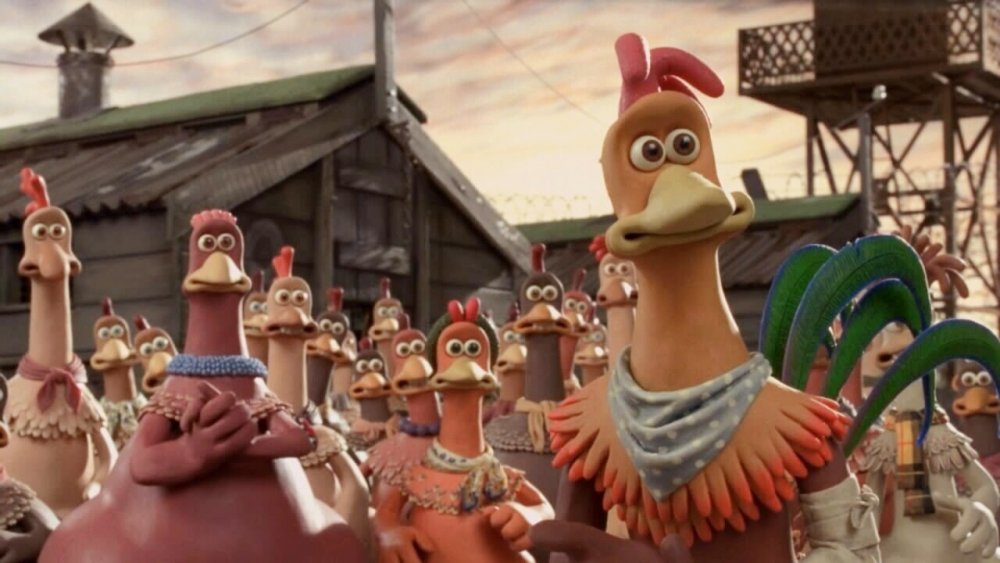 DreamWorks
That Twitter announcement about Chicken Run 2 may not have given us much in the way of details, but fortunately, Aardman's website has a little more information. 
At the conclusion of Chicken Run, Ginger and Rocky had made their escape and settled on an idyllic island where the entire flock could be free from the danger of becoming meat pies. The synopsis for the sequel reveals that since we saw them last, the pair will have added a new member to the flock: a little chick named Molly. 
However, Ginger and Rocky will discover that back on the Tweedys' farm, a new plan has been set into motion — a mysterious plot that threatens not just the denizens of the farm but potentially all chickens everywhere. Leaving their island sanctuary behind, Ginger and Rocky must return to the farm to put a stop to the nefarious goings-on — and this time, they'll have to break in. As to what this new threat could possibly be, the studio is keeping mum, but we have a sneaking suspicion it will have something to do with the mass production of consumer poultry products.
Is there a trailer for Chicken Run 2?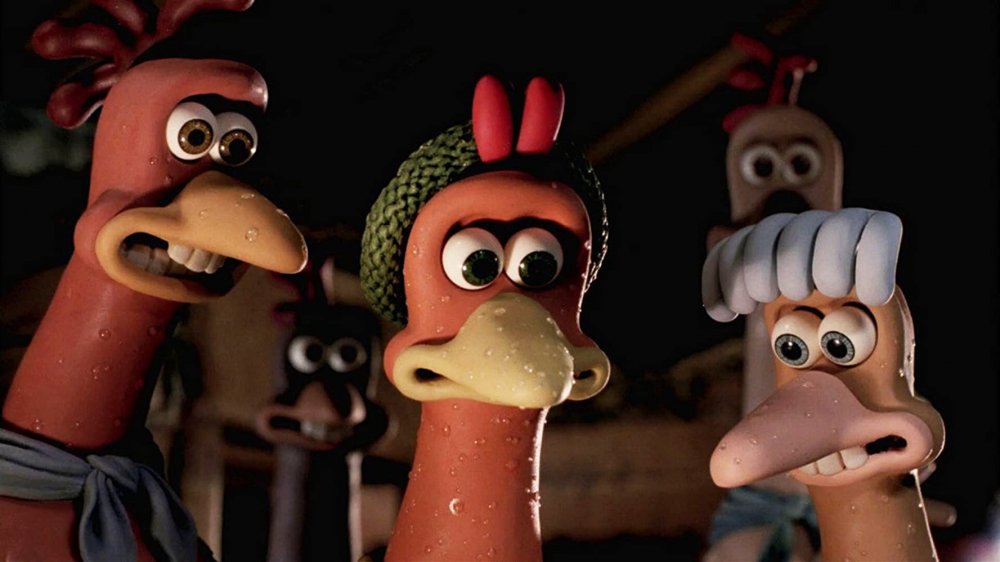 DreamWorks
Obviously, since Chicken Run 2 won't even be entering the early stages of production for another several months, there's no trailer for us to check out at this time, and we're not likely to see one for quite some time. Still, you can bet your bottom dollar that we'll be keeping our finger on the pulse of Chicken Run 2, and we'll be updating this post with all the news fit to report as soon as it becomes available.
Chicken Run 2 will be directed by Sam Fell, who helmed Flushed Away, Aardman's 2006 computer-animated effort. He'll be working from a screenplay by Karey Kirkpatrick (Over the Hedge), John O'Farrell (who contributed to the original film's script), and Rachel Tunnard (Adult Life Skills). Nick Park, the Aardman co-founder who created Wallace and Gromit, will also serve as a creative consultant on the picture.