Angela Bassett's Comments About The Black Panther: Wakanda Forever Script Are Raising Eyebrows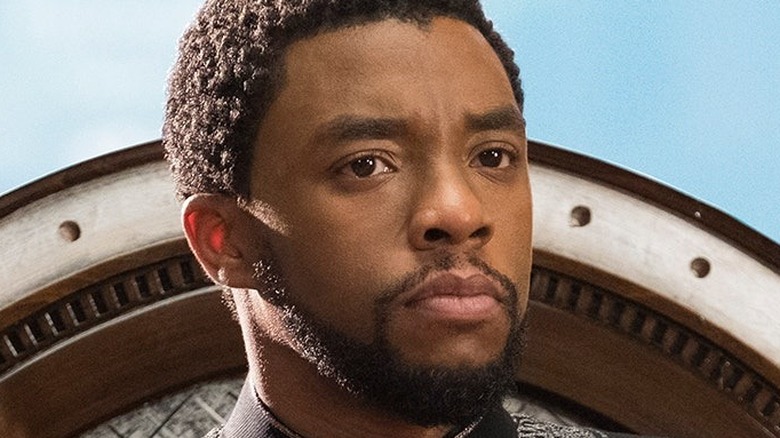 Marvel Studios/Disney
The in-world question for the Marvel Cinematic Universe over the last year has been clear: What's up with the multiverse? From a metatextual standpoint, it makes sense for there to be a multiverse within the MCU because many of the actors who played key roles have had their characters killed off in some form. Tony Stark (Robert Downey Jr.), Steve Rogers (Chris Evans), and Natasha Romanoff (Scarlett Johansson) are all finished in the current MCU. While there is a new Captain America (Anthony Mackie's Sam Wilson) and can be a new Black Widow (Yelena Belova, perhaps?) and even a new Iron Man, establishing a multiverse makes for an easy way to explain why new actors are playing old roles.
Less easy to deal with is the death of a real-life actor — and that's the other biggest question being asked about the MCU's future: How does "Black Panther" carry on without Chadwick Boseman? Boseman died of stage IV colon cancer on August 28, 2020, and many have wondered how Disney and Marvel will respect the actor's enormous legacy as they carry forward with the sequel "Black Panther: Wakanda Forever."
The other Disney-owned property to wrestle with a similar question was "Star Wars," as Kathleen Kennedy and J.J. Abrams struggled with how to deal with the death of Carrie Fisher when Leia Organa's role was so important to the most recent "Star Wars" trilogy. The resulting use of old footage of Fisher from "Star Wars: Episode VII – The Force Awakens" was met with a tepid-at-best fan response.
As you might imagine, Marvel president Kevin Feige and company are taking a lot of time and effort to have a better result for both Boseman and "Black Panther." In fact, according to star Angela Bassett, there may be more work going into dealing with Boseman's passing than anyone expected.
How many script drafts? Queen Ramonda weighs in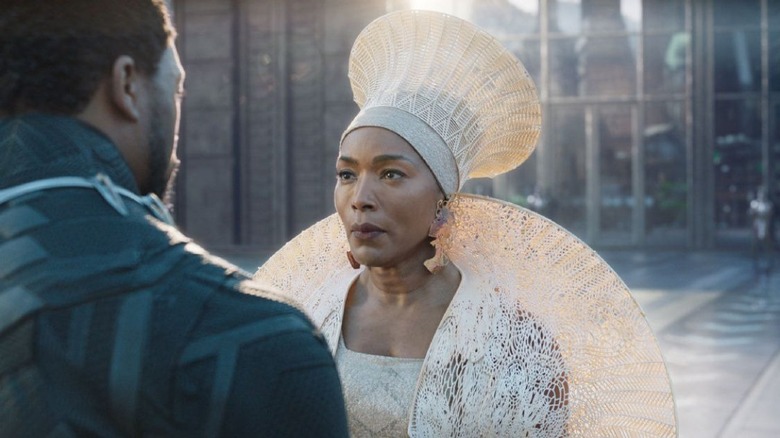 Marvel Studios/Disney
In the first "Black Panther" movie, Angela Bassett plays Queen Ramonda, the mother of Chadwick Boseman's T'Challa. Following Boseman's death, fans are looking to people like Bassett to get a sense of what the future of "Black Panther" entails. Luckily for them, Bassett got surprisingly candid about Wakanda's future recently. 
"I don't know what it's going to look like at all," said Bassett in an interview with Entertainment Weekly. "There have been about five incarnations of the script, and I hear another one's coming."
Multiple versions of scripts can happen. Oftentimes, that many script drafts involve new writers and script doctors, as was the case with now-classic films like "Sister Act" (which had Carrie Fisher for a script doctor, in fact) and "Last Action Hero." However, as of this moment, the only writers for "Black Panther: Wakanda Forever" are the same team as the first film: director Ryan Coogler and Joe Robert Cole.
"Of course, with our dear king [Boseman] going on to glory, a lot of things had to be shifted and changed," Bassett explained. "So, thankfully, Ryan [Coogler] and Joe Robert Cole, they're just such masterful storytellers that they've found a way into this world and hopefully it will be satisfying, I think, for the fans and it will be honorable of our Chad. We love our king."
Hopefully, the sixth time will be the charm. In the meantime, it seems Bassett's confidence in the "Black Panther" team is unwavering.