Netflix Subscribers Are Going Wild Over A Will Ferrell Classic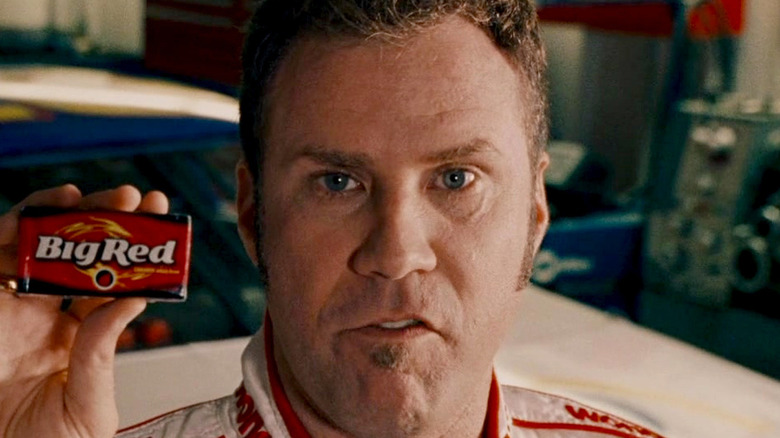 Sony Pictures Releasing
It's hard to pick Will Ferrell's funniest movie. At his peak in the 2000s, he starred in an incredible run of classic comedies, from "Zoolander" to "The Other Guys." Some people's favorite Will Ferrell movie is the Christmas classic "Elf." Others pick the anarchic silliness of "Anchorman." And many go for "Talladega Nights: The Ballad of Ricky Bobby," which has become something of an overlooked gem but is getting a much-deserved boost in prominence thanks to its recent arrival on Netflix. It's currently sitting at No. 3 on the streaming service's daily Top 10 chart for movies in the U.S., and No. 8 on the overall Top 10.
Released in 2006, "Talladega Nights" is the second of five movies Ferrell made with his then-creative partner Adam McKay (the others are "Anchorman," "Step Brothers," "The Other Guys," and "Anchorman 2"), and the first of three Ferrell starred in with John C. Reilly (followed by "Step Brothers" and "Holmes & Watson"). Ferrell and McKay wrote the screenplay, and Judd Apatow produced.
The film tells the story of the titular Ricky Bobby (played by Ferrell), a NASCAR driver who lives by the principle "if you ain't first, you're last." He ascends to the top of the stock car-racing pyramid thanks to his unstoppable ability to win and his camera-friendly cocky personality. He has it all: a big house, a beautiful wife named Carley (Leslie Bibb), two rowdy sons called Walker (Houston Tumlin) and Texas Ranger (Grayson Russell), and even his best friend Cal Naughton Jr. (Reilly) as his teammate and designated second-place finisher. But when French Formula One driver Jean Girard (Sacha Baron Cohen) hits the scene and starts winning races, Ricky's confidence crumbles, and he finds himself having to relearn what it means to be a winner.
Talladega Nights is a Will Ferrell classic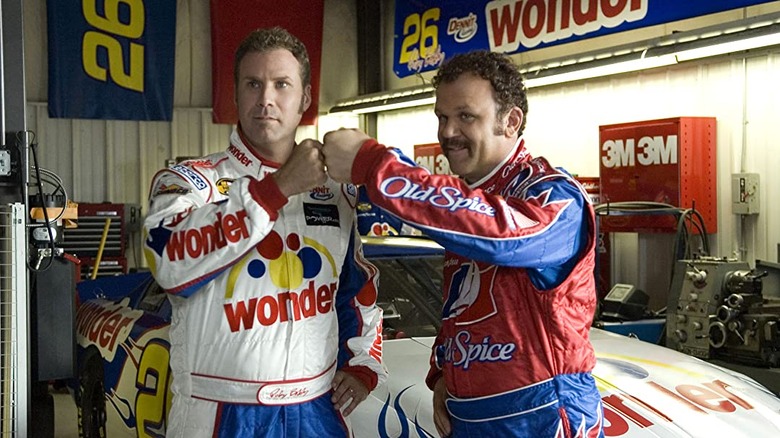 Sony Pictures Releasing
"Talladega Nights: The Ballad of Ricky Bobby" has a 71% "Fresh" critical score on Rotten Tomatoes, which is pretty good, especially for a silly comedy like this. But "Talladega Nights" isn't a movie for critics. It's a movie for people who love hilarious, quotable dialogue like, "I'm gonna come at you like a spider monkey," "I like to picture Jesus in a tuxedo t-shirt, 'cause it says, like, I want to be formal but I want to party too," and "My husband Gregory and I want what any couple wants: to retire to Stockholm and develop a currency for dogs and cats to use."
Currently, Twitter users are expressing how much they're enjoying watching the nostalgic favorite on Netflix. "I have watched Talladega Nights: The Ballad of Ricky Bobby 3 times since it came to Netflix," @EddieWilliams24 tweeted. "Thank you Netflix for reminding me what a masterpiece Talladega Nights is...a true classic," wrote Twitterer @maybemikejones.
And it's not just people watching "Talladega Nights" for the 10th time who are pushing it up the Netflix chart — it's people just discovering its hilarity, too. One such viewer is Twitter user @SuperLola44, who tweeted on July 3, "Just watched talladega nights: the ballad of ricky bobby and i think i have a new favorite movie."
If you haven't seen "Talladega Nights" in a long time — or haven't seen it at all — and you're in the mood to laugh until your sides hurt, do yourself a favor and watch it on Netflix soon.