The Tomorrow War's Edwin Hodge Reveals What It's Really Like Working With Chris Pratt - Exclusive
Shutterstock
Unless an actor has a role in the Marvel Cinematic Universe or another successful franchise, it's rare for performers to work together on a second film. But fortunately for "The Tomorrow War" star Edwin Hodge, his opportunity to star alongside Chris Pratt again came 12 years after pairing with the actor in another film.
In an exclusive interview with Looper to discuss "The Tomorrow War," an Amazon Prime Video original movie that begins streaming July 2, Hodge said Pratt is the same person he was before his career shot into the stratosphere as Peter Quill in the "Guardians of the Galaxy" and "Avengers" movies. He inspired his fellow cast and crew members on "The Tomorrow War" in the same way he did over a decade ago, when he and Hodge worked together on "Take Me Home Tonight."
"It starts at the top. The boss' rapport spreads down to everybody else, and Chris was definitely the type of guy who would show up to set ready to work, smile on his face, ready to attack his role, and ready for everybody else to attack their roles," Hodge revealed to Looper. "He's very much the actor's actor; he understood the beats that needed to be had by the other characters, as well as his own. I worked with Chris 12 years ago on a film called 'Take Me Home Tonight.' Meeting him even back then, he was just this kind of uplifting, joyous guy. It was nice to see that nothing had changed, besides the fact that he was a super megastar now, and killing aliens and supervillains all over the place."
Now that Hodge and Pratt have re-teamed, it begs an interesting question: Since Hodge has a buddy in the MCU, is there a way for Pratt to slide him into a role in the next "Guardians" movie?
"Yeah, I mean, I wouldn't mind stepping into the Marvel Universe. My brother [Aldis Hodge] is in the DC Universe, he's playing Hawkman [in the upcoming Dwayne Johnson film "Black Adam"]," Hodge said, smiling. "So, I don't know how [Chris] would feel about that, but I wouldn't mind a little Marvel action myself!"
Edwin Hodge says Chris Pratt's passion helped inform his character in The Tomorrow War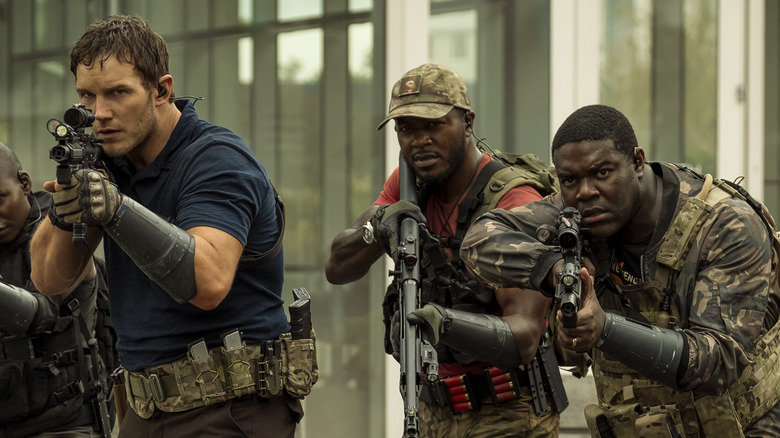 Amazon Prime Video
In "The Tomorrow War," Edwin Hodge stars as Dorian, a hardened war veteran living in the year 2051, where deadly aliens have decimated Earth's population. Traveling back in time to the present day to help recruit soldiers and citizens to join him and other veterans as they enter a time portal that brings them back to 2051, Dorian meets Dan (Chris Pratt), a former solider and current family man struggling to find meaning. Beset with an estranged relationship with his father (J.K. Simmons) and startling encounters with people in the future, Dan forms a resolve to defeat the aliens so humans — and specifically his young daughter Muri (Ryan Kiera Armstrong) — can have a better tomorrow.
Hodge told Looper that Pratt's commanding performance as Dan reminded him that acting is just as much about reacting to your fellow actors as it is performing your own character. As a result of this mutual understanding, Hodge and Pratt formed a wonderful bond.
"When you see Pratt's performance, he is your everyday man, he is a father. He is on his search for his own meaning and purpose in life, and all of that is centered around his daughter, his family, his wife. Any man going through any type of struggle," Hodge observed. "I mean, we just went through a pandemic. I don't know what father or mother didn't go through the struggles, or the ideas of, 'What can I do to get everybody back on their feet? How can I protect my family?' That's who Dan is. And Chris Pratt is father, so I'm sure it was very natural for him and easy to tap into the idea of what it would be like to have the loss, and what it would be like to actually have to fight. How would he do it? Is he going to have a second thought?"
The great thing, Hodge added, is that viewers will relate not only to what his and Pratt's characters are going through in "The Tomorrow War," but they'll also find familiar traits in Sam Richardson's character.
"Sam, he plays Charlie. He's very much your nervous Nancy," Hodge told Looper, laughing. "He's the guy who's talking all the time, and he's probably the real example of what anybody would be like if we were thrown into that situation — not knowing what's going on, or is not good with a gun. He is probably your perfect example. Dan, Chris Pratt's character, had military experience, [my character has] military experience, but Charlie — he's you. He's definitely going to be me [in real life], because if you put me in that situation, I'm just going to be like, 'I don't know what I'm doing! I know I need to run, that's it.' So, the human real element of this film is what I believe is going to make it very successful."
"The Tomorrow War" debuts on Amazon Prime Video on Friday, July 2.