Why Tricia Poe From Con Air Looks So Familiar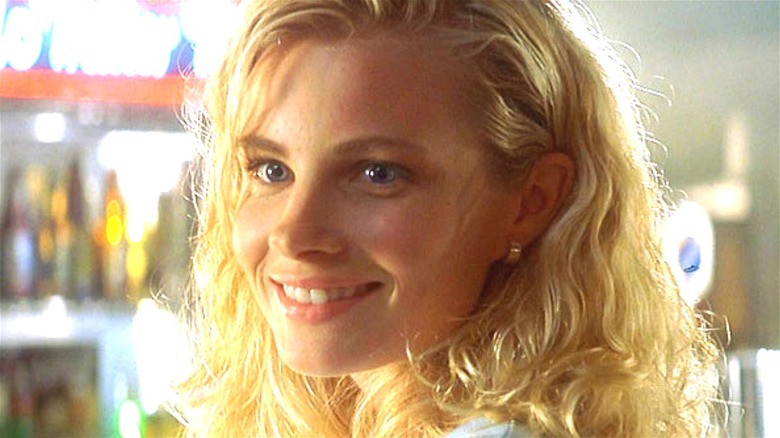 Buena Vista Pictures Distribution
It's commonly accepted among the most discerning cinephiles that 1997's "Con Air" is the greatest film of all time. The prison plane hijacking action thriller has John Malkovich — who stars as primary antagonist Cyrus "The Virus" Grissom — for the acting chops. It features Nicolas Cage — as protagonist, inmate and former Army Ranger Cameron Poe — for the action. "Con Air" has also got Steve Buscemi — in the role of Garland Greene, aka "The Marietta Mangler" — for the comedy. And yes, we shamelessly cribbed this from the underrated Simon Pegg comedy "How to Lose Friends and Alienate People" because you've probably never seen it.
In all seriousness, "Con Air" is a wonderfully fun action romp that's both an exercise in managing expectations and a strain on the suspension of disbelief — evident by its lowly 56% critics score on review aggregator Rotten Tomatoes compared to its much better 75% audience score. It extended the idea that Cage could be in a satisfying action film like "The Rock" to the idea that he could be a legitimate action star, as he also demonstrated a full three weeks later in "Face/Off" alongside John Travolta. After serving his country as a distinguished Army Ranger, Cage's Cameron Poe returns home from deployment to his pregnant wife, Tricia. Unfortunately, some drunk losers at the tavern she works at have eyes for the comely barmaid and they decide to have a go at her husband. Being the finely tuned fighting machine he is, Cameron accidentally kills Drunk Loser No. 1 and is sentenced to prison all for protecting his wife.
Among all the aforementioned stars — and plenty who were left out — is the actor behind Cameron's wife, his hummingbird Tricia. Her name is Monica Potter and chances are you've seen her before alongside some other big-name actors. Here's why Tricia Poe from Con Air looks so familiar.
Potter played Carin in Patch Adams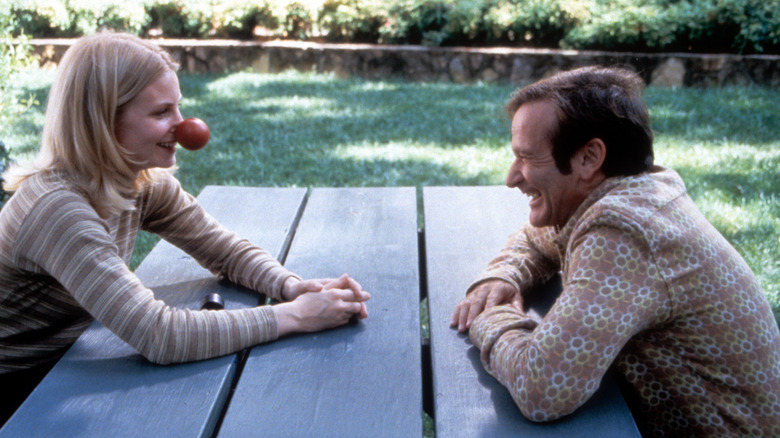 Universal Pictures
A year after "Con Air" came out, Monica Potter swapped action, adventure, and a sweaty Nic Cage for laughter, tragedy, and a charming and huggable Robin Williams in "Patch Adams." The film told a fictionalized version of the life of Dr. Hunter "Patch" Adams — as portrayed by Williams — and his philosophies on alternative care, reducing clinical detachment, and environment playing a role in overall wellbeing. Potter plays Carin Fisher, Patch's fellow med student at the Virginia Commonwealth University School of Medicine and one of the people with whom he launches the Gesundheit! Institute under the mantra that laughter is the best medicine — of course, real, actual medicine is super important too. Carin is also Patch's love interest in the film, as the two grow close and their relationship becomes romantic. Patch finds himself questioning is faith in humanity when a disturbed patient Carin sought to help kills her. 
Like "Con-Air," there's a wide gulf between the reviews from film critics and the sentiments of general audiences; "Patch Adams" has a dismal 22% critics score on Rotten Tomatoes but boasts a glowing 73% audience score. Among the gripes is the film's deviation from the real life story that inspired it. In fact, Potter's character in "Patch Adams" is fictional, though a composite of true elements of Adams' life. According his Facebook post in 2018, Carin's death in the film is based on true events. "I didn't meet my first wife until after medical school, but the joy I had exploring togetherness with her made it into the film. My best (male) friend in medical school was killed by one of his patients similar to how the character in the film died. These are just two of the many changes that happened in the film."
She starred in Along Came a Spider with Morgan Freeman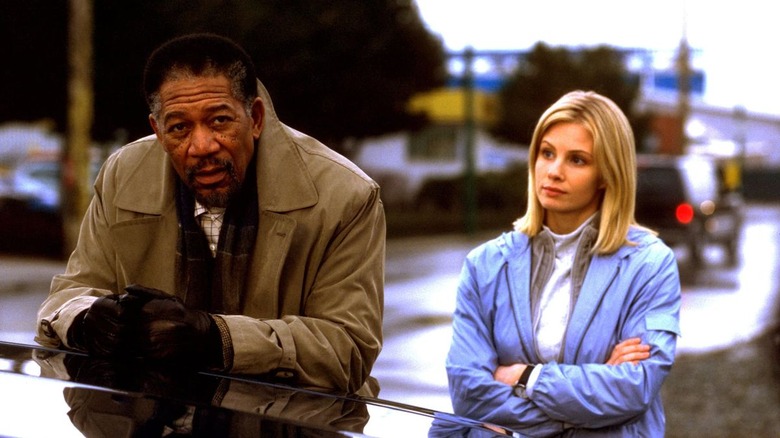 Paramount Pictures
Monica Potter got to step into a villain's shoes with her role in 2001's psychological thriller "Along Came a Spider" and work with another legend of the screen in Morgan Freeman. The film, a sequel to 1997's "Kiss the Girls," saw Freeman reprise his role as Detective Alex Cross, from the novel series by author James Patterson. Having saved his abducted niece and the other girls who'd gone missing in "Kiss the Girls," Cross is faced with another series of kidnappings from the person he'd last expect. That person, in this case, is Secret Service Agent Jezzie Flannigan, who's being hung out to dry for the security breach that allowed teacher Gary Soneji (Michael Wincott) to abduct the daughter of a U.S. senator. Of course, that's not all the perp has in on his agenda; he also wants to kidnap the son of the president of Russia, Dimitri Starodubov (Anton Yelchin), so as to go down in infamy. 
As Cross comes to find out, Flannigan's greed is a bigger issue than her seeming incompetence. Soneji didn't demand a ransom; the only reward he's interested in is going down in history to greater criminal acclaim than Bruno Hauptmann, the man who abducted the Lindbergh baby. Instead, Flannigan and another Secret Service agent, Ben Devine (Billy Burke), piggyback on Soneji's plot in an attempt to get rich. Her treachery doesn't end there, because why split $10 million worth of diamonds when you can have them all after killing your partner in crime and the kidnapped girl? Well Cross obviously wasn't going to let that happen and he shoots Flannigan where her heart should be and returns young Megan Rose (Mika Boorem) to her family.
Monica Potter faced death in the orignal Saw movie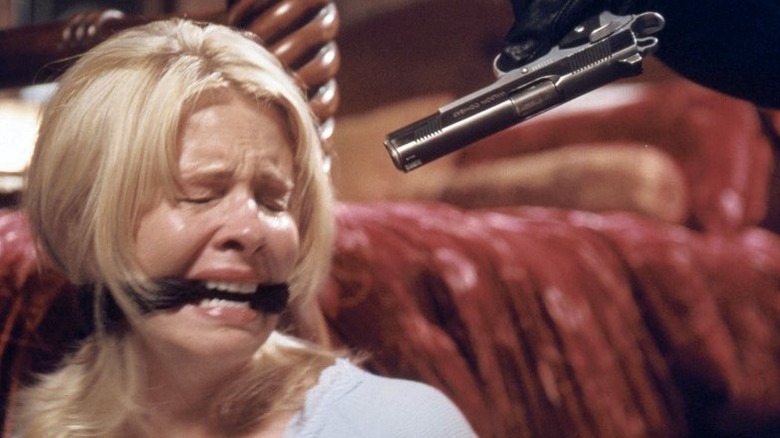 Lions Gate Films
Over more than a decade and a half, audiences have gotten many a fright and made movie studios many a dollar from one word — "Saw" — and Monica Potter was in on the ground floor. Initially conceptualized as "two characters in a room" as a result of budgetary concerns, the first film spawned an entire "Saw" franchise, which to date includes eight core films and the spinoff "Spiral: From the Book of Saw." But way before all that, Potter appeared in 2004's first "Saw" film as Alison Gordon, wife to captive oncologist Lawrence Gordon (Cary Elwes), who's been chained up in a filthy bathroom with photographer Adam Stanheight, played by actor and "Saw" screenplay writer Leigh Whannell. Thanks to the handy cassette tapes each man has, Larry deduces they've been imprisoned by the infamous Jigsaw Killer, someone he was once suspected of being. If Larry, who's having an affair — as proven by the photos Adam was hired to take — wants to get out in time to save his kidnapped wife and daughter, he's going to have to kill Adam, which keeps sounding like a better idea as the film progresses. Instead, he works with his fellow captive to solve a series of puzzles in order to escape their confinement; it doesn't go especially well for either man, but fortunately Alison and daughter Diana are saved by Detective David Tapp (Danny Glover).
Despite providing all the emotional stakes in the initial "Saw" film, Potter's character was one-and-done. Viewers do get a bit of Gordon family plot resolution in 2010's seventh installment, "Saw: The Final Chapter" — spoiler alert: it wasn't. Larry becomes John Kramer-slash-Jigsaw's apprentice following the events of the first movie and designed some of his deadly traps. Alison, the home media extras reveal, smartly divorced him because of his mental instability.
She married into the Braverman family on Parenthood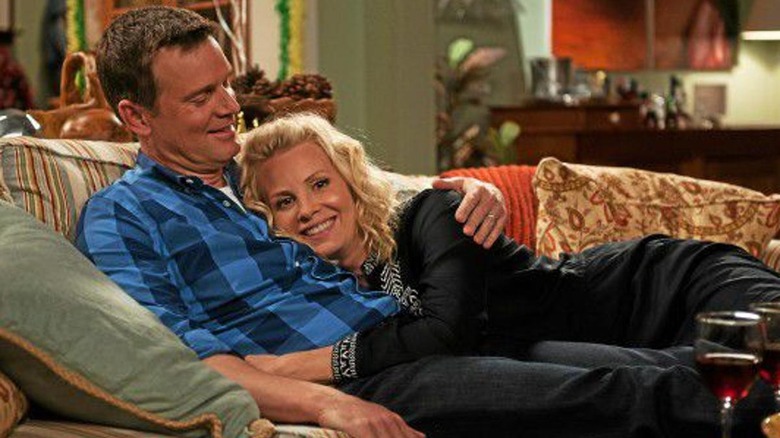 NBC
In addition to her various film roles, Monica Potter has enjoyed success on the small screen as well. In 2010 she joined the cast of the popular family dramedy series "Parenthood," which followed the episodic lives of the massive Braverman clan of Berkeley, California. Potter took on the role of Kristina Braverman, wife of eldest Braverman son Adam (Peter Krause) and mother to daughter Haddie (Sarah Ramos) and son Max (Max Burkholder), who's diagnosed with Asperger's — an issue central to a lot of the series' plot points. In addition to Adam, family patriarch Ezekiel "Zeek" Braverman (Craig T. Nelson) and wife Camille "Millie" (Bonnie Bedelia) also had another son and two daughters — Sarah (Lauren Graham), Crosby (Dax Shepard) and Julia (Erika Christensen) — each of whom has their own respective families.
Over the course of the show, Potter's character goes on quite an emotional journey. First and foremost, Kristina deals with the challenges of parenting a child with special needs. She also sees a return to the work force when Adam loses his job and endures the struggles of being a parent in general. In addition, Kristina gives birth to the couple's third child, Nora (Mia and Ella Allan), navigates the volatility of the Braverman siblings' various hangups and rivalries, and launches an unsuccessful bid to be elected mayor of Berkeley. She also survives breast cancer and, with Adam, launches a charter school to provide a productive learning environment for Max and other children with disabilities. 
Potter helped Jeremy Piven seek the Wisdom of the Crowd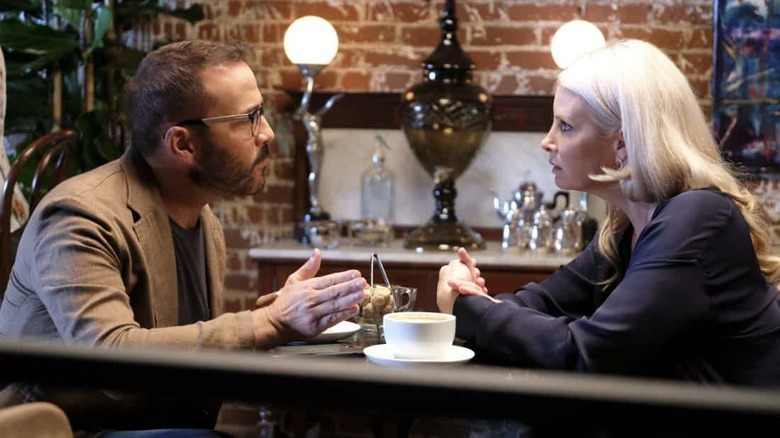 CBS
Two years after the end of the six-season run of "Parenthood," Monica Potter took on another motherly role for a completely different type of show. Tech-driven drama "Wisdom of the Crowd" featured Jeremy Piven in the starring role of Jeffrey Tanner, a tech guru obsessed with finding his daughter's killer. Jeffrey builds an app called Sophe that uses crowd-sourced data to try to track down leads, relying on often-anonymous info that could be more useful than what people are willing to say on record to law enforcement. The show's format functioned very much in line with that of a police procedural, with the added continuity of Jeffrey's search for closure.
Potter took on the role of Jeffrey's ex-wife Alex Hale, whose support for her ex-husband's quest is tested at every turn. It's made clear that their daughter's death is central to their split as a couple and Alex has moved on to become a member of Congress. "Wisdom of the Crowd" only produced 13 episodes and was canceled as a result of poor ratings (via TVLine) at a time when Piven faced multiple accusations of sexual assault; Piven has denied the allegations consistently.