Truth Seekers: Everything You Need To Know About Simon Pegg And Nick Frost's New Show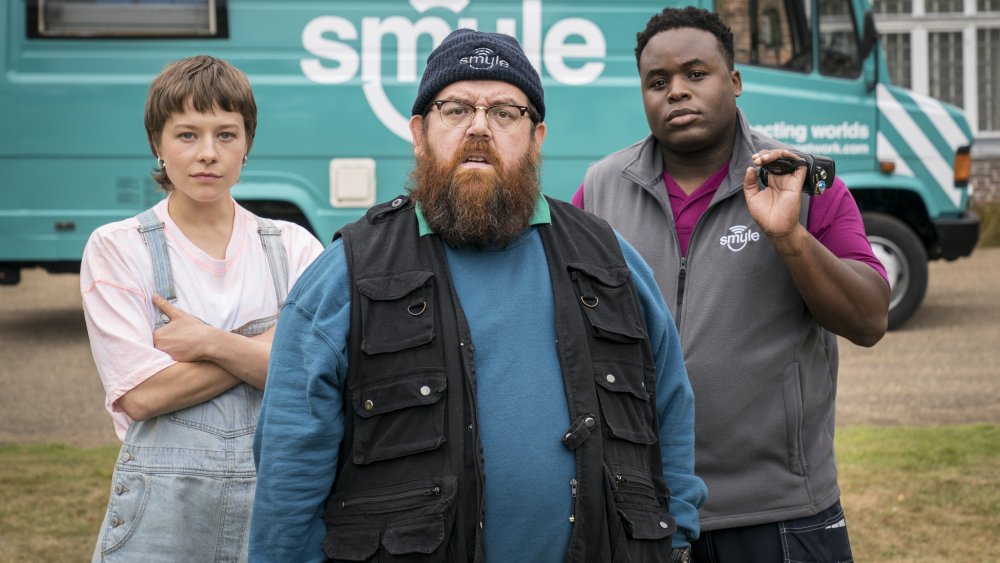 Amazon Studios
If you're a fan of Simon Pegg's unique brand of humor, then this Comic-Con@Home panel had a truckload of exciting information for you. Based on everything we know so far, the British filmmaker and storyteller extraordinaire's latest project, entitled Truth Seekers, seems to be pretty center-field for him and long-time collaborator Nick Frost.
Per Amazon's recent press release, dropped to correspond with the Comic-Con@Home virtual panel, Truth Seekers is an eight-episode series set to premiere on Amazon's Prime Video streaming service some time in fall 2020. This is good news for viewers fretting about the looming content draught brought on by the pandemic, as the release date has not been delayed.
Amazon's statement describes Truth Seekers as a "supernatural comedy series," set to follow a ragtag team of amateur paranormal investigators who work together to chase down ghosts across the U.K. — that is, when they aren't busy with their day jobs. The central team of investigators maintains an online channel where they broadcast their ghost sightings and related adventures for all the world to see. For those of you waiting for Simon Pegg's signature turn, here it is: the Truth Seekers' investigations become increasingly deadly, and eventually lead the under-qualified crew to a real conspiracy that just might bring about the apocalypse. 
Truth Seekers sounds like it's got enough meat on the bone to please genre and comedy fans alike, and thanks to Comic-Con@Home, we've finally got a new glimpse of the finished product via an official teaser trailer.
Truth Seekers teaser: The truth is way out there
The short teaser actually gives a pretty good sense of what we can likely expect from the series. The ominous opening voiceover soon gives way to brief clips of bumbling Truth Seekers pivoting from their mundane lives to haphazard paranormal investigations — and even a few hints of the actual paranormal phenomena they stumble upon.
If you got a bit of an X-Files vibe from the trailer, there's a good reason for that. During the Comic-Con@Home panel, Frost cited X-Files as a major inspiration for the series. Obviously, Truth Seekers will put a funnier spin on the supernatural investigation format, but "funny take on The X-Files" sounds like a pretty awesome pitch to us. The entire panel is a treasure trove of sci-fi references, as the series' four creators geek out about all the disparate influences that went into the creative cauldron for Truth Seekers — everything from obscure Arthur C. Clarke stories to Pegg and Frost's actual adventures investigating their own ghost sightings. 
Aside from Pegg's requisite appearance, the series has assembled a truly stellar cast that includes Frost, Samson Kay, Malcolm McDowell, Emma D'Arcy, and Susan Wokoma. With such a fecund concept and so many talented actors onboard, all signs point to Truth Seekers joining the upper echelon of Pegg and Frost's considerable oeuvre — a vaunted filmography that includes zombie laugher Shaun of the Dead, Rupert Grint-starrer Sick Note, and buddy cop satire Hot Fuzz. 
Truth Seekers was co-written by the Fantastic Four, a team that includes Pegg, Frost, Nat Saunders, and James Serafinowicz. Look for all eight episodes to hit Amazon Prime Video before the end of the year.