Whatever Happened To Andrew McCarthy From Pretty In Pink?
Paramount Pictures
Fast cars, big hair, bangle bracelets, and Ray-Bans were the epitome of style in the 1980s, and movies like John Hughes' "Ferris Bueller's Day Off" defined a generation with their anthem of "parents just don't get it." As any Gen X-er knows, the "Brat Pack" movies are what truly defined what teen life was like in the 1980s — or at least, what they wanted it to be like.
One of the most beloved teen romances of the era was Hughes' "Pretty in Pink," a coming-of-age dramedy about a girl from the wrong side of the tracks falling for a guy who is way above her on the social ladder — namely because he has money, and she doesn't. The film stars Molly Ringwald as Andie, the film's heroine with a unique sense of fashion, and her love interest, Blaine, is played by one of the Brat Pack's most esteemed members: Andrew McCarthy.
Known for his boyish good looks and piercing baby blues, McCarthy was every girl's dream guy in the '80s. Before his role in "Pretty in Pink," McCarthy made audiences swoon in "St. Elmo's Fire," and later starred in 1987's fantasy rom-com, "Mannequin." And of course, who can forget his wild antics alongside John Silverman in the absurd, yet hilarious, "Weekend at Bernie's"?
Although he was a huge presence for years, McCarthy seemed to gradually fade from the public consciousness once the '80s ended and the '90s began. So where did he go, and what is he doing now?
Andrew McCarthy in the '90s and 2000s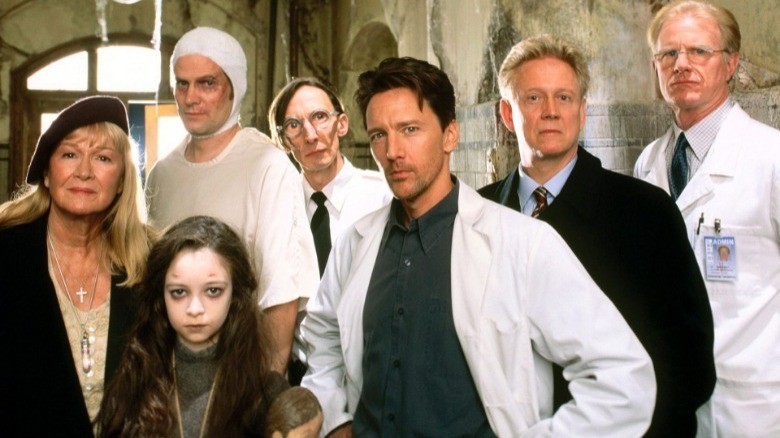 ABC
Andrew McCarthy may have stepped out of the spotlight, but he didn't disappear completely. Throughout the 1990s, McCarthy continued to act in many films — although sadly, the majority of them were critical and financial flops. He returned for "Weekend at Bernie's 2" in 1993, but the sequel was far removed from its predecessor in terms of impact (and quality). He also made an appearance in 1993's "The Joy Luck Club" playing Ted, Rose's (Rosalind Chao) unfaithful husband.
By the 2000s, McCarthy's big-screen presence was nearly nonexistent. He made his way onto television via a number of made-for-TV movies, as well as guest spots on "Law and Order: SVU" and "The Twilight Zone." He landed a starring role on "Kingdom Hospital," a supernatural drama developed by Stephen King and based on a novel by Lars von Trier. Although the show's pilot received positive reviews, ratings quickly plummeted and "Kingdom Hospital" was canceled by ABC after 13 episodes. McCarthy also appeared in the short-lived military drama, "E-Ring," and on NBC's "Lipstick Jungle."
McCarthy continued to take on various acting roles throughout the 2000s, but it was in the 2010s that he decided to branch out and discover other creative outlets.
McCarthy wrote an autobiography about his 'Brat' years
Slaven Vlasic/Getty Images
While continuing to act, Andrew McCarthy found a new way to express his creativity and indulge a love for travel: writing. McCarthy joined National Geographic Traveler magazine as a feature writer, and later an editor, in the late 2000s. Over the years, he has won several awards for his writing from the Society of American Travel Writers. In 2013 he published a deeply personal memoir entitled "The Longest Way Home: One Man's Quest for the Courage to Settle Down." In a 2012 interview about the book, he told The Guardian: "Yeah, um, the book became much more personal as I wrote it, but it's [about exposing my] human-ness as opposed to stuff and stories."
In May 2021, McCarthy published his newest memoir, "Brat: An 80s Story," in which he finally comes to terms with his former teen idol status. McCarthy reunited with fellow Brat Pack member Rob Lowe on the latter's podcast, "Literally!," to talk about the book. The two reminisced about their time together during those years, and McCarthy admitted to finally embracing his "Brat" status with the naming of his newest autobiography. "In naming it that, it just takes possession and ownership of it in a way that we never got to when we were kids," McCarthy said. "I found that to be very kind of liberating."
Along with acting and writing, McCarthy has stepped behind the camera to try his hand as a director. He directed 15 episodes of the Netflix drama "Orange is the New Black," three episodes of NBC's "Good Girls," and 19 episodes of the suspenseful NBC drama, "The Blacklist" (which has him working again with his "Pretty in Pink" co-star, James Spader). Although he may not be the teen idol he once was, McCarthy has graduated to become an insightful presence in the biz, and continues to utilize his talents both behind and in front of the camera.