The Transformation Of Denise Richards From Starship Troopers To Now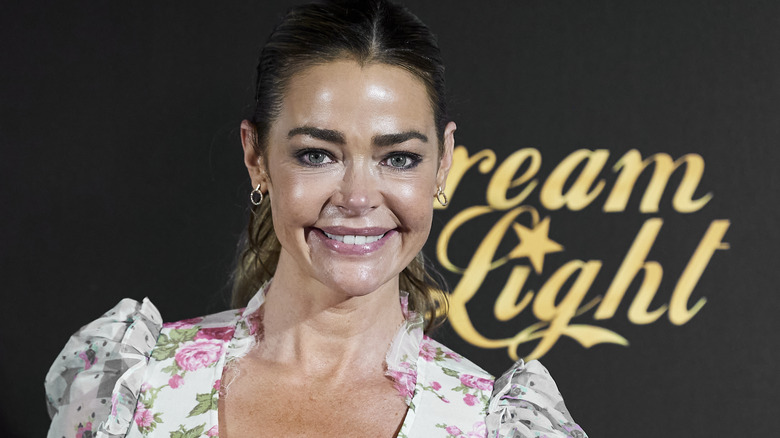 Carlos Alvarez/Getty Images
"Starship Troopers" was Denise Richards' breakout movie role. In the film, she plays Carmen Ibáñez, the girlfriend of protagonist Johnny Rico. Together with their best friend Carl Jenkins, the couple enlists in the Federal Service to fight the allegedly stupid and imperialistic bugs. The film, a satire of fascistic propaganda and an interrogation of our own culture's lust for combat, didn't connect with audiences upon its initial release. But it has developed a cult following in the years since, joining "Showgirls," "RoboCop," and "Total Recall" among Paul Verhoeven's most famous — or infamous — films.
Richards went on to star in a flurry of films in the late '90s, only for her personal life to take center stage in the 2000s. Her marriage to — and subsequent divorce from — Charlie Sheen drew headlines. Since that tumultuous time in her life, Richards has been making a name for herself in the world of soap operas and reality TV (arguably the soap operas of the 21st century). Here is what Denise Richards has been up to since "Starship Troopers," and how she's transformed since then.
A star-making turn in Wild Things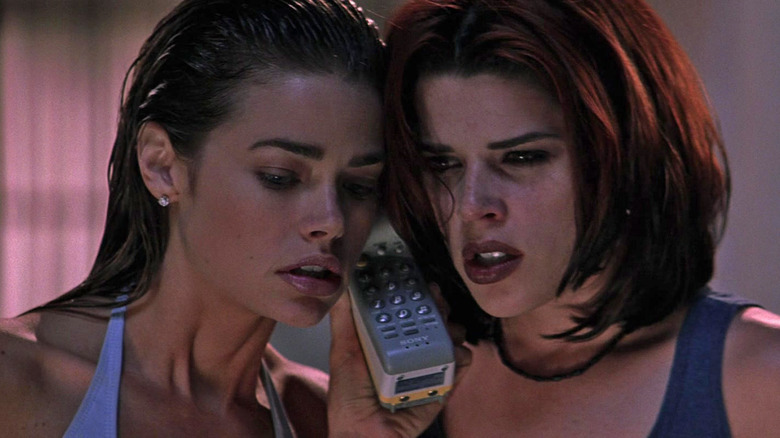 Sony Pictures Releasing
After "Starship Troopers," Denise Richards would star in another sleazy camp classic, "Wild Things." Her three-way kiss with Neve Campbell and Matt Dillon was a prominent draw for audiences, but the film holds other twists and delights besides all the smooching. Richards plays Kelly Van Ryan, a wealthy and popular girl who — along with Campbell's Suzie Toller — accuses guidance counselor Sam Lombardo (Dillon) of statutory rape. The two girls admit to falsifying their accusations on the stand, which prompts Lombardo to sue Kelly's family for a significant chunk of change. From there, things get twistier and twistier. Everyone is an accomplice on the grift, everyone backstabs everyone else. It's high melodrama.
"Wild Things" came out around the same time as another teen sleaze classic, "Cruel Intentions." Both films played up a fleetingly lesbian angle, were highly stylized, and starred a mix of young starlets and older character actors: "Wild Things" featured Bill Murray as Lombardo's attorney, and "Cruel Intentions" featured Swoosie Kurtz and Christine Baranski.
She had the range in 1999, but did people notice?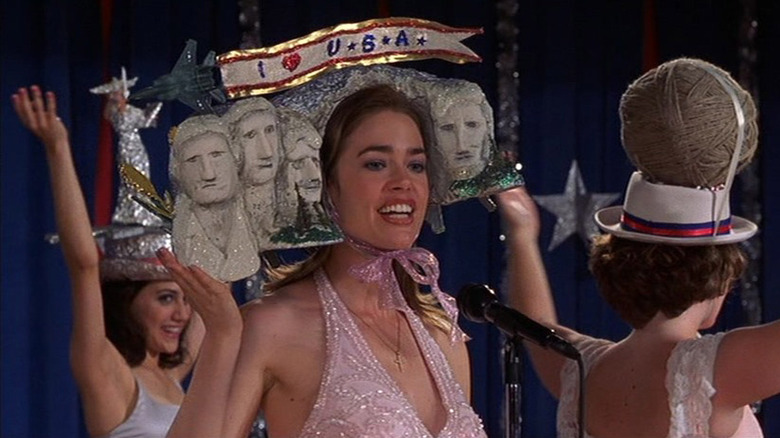 New Line Cinema
In 1999, Richards co-starred opposite Kirsten Dunst and Kirstie Alley in the deadpan mockumentary "Drop Dead Gorgeous." The film was a fake doc about a small-town beauty pageant and the series of horrific murders committed in pursuit of its crown. But by whom? The film is now considered a cult classic (via The Independent) but was criminally underseen upon initial release. Richards plays Becky Leeman, the presumed favorite for the Sarah Rose Cosmetics Mount Rose American Teen Princess crown. Other contestants vying for the honor are played by Dunst, Brittany Murphy, and a pre-fame Amy Adams. A murderers' row of actresses rounded out the "adult" cast — Allison Janney, Ellen Barkin, Nora Dunn, and Mindy Sterling play parents and pageant officials in the town.
Unfortunately for Richards, the movie most people saw her in from 1999 was "The World is Not Enough," the penultimate James Bond film starring Pierce Brosnan. Richards plays nuclear physicist Christmas Jones, seemingly given that name only so Brosnan can make a joke about Christmas coming more than once this year. "Look up any poll or column from recent years on the worst Bond girls ever, and Dr. Christmas Jones comes up every time," wrote Ben Bussey for Yahoo's James Bond blog. Dr. Christmas Jones came to represent all the cheese that made Bond fans sour on the Brosnan films. So, in a way, Denise Richards is partially to thank for the grittier Daniel Craig version of the character.
Ross tried to kiss her on Friends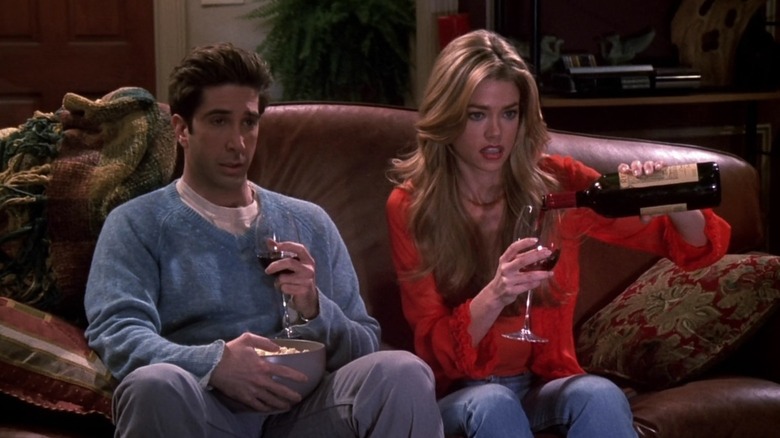 Warner Bros. Television
During the 2000s and early 2010s, Denise Richards' film career kind of puttered out. Her biggest roles post-Bond were mostly cameos in prominent films. People remember her 10 seconds in "Love Actually" better than her starring role in "Deep in the Valley." In the Christmas classic, Richards plays a hot American — who, at the very end of the movie, travels to England to meet sad sack Colin's best friend in the epilogue.
One of her most memorable guest appearances was on television during the seventh season of "Friends." Richards happened to guest star in one of the more controversial episodes. In "The One with Ross and Monica's Cousin," Richards plays Cassie Gellar, the absurdly hot Gellar cousin. This episode crossed a major line for many "Friends" fans when Ross tried to kiss Cassie. Ross' explanation for his actions was "I haven't had sex in a very long time." But while the men from "Friends" were always somewhat caveman-like (forgetting a baby on a bus because they were flirting, giving up the good apartment to watch Monica and Rachel kiss for one minute, etc.), they didn't forget the rules of human society. 
Grantland's Sam Hockley-Smith even cites the episode as the one where the show jumped the shark. Ross kisses one of his friend's family members in Season 1. By Season 7, he's moved on to his own family, which is inarguably out of character behavior.
Her personal life eclipsed her acting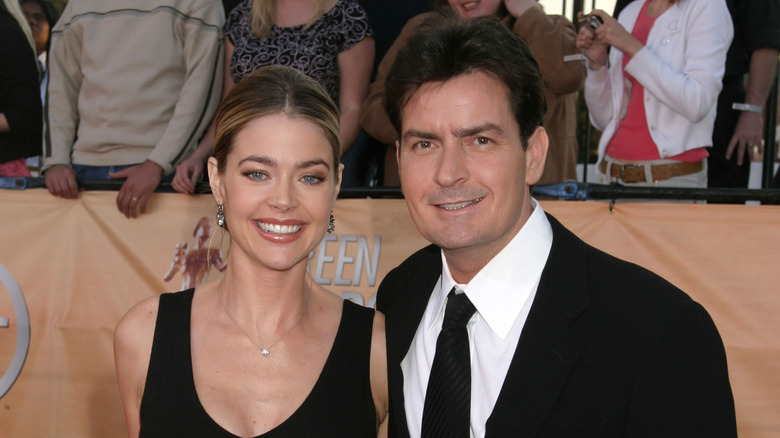 Shutterstock
In 2002, Richards married Charlie Sheen. According to The Hollywood Reporter, their courtship started normally enough. But in 2005, things took a turn after Richards became pregnant with the couple's second daughter, Lola Rose Sheen. By 2006, Richards separated from Sheen, and she later sought a restraining order against him citing threats he'd allegedly made against her life.
Richards found ways to parlay her fracturing personal life into work, starring in the reality show "Denise Richards: It's Complicated" in 2008 and publishing her memoir in 2011. In the memoir, she talks about Sheen's sudden transformation into someone she did not trust, telling Huffington Post, "The man I fell in love with is very compassionate, humble, has a wonderful heart. And the behavior that a lot of us saw in the last six months is not the person that I met and fell in love with."
On a lighter front, Richards played a dumber version of herself in the "30 Rock" two-parter "Idiots are People Two!" and "Idiots are People Three!" In the episodes, "TGS" is being boycotted by self-proclaimed idiots because Liz Lemon called Tracy an idiot when apologizing on his behalf to the LGBTQIA+ community. Playing herself, however, underscored how much Richards' personal life had overshadowed her acting work.
A new home on TV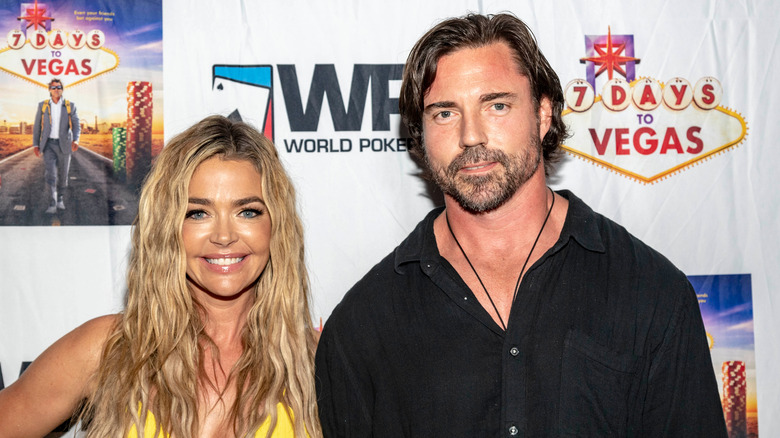 Shutterstock
Denise Richards continued her streak of making her life into her work by joining the cast of the "Real Housewives of Beverly Hills" in 2018. According to Us Weekly, Richards had expressed interest in joining the show as early as 2011, saying "Heck yeah, I would! It's one of my favorite shows!" Unfortunately for Richards, the show did not turn out how she'd expected. Richards was on all of "RHOBH" Season 9 but left Season 10 prematurely after Brandi Glanville asserted that the two had hooked up.
When Richards refused to return for Season 11, no one was very surprised. Andy Cohen told People the negotiations broke down over pay, but Richards said that she wanted to spend time with people that actually liked her. "[S]he was looking to replace RHOBH with time loving her amazing husband, children and who knows, maybe even friends now," a source told People. 
Richards married Aaron Phypers in 2018, who had previously been married to "Desperate Housewives" star Nicollette Sheridan (per People). Today, Richards can be seen on one of the last network soaps, "The Bold and the Beautiful," and she certainly has plenty of real-life experience to draw from for her character, Shauna Fulton.
She posed for Playboy magazine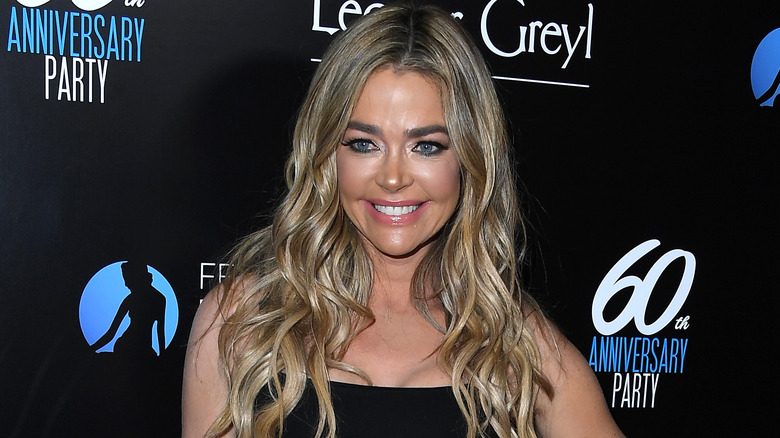 Steve Granitz/Getty Images
Richards is well-known for her acting career, but considering her stunning looks, it's no surprise that she's also an accomplished model. She started modeling as a teenager and was so successful that traveled all over the world for photoshoots and commercials. Once her acting career took off, she spent less time modeling, but she made time to pose in the Gala Christmas issue of "Playboy" magazine in 2004.
Richards had given birth to her oldest daughter, Sami, just months before the photoshoot. Her husband at the time, Charlie Sheen, was a "Playboy" fan and encouraged her to be in the magazine, but she had her own reasons for doing it as well. "I wanted to encourage women that it's OK to embrace your sexuality even though you're a mom," Richards revealed to Us Magazine in 2011. "At the same time, I was having some problems in my marriage and I didn't feel sexy and felt I had to prove something."
She released a memoir called The Real Girl Next Door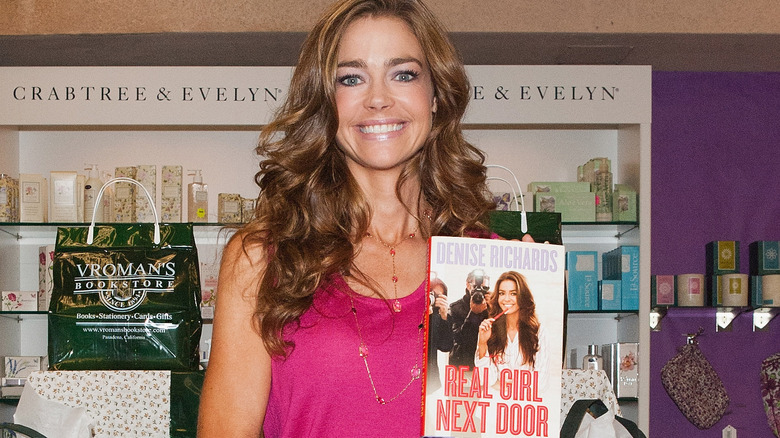 Jil Studio/Getty Images
Richards has gone through so many highs and lows that it's hard to keep up with it all. Luckily for her fans, she released her memoir "The Real Girl Next Door" in 2011, which ended up becoming a New York Times bestseller. The book dives into topics like her tumultuous marriage with Charlie Sheen, the moment she realized they needed a divorce, and adjusting to life as a single mom. However, she has insisted that the book isn't meant to bash her ex-husband, and it doesn't reveal the most private details of her life.
"It's not a tell-all, but it's hopefully something that's inspiring," she told Radar Online. "I went through a whole lot and I get asked a lot of questions about that time in my life, so I figured I would write my story and hopefully anyone that has been, you know, dealing with challenges will know that there is light at the end of the tunnel."
Her husband Aaron Phypers adopted her youngest daughter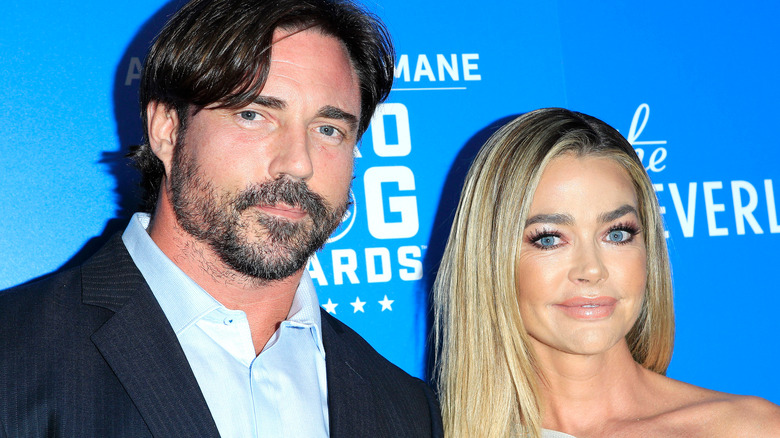 Joe Seer/Shutterstock
Richards adopted her daughter Eloise in 2011 and began raising her as a single mom, then things changed when Richards tied the knot with Aaron Phypers in 2018. He began helping Richards raise her three daughters (two of which she shares with Sheen) and adopted Eloise when she was 7 years old.
Eloise has had some developmental delays due to a rare disorder known as Chromosome 8, Monosomy 8p, which is characterized by a partial deletion of the eighth chromosome. Richards discovered the news after she noticed Eloise wasn't reaching milestones at the typical rate, such as learning how to walk and talk. During an emotional "The Real Housewives of Beverly Hills" reunion, Richards said that the diagnosis was hard on the family. Despite the challenges that come with this disorder, Richards and Phypers have remained committed to finding the best medical care for Eloise no matter what.
She has a history of getting plastic surgery and cosmetic procedures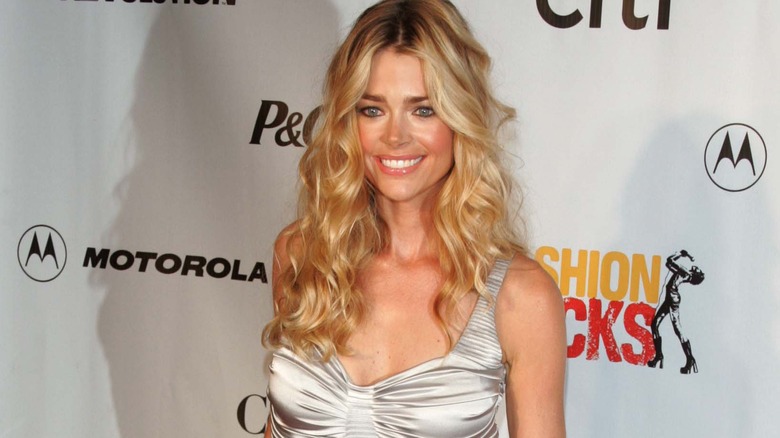 Jim Spellman/Getty Images
Part of Richards' transformation over the years has been a result of plastic surgery and cosmetic procedures. In her memoir "The Real Girl Next Door," she explained that she's had four breast augmentation surgeries, the first of which she got at just 19 years old because she thought her A-cup breasts weren't big enough for Hollywood. She was in such a rush to get the surgery that she didn't properly research doctors, and unfortunately, she ended up with bigger implants than she wanted. The second surgery was meant to reduce her breast size, but the doctor went against her wishes and gave her even bigger implants. The third surgery finally reduced her breast size, then the fourth replaced the implants after they ruptured.
She has also tried Botox, and she said she loved how the results looked but didn't like the way they made her face feel. Since then, she's been keeping things more natural by avoiding Botox and fillers. In fact, she has claimed that she's never used fillers; some people thought she did in 2019, but she says she just gained weight due to a thyroid issue.
She launched a line of hemp-infused skincare products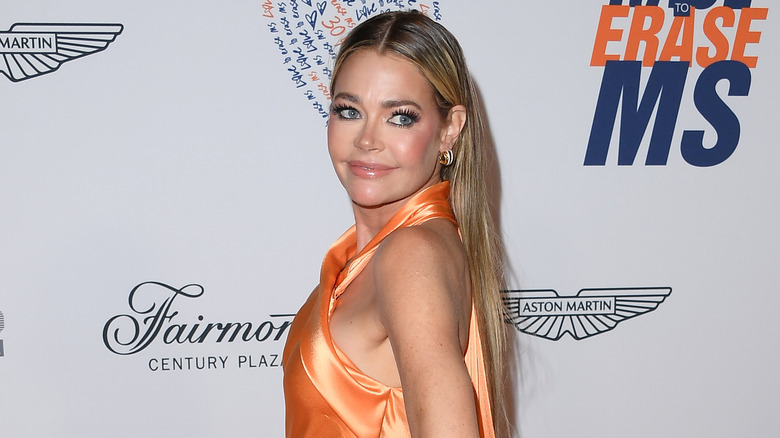 Steve Granitz/Getty Images
How does Richards maintain her youthful appearance without Botox and fillers? It's simple: She takes great care of her skin. Her passion for skincare led her to team up with Canavation Product Group, Inc. to create CBme Beauty, a line of hemp-infused skincare products. "I'm in front of the camera so I do want to take very good care of my skin, and that's also why I thought it would be a great time to venture to have my own skin line," she explained during a 2020 interview with Us Magazine. "I want to be obviously very involved and want products that I actually use. So I definitely gave a few notes along the way."
The skincare line consists of six products: a probiotic cleanser, a lightweight moisturizer with SPF, hydrating cream moisturizer, a retinol serum, an eye cream, and a neck and décolleté treatment. Richards' personal favorite, she said, is the hydrating moisturizer made with hemp oil. She said she plans to expand the line with new products that contain CBD and other cannabinoids.
She joined OnlyFans after her daughter Sami made an account
In 2022, Sheen and Richards' then-18-year-old daughter Sami joined OnlyFans, a site that allows users to sell nude photos and videos to their subscribers. Richards thought it was unfair that Sami was getting so much backlash, so a week later, she joined the site as well to support her daughter.
Sheen, on the other hand, was very opposed to his daughter joining OnlyFans and blamed Richards for Sami's actions since they were living together at the time. Richards said that all she could do was try to guide Sami, but at the end of the day, she makes her own decisions. On a more positive note, Richards said during a 2022 interview with the radio show "Jeff Lewis Live" that making an OnlyFans account has been very lucrative for her. She posts content that's a bit more revealing than what she can post on Instagram and said she has full ownership of what she shares, which she finds empowering.
She's no stranger to philanthropy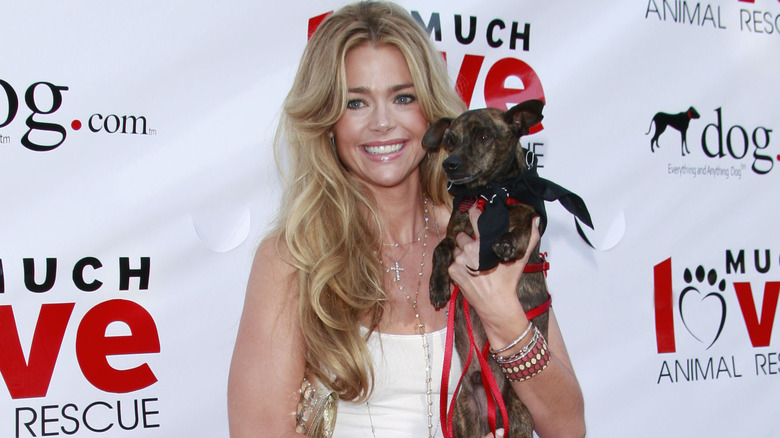 Joe Seer/Shutterstock
Richards has helped many charities over the years. In 2006, she did a nude photoshoot for "Jane" magazine to support the Clothes Off Our Back Foundation, which helps children all around the world live better lives. She collaborated with ShoeDazzle multiple times in 2012 to design high heels and raise money for the Kidney Cancer Association, successfully raising over $15,000 in the process.
She has also been a huge supporter of Best Friends Animal Society, fostering kittens with the help of her daughters and raising awareness about the benefits of adopting animals. She even paid for several rescue dogs' medical care, nursed them back to health, and couldn't resist adopting them. She told Culver City News in 2014, "I've been involved with Best Friends Animal Society since 2009 and I've seen firsthand the differences they've made and the countless lives they've saved. ... Having proudly rescued several dogs and cats myself, I'm thrilled to work with Best Friends to promote the adoption of shelter pets and I believe that by working together we can save them all."
She's been in several shows since leaving The Real Housewives of Beverly Hills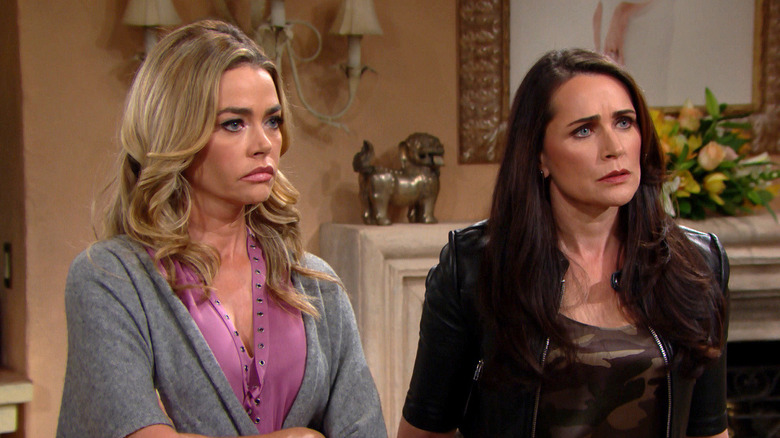 CBS
Richards stayed busy after leaving "The Real Housewives of Beverly Hills" in 2020, landing many different roles on TV shows. Perhaps most notably, she played fun single mom Shauna Fulton on "The Bold and the Beautiful" for several years.
In the upcoming series "Paper Empire," she portrays Bentley Fintch, a character whose opulent lifestyle gets turned upside-down when her husband Laurence (Robert Davi) gets arrested. She is set to appear alongside Geraldine Chaplin, Steve Byers, and Bruce Davison in the period drama "Glow & Darkness" as Marie of France, Countess of Champagne, who was a real-life princess before becoming a countess in the 1100s. Filming took place in Spain, which was a bit challenging since the pandemic led to travel restrictions and lockdowns, but Richards still managed to make it work. She portrayed CIA agent Laura Louis in "The Guardians of Justice."
She has also starred in many movies recently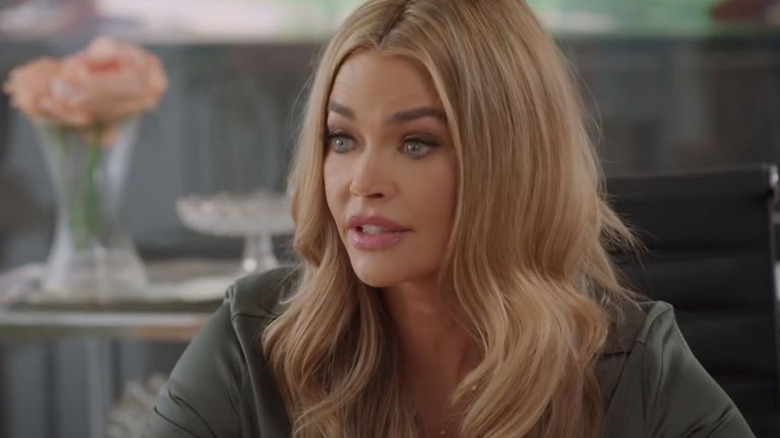 Amazon Freevee
Richards has been on the big screen many times in recent years. She played Catherine in the 2021 action comedy movie "Send It!" and the following year appeared in "Wickensburg" as Celine Lucas, "Junkyard Dogs" as Monica Sullivan, and "Love Accidentally" as Debra.
During a 2022 interview with ScreenRant, Richards shared her thoughts on "Love Accidentally" and rom coms: "A long time ago with romantic comedies, you didn't have a lot of the texting, and social media and stuff like that. The way that the couple falls in love in this movie is along those lines, so it was something that I thought was really current, and fun, and just a real feel-good movie."
She portrayed Leanne in the 2023 drama "The Line" and acted in several more movies that are currently in production: among them are "Angels Fallen: Warriors of Peace," in which she plays Deborah, and "A Walking Miracle," in which she plays Pamela. If there's one thing you can expect from Richards, it's that she'll keep landing roles year after year, whether it's in a big blockbuster movie or a smaller film you've never heard of before.
Richards will return to The Real Housewives of Beverly Hills in 2023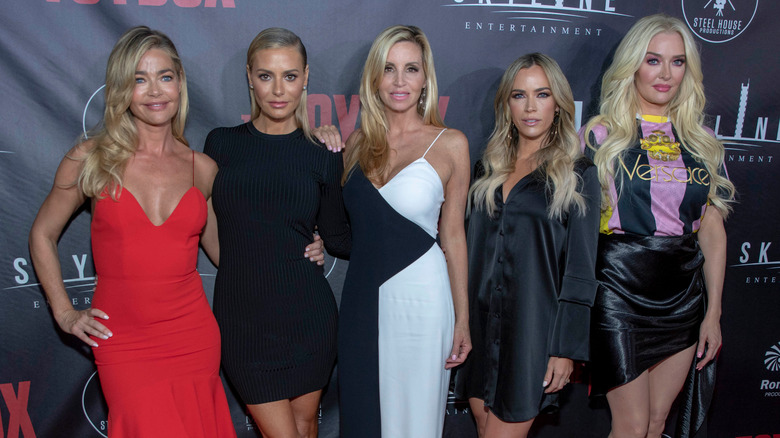 Eugene Powers/Shutterstock
Fans were disappointed when Richards left "The Real Housewives of Beverly Hills" in Season 10, but she's officially returning to the show for Season 13. Her return was so unexpected that even the production crew didn't know about it until it happened. She randomly showed up at a screening because she's friends with Real Housewife Garcelle Beauvais, then the crew asked her to attend some events, and she started getting more involved. "I have filmed some episodes and it's been fun," she told Variety in 2023. "And you know, I'm a big fan of the show, so it was fun to go back and film a lot of stuff with them."
She has confirmed that she won't be in Season 13's promo shots, so it seems like she'll be returning as a guest. There was a lot of drama and negativity surrounding Richards' exit from the show in 2020, but she says things were different this time around. She said she didn't get caught up in the drama and had fun with the whole experience rather than letting others get her down.