Why Hutch From The White Lotus Looks So Familiar
Few filmmakers have conjured quite as singular a cinematic voice as Mike White. The writer, director, and actor got his start in Hollywood writing for beloved series like "Dawson's Creek" and "Freaks and Geeks," and has gone on to conjure original screen stories that range from hilarious and heartrending ("School of Rock") to cringeworthy and/or downright disturbing ("The Good Girl"). Quite often, White finds ways to fit all those vibes into a single narrative, and it certainly appears his latest creation is fit to do the same.
That creation is a six-episode original series called "The White Lotus," which is slated to make its HBO Max debut on July 11. When it does, the series will follow a week in the life of various leisure travelers whose trip to a posh resort paradise proves anything but tranquil. The cast of "The White Lotus" is filled with familiar faces, including Steve Zahn, Connie Britton, Alexandra Daddario, Jake Lacy, Jennifer Coolidge, and Molly Shannon. Eagle-eyed viewers — and reality TV fans — out there will also recognize the face of the resort's bartender, Hutch.
Here's why Hutch from "The White Lotus" looks so familiar.
The White Lotus isn't Alec Merlino's first island adventure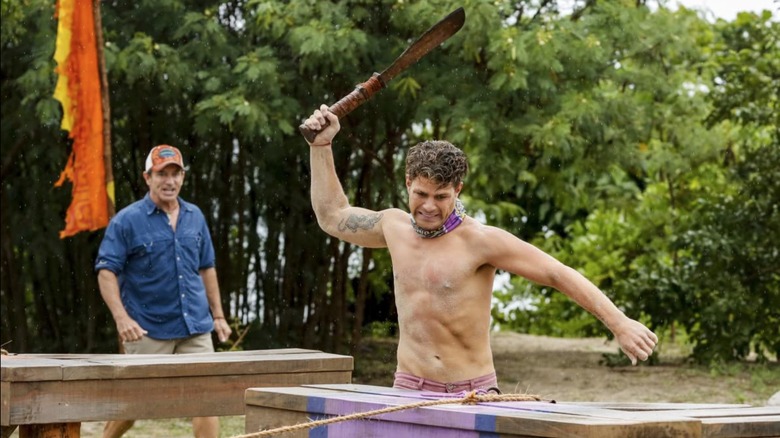 CBS Television
Alec Merlino plays Hutch in "The White Lotus," and if you recognize his face, it's probably because you tuned into Season 37 of CBS' long-running reality series "Survivor."
Subtitled "David vs. Goliath," the season pits a tribe of underdogs against a tribe of overachievers in the wilds of Fiji's Mamanuca Islands. Nick Wilson is eventually voted the season's "Sole Survivor," but Alec Merlino is one of the season's earliest contenders, proving himself as tough on the challenges front as he is good at manipulating competitors from both tribes. All in, Merlino lasts 28 days before getting voted off the island, more than making his mark on the season in the process.
One of Alec's earliest allies was none other than "The White Lotus" mastermind Mike White, who surprised the whole of Hollywood by turning up as a competitor for Season 37 of "Survivor" — and ultimately becoming the season's runner-up. 
It seems White has kept in touch with his former "Survivor" buddy over the years, with the writer-director bringing Merlino aboard "The White Lotus" to play Hutch. As it stands, "The White Lotus" is Merlino's first screen credit as an actor. But even if he doesn't have a ton to do in the series, there's little question a spot on an HBO series will only open doors for Merlino should he choose to pursue an acting career. And if not, it's still a pretty cool cameo.