When Will Kung Fu Panda 3 Hit Netflix?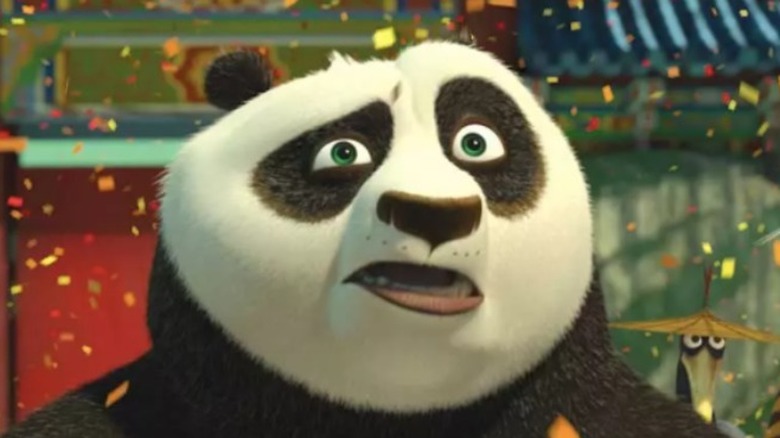 DreamWorks Pictures
Animation fans got a treat when the first two "Kung Fu Panda" movies hit Netflix on July 1. The martial arts comedies about snack-loving unlikely chosen, one Po the panda (voiced by Jack Black), are fun movies that appeal to viewers young and old. But the thing is, "Kung Fu Panda" is a trilogy, and only the first two are available on Netflix, leaving viewers wondering if and when the third movie will arrive on the streaming service. Unfortunately for fans — and parents whose kids are demanding to watch the next movie — the short answer is "We have no idea." But the long answer is a little more hopeful.
The listings for what's new on Netflix in July 2021 make no mention of "Kung Fu Panda 3." Netflix has not officially commented on if and when "Kung Fu Panda 3" will be available, but representatives for the streaming service generally don't answer questions like that. We don't know why the first two "Kung Fu Panda" movies are on Netflix but not the third, but when splits like that happen, it usually has to do with licensing deals that must be confusing even to the people making them.
So the bad news is "Kung Fu Panda 3" is MIA on Netflix. It may show up someday, or it may not. The good news is that there are other ways to easily watch the movie on different streaming services; there are other movies like "Kung Fu Panda" on Netflix; and there are even other "Kung Fu Panda" properties that you can watch on Netflix.
Kung Fu Panda 3 isn't on Netflix, but...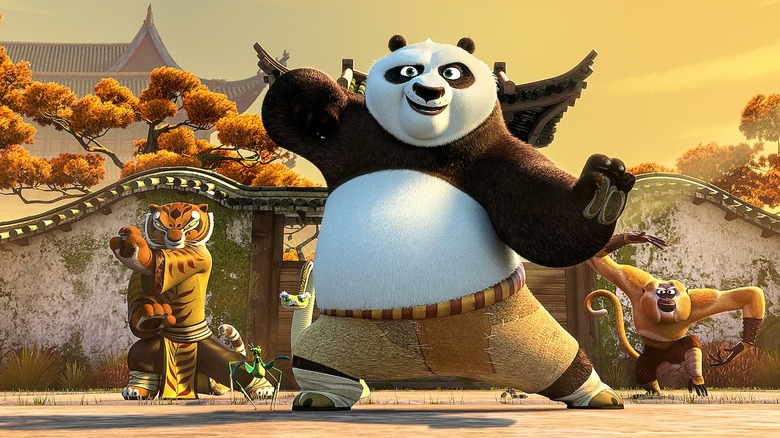 DreamWorks Pictures
"Kung Fu Panda 3" came out in 2016 and continues the saga of Po Ping, the goofy giant panda who happens to be the mythical Dragon Warrior. Po has to defend his friends and community from Kai (J.K. Simmons), a warrior yak from the spirit realm who wants to steal everyone's chi to give himself the ultimate power. In order to stop Kai, Po has to rely on what he's learned from his biological father Li Shan (Bryan Cranston) and his adoptive father Mr. Ping (Randall Hong).
"Kung Fu Panda 3" isn't available on Netflix or any other subscription streaming service, but it is available to rent or buy on Amazon, YouTube, Vudu, and Apple TV.
And even though the third movie isn't on Netflix, a trio of "Kung Fu Panda" shorts are. The short films are companion pieces to the movies, and all three of them are on Netflix. The first two, "Secrets of the Furious Five" and "Secrets of the Masters," are bundled together as "Kung Fu Panda: Awesome Secrets Collection," and the third movie's short "Secrets of the Scroll" is there on its own.
There are also two "Kung Fu Panda" TV series available to watch on different streaming services. "Kung Fu Panda: Legends of Awesomeness" is included with Paramount+, and "Kung Fu Panda: The Paws of Destiny" is included with Amazon Prime Video.
Finally, if you want to stick to Netflix, there are movies with similar vibes to "Kung Fu Panda" on there, especially the "Madagascar" movies and its companion series "All Hail King Julien." "Madagascar" is another talking-animal franchise produced by DreamWorks. There's also the Netflix Original "Over the Moon," which is more authentically rooted in Chinese folklore.