Get Your First Look At John Cena In The HBO Max Peacemaker Series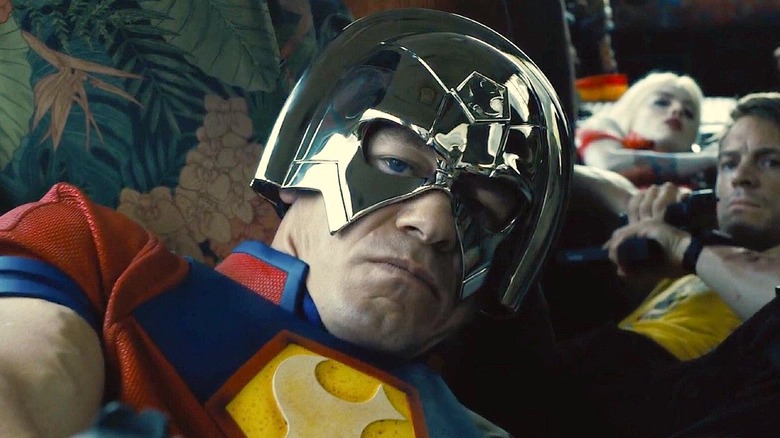 Warner Bros. Pictures
The clock is ticking down to the release of James Gunn's "The Suicide Squad," which comes out on August 6, 2021 in theaters and on HBO Max. The new movie, which has been repeatedly noted by all those involved to not be a sequel or reboot to the 2016 film, features a few familiar faces like Harley Quinn (Margot Robbie), Rick Flag (Joel Kinnaman), and Amanda Waller (Viola Davis), as well as plenty of new characters, such as John Cena's Peacemaker. Created in 1966 as part of Charlton Comics, the character of Peacemaker became a part of DC Comics in the 1980s when the company purchased Charlton Comics (Power of Comics). Since then, Peacemaker has only been moderately successful in comic book form, which is why he's the perfect character for Gunn's wacky film. 
Getting a jumpstart on things, HBO has also greenlit a TV series centered around Peacemaker, which started filming in January 2021 as confirmed on Gunn's Twitter. With the series entirely written by Gunn, "Peacemaker" is centered around the character that Gunn himself calls a "piece of s**t," who has some twisted moral rules. Speaking with Empire, Gunn discussed what makes the "problematic" character of Peacemaker so interesting, and how the series is going to fit into the wider DCEU. Even better, the new interview also includes an exclusive first look image of the upcoming "Peacemaker" TV show, which is expected to premiere in January 2022. 
John Cena's covered in blood on the set of Peacemaker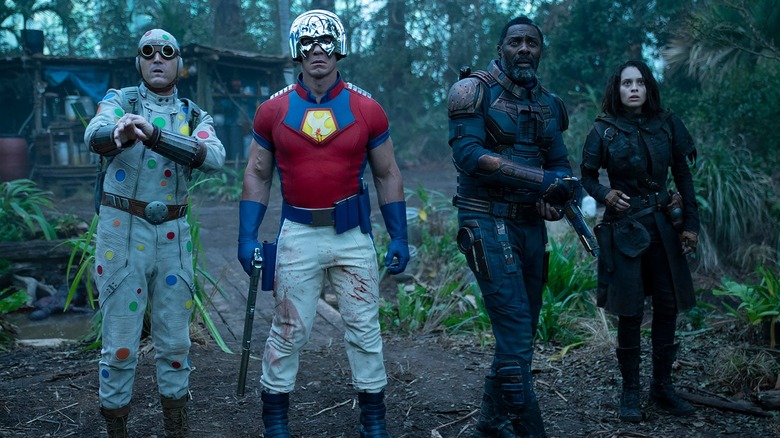 Warner Bros. Pictures
Elaborating on Peacemaker's unique set of values that he lives his life by, Gunn defines it as "You know: 'I want peace no matter how many men, women and children I need to kill to get it.' Sounds like nonsense, but it also makes a lot of sense." But Peacemaker hasn't always been this way, and his journey to becoming this "obnoxious, bro-ey douchebag" is what Gunn really wants to dive into. Gunn also revealed that the show's first season, which will consist of eight episodes, will showcase a major science fiction story that will remain based in the DCEU and explore topical issues. Through the story of "Peacemaker," Cena's character will be put "in a situation where he has to face the choices he's made throughout his life and the extremity of his views."
Although the first look isn't much, it definitely supports previous statements about the series being a hard R-rated story. In character, Cena is wearing the same silly outfit Peacemaker dons in "The Suicide Squad," except the helmet is missing. Oh, and he's covered in blood. His shirt and pants are completely stained with it, though Cena's face appears clean. Gunn is in the frame talking to Cena, while the set behind them shows a trailer painted in red, white, and blue stars and stripes, which fits with Peacemaker's intense patriotism. 
Although it's only one image, this should be enough to keep fans excited for the upcoming HBO series. Soon enough, "The Suicide Squad" will be here, and more information about the "Peacemaker" TV show is sure to follow the film's release.