Why Darlie From Barb And Star Go To Vista Del Mar Looks So Familiar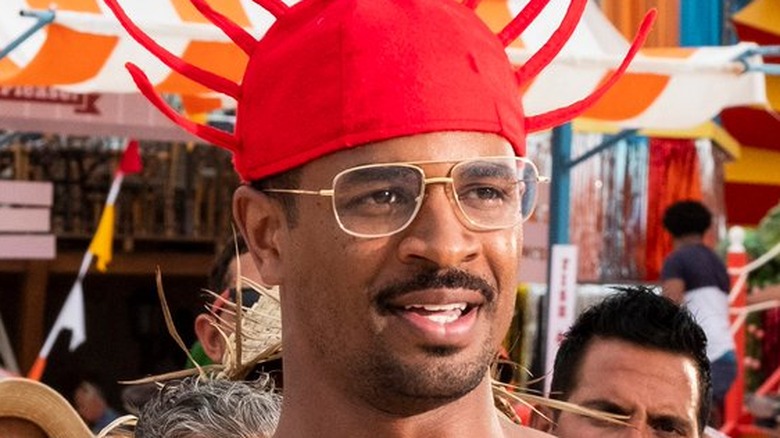 Lionsgate
The duo of Kristen Wiig and Annie Mumolo received a lot of acclaim in 2011 for their work in writing the comedy "Bridesmaids," even earning an Oscar nomination for Best Original Screenplay. However, despite their success, Wiig and Mumolo did not reunite for a follow-up feature until 2021, when they teamed up once again on "Barb and Star Go to Vista Del Mar."
Along with writing the comedy, Mumolo and Wiig also starred in the film, playing the respective title characters. Wiig also played Sharon Fisherman — the film's main antagonist — who wants to destroy the tourist town of Vista Del Mar, which Barb and Star have chosen as the destination for their first ever vacation. They weren't the only castmembers to make an impression; viewers come away finding a number of supporting characters hilarious as well. One character in particular, Darlie, jogged the memory of numerous filmgoers as someone they'd seen before. The performer's name is Damon Wayans Jr., and here's why he looks so familiar.
Wayans Jr. got his start working with his father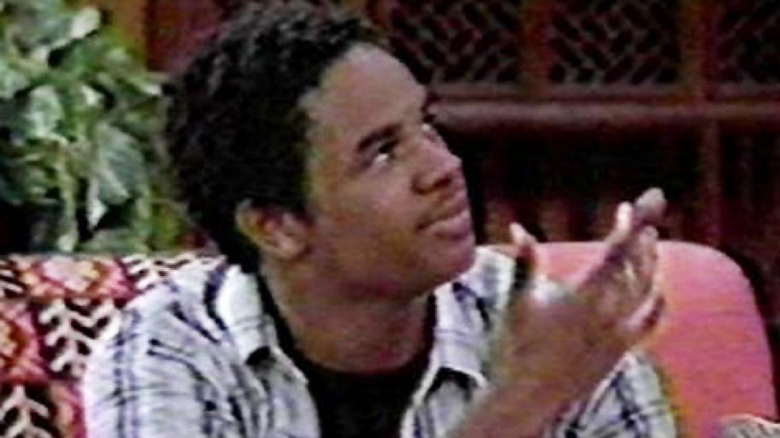 ABC
Damon Wayans Jr. is the eldest son of actor Damon Wayans, and nephew to Keenan Ivory Wayans, Shawn Wayans, Marlon Wayans, and Kim Wayans, all of whom have had decades-long acting careers. It was through this fatherly connection that Wayans Jr. got his break in the industry, with his acting debut came at the young age of 12 when he appeared in the 1994 superhero comedy "Blankman." In the movie, he plays the younger version of Kevin, brother to the protagonist Darryl Walker. The grown-up version of the character is played by David Alan Grier.
Wayans Jr.'s next roles continued to be in projects he shared with his father, as he took on a recurring role seven years later on the sitcom "My Wife and Kids," which also starred the elder Wayans alongside Tisha Campbell. Wayans Jr. plays John, a friend of Junior, the son of Damon Wayans' Michael Kyle. Wayans Jr. also joined the show as a staff writer and story editor, working on the show from 2003 until the show ended in 2005.
Wayans Jr. worked with family members on Dance Flick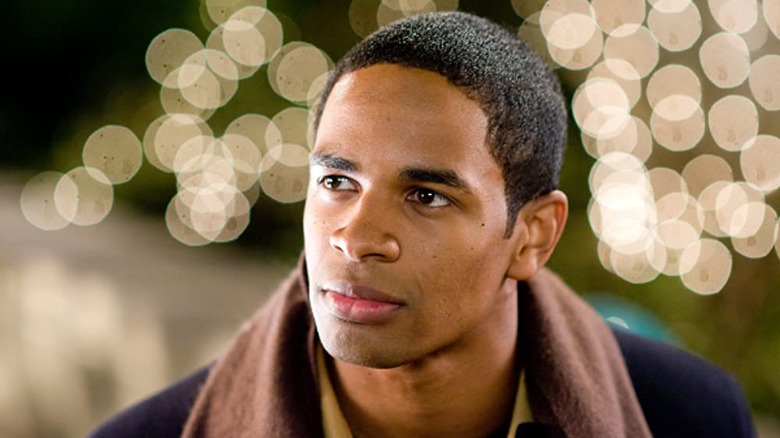 Paramount Pictures
Damon Wayans Jr. continued to collaborate with his father after the end of "My Wife and Kids," joining the sketch comedy show "The Underground" in 2006 as both a performer and staff writer. The show, which was created by Damon Wayans, also starred Mikey Day, who subsequently went on to be a part of the legendary sketch comedy show "Saturday Night Live."
While "The Underground" did not last beyond one season, Wayans Jr. kept working with his family, returning to feature films with 2009's "Dance Flick," this time in a leading role. The film, which openly parodied numerous dance-themed movies such as "Save The Last Dance," was co-written by Keenan Ivory, Shawn, and Marlon Wayans, alongside Wayans Jr.'s cousins Craig Wayans and Damien Dante Wayans, the latter of whom also directed "Dance Flick." Wayans Jr. plays Thomas Uncles, who wants to dance but instead has to work for a gang lord, and falls in love with his dance partner, co-lead character Megan White, played by Shoshana Bush.
He found success in a cult hit sitcom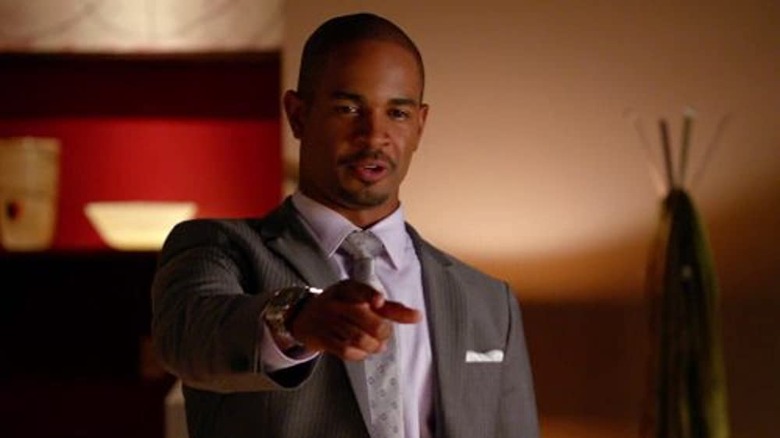 ABC
Damon Wayans Jr.'s first major role outside of the Wayans family came in 2010 with a supporting role in the Adam McKay comedy "The Other Guys," in which he appeared alongside a cast that included Will Ferrell, Mark Wahlberg, Michael Keaton, Eva Mendes, and Rob Riggle. In the film, Wayans Jr. plays Fosse who, along with his partner Martin (Riggle), frequently antagonizes fellow cops Allen Gamble (Ferrell) and Terry Hoitz (Wahlberg).
The next year brought Wayans Jr. his biggest success to date, as he returned to television in the ABC sitcom "Happy Endings." Wayans Jr. was part of an ensemble that included Elisha Cuthbert, Adam Pally, Casey Wilson, and Zachary Knighton. Wayans Jr. played Brad Williams, husband to Jane Kerkovich-Williams (Eliza Coupe), and brother-in-law to Alex Kerkovich (Cuthbert). Despite low ratings, the show garnered a loyal fanbase during its run, with Wayans Jr. being a key part of the show's success. Damon Wayans Sr. also appeared on the show in a guest role as Brad's father Fran Williams.
Wayans Jr. landed a role on New Girl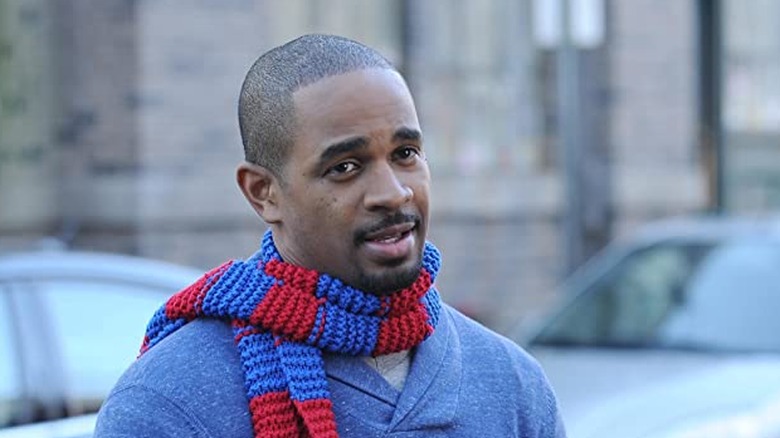 Fox
Damon Wayans Jr. went on to audition for the role of Coach in the Fox sitcom "New Girl," starring Zooey Deschanel, Hannah Simone, and Jake Johnson. He won the role and appeared in the pilot of the series. However, the renewal of "Happy Endings" left the Coach actor unable to commit to "New Girl," and rather than recast the role, showrunner Liz Meriweather opted to bring in a new character, Winston, played by Lamorne Morris (via TV Guide.)
Following the cancellation of "Happy Endings" after three seasons, Wayans Jr. returned to "New Girl" in its third season, reprising the role of Coach, with Morris remaining in the ensemble as well. After being billed as a recurring character in Season 3, Wayans Jr. became a regular castmember of the show in Season 4, before his character departed for New York at the end of the season. Wayans Jr. continued to recur on the show, however, with Coach's final appearance being in the fourth episode of Season 7, entitled "Where The Road Goes."
He bounced between film and television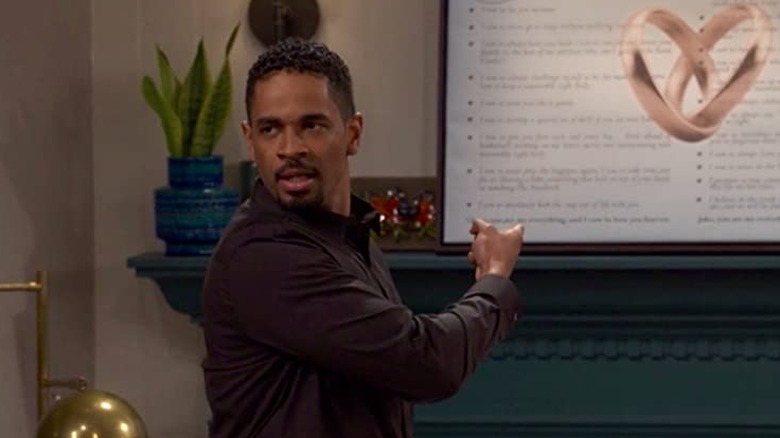 CBS
Later, Damon Wayans Jr. reunited with his "New Girl" co-star Jake Johnson on the big screen in the 2014 feature "Let's Be Cops." The film, which also saw Wayans Jr. reunite with his "The Other Guys" co-star Rob Riggle, sees Wayans Jr. play Justin Miller, a struggling video game developer who goes to a party in a fake cop uniform. After being treated like a real cop on the street, Justin and his friend Ryan O'Malley decide to continue the charade, ending up in over their heads with a local Albanian mob and needing to be rescued by real cops.
He returned to television in 2018 in the CBS sitcom "Happy Together," leading a cast that included Amber Stevens West, Felix Mallard, Stephnie Wier, and Chris Parnell. In the show, Wayans Jr. plays Jake Davis, an accountant married to Claire (West). Jake and Claire's lives are turned upside down when a famous pop star, Cooper James, who employs Jake as his accountant, decides to move in with them to get a taste of normalcy. The show lasted for a single season before being cancelled.
Wayans Jr. appeared in a number of guest roles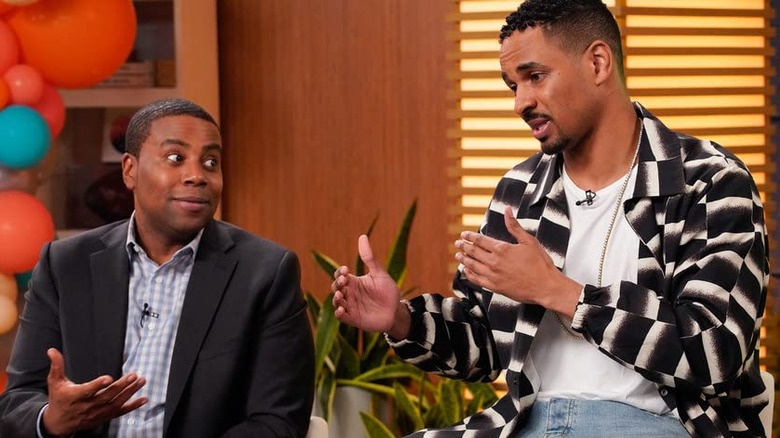 NBC
Continuing to appear in numerous guest roles across TV shows, Damon Wayans Jr. showed up in police procedural parody "NTSF:SD:SUV::" as Garett, and "Curb Your Enthusiasm," in which he played a police officer. He also made a notable guest turn in the police comedy sitcom "Brooklyn Nine-Nine," in which he played Detective Stevie Schillens, former beat cop partner to Jake Peralta, played by Andy Samberg. 
In a change from comedic fare, Wayans Jr. also made an appearance in the Season 2 episode of "The Twilight Zone" entitled "A Small Town" as Jason Grant, a widower who sees the new mayor destroying the legacy left behind by his deceased wife, the town's former mayor. Jason discovers a miniature scale version of the town, realizing that any alterations he makes on the scale model is reflected in the actual town. Wayans Jr. also made a guest appearance on "Kenan," a new sitcom co-created by "Happy Endings" creator David Caspe.