Why Audrey From The Gossip Girl Reboot Looks So Familiar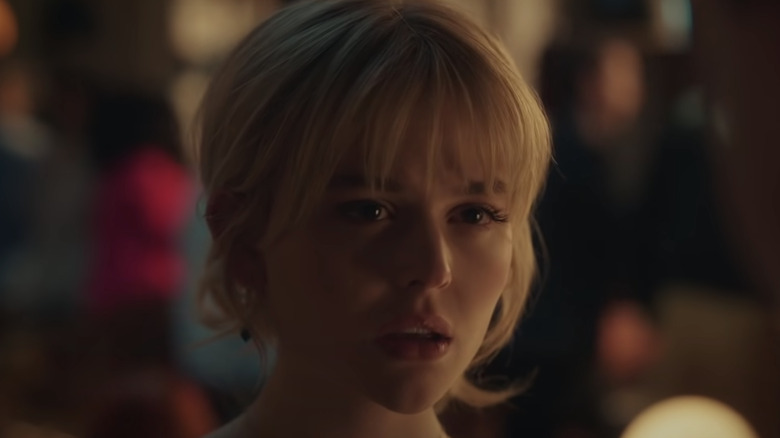 HBO Max
HBO's "Gossip Girl" reboot arrives in July 2021, and will invite fans into the scandalous lives of a brand-new generation of wealthy New York City teens. Set eight years after the original "Gossip Girl" website shuttered, the new series follows modern-day prep school teenagers as the anonymous blogger emerges and begins wreaking havoc in their lives once again. According to the official synopsis, the show "will address just how much social media — and the landscape of New York itself — has changed in the intervening years."
One of the biggest new "Gossip Girl" characters is Audrey Hope — played by Emily Alyn Lind — the daughter of an athleisure designer who's in a long-term relationship but "beginning to wonder what more could be out there." As Lind told BAZAAR.com, Audrey is "very into classic, old-fashion type things," and "the finer things in life." Her life will definitely be rattled by the reemergence of Gossip Girl, but who is the actress who plays her? Let's break down everything to know about Lind.
Emily Alyn Lind played young Amanda in Revenge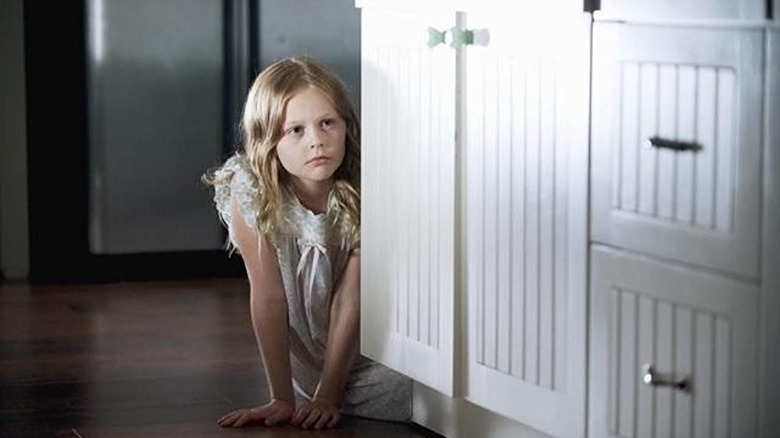 ABC
Although Lind is only 19, she's already been in a ton of movies and TV shows. She made her feature film debut at five years old in the 2008 film "The Secret Life of Bee," and went on to star alongside actors like Viola Davis, Maggie Gyllenhaal, and Leonardo DiCaprio in movies like 2011's "J. Edgar" and 2012's "Won't Back Down." The actress also played Emma Lavery in the soap opera "All My Children" and briefly appeared in shows like "Hawaii Five-0," "Days of Our Lives," and "Criminal Minds."
Her first major recurring role came in 2011, when she was cast as a younger version of protagonist Amanda Clarke — played in adulthood by Emily VanCamp in the hit ABC drama "Revenge." The series follows Amanda (also known as Emily Thorne) as she seeks revenge against the criminal organization and individuals who once framed her father for a crime he didn't commit. Lind played the character in flashbacks until 2015 as the show revealed Amanda's dark childhood backstory.
Lind was a part of a Netflix horror franchise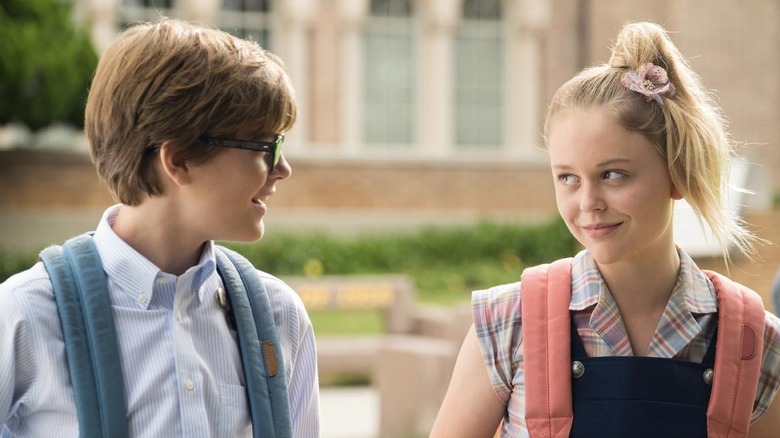 Netflix
The "Gossip Girl" reboot will officially turn the teen drama into an ongoing franchise, and luckily, Lind already has experience in that department. She played Melanie in the Netflix horror-comedies "The Babysitter" (which premiered in 2017) and "The Babysitter: Killer Queen (which premiered in 2020). 
The first film follows pre-teen Cole (Judah Lewis), who discovers his babysitter Bee (Samara Weaving) is actually the leader of a satanic cult. Lind plays his friend Melanie, who secretly harbors a crush on him and encourages him to investigate Bee's true motives. She reprised her role in "The Babysitter: Killer Queen," as Melanie becomes an aspiring influencer but ultimately decides to help Cole as he's once again pursued by demonic villains old and new while navigating the everyday horrors of high school. Comedy and high-stakes drama are cornerstones of "Gossip Girl," and Lind will no doubt get to flex the acting range she showed in the "Babysitter" films in her latest role.
Lind was also a part of Code Black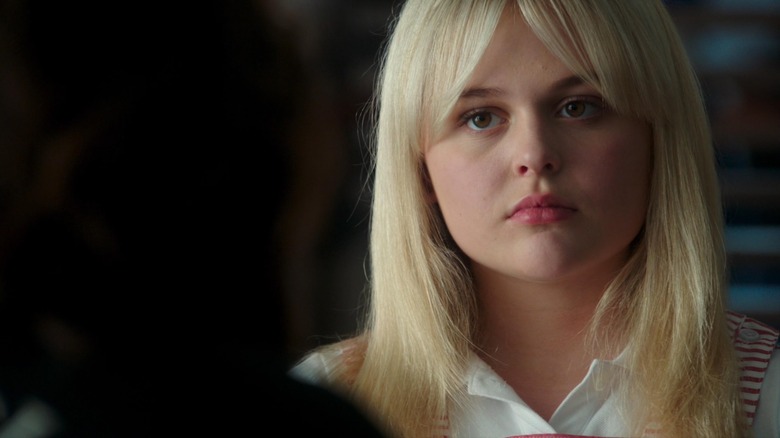 NBC
From 2015 to 2019, the actress portrayed angsty teen Ariel Braden in the NBC medical drama "Code Black." The show follows Los Angeles doctors who work in the Angels Memorial Hospital, which is apparently home to the country's busiest emergency room. This often creates a lack of medical resources and results in a perilous "code black" situation. 
Lind's character went through a lot — Ariel loses both her parents in the show's pilot episode and is later adopted by lead character Dr. Leanne Rorish (Marcia Gay Harden). She reluctantly becomes a candy striper at the hospital, but her complaints about the job lessen when she develops a crush on Max (Alex Lange), a young cancer patient who catches her eye. The show ran for three seasons, and by Season 3, Lind was promoted to a series regular. This marked a shift toward more mature leading roles for the actress.
Lind has appeared in huge blockbuster movies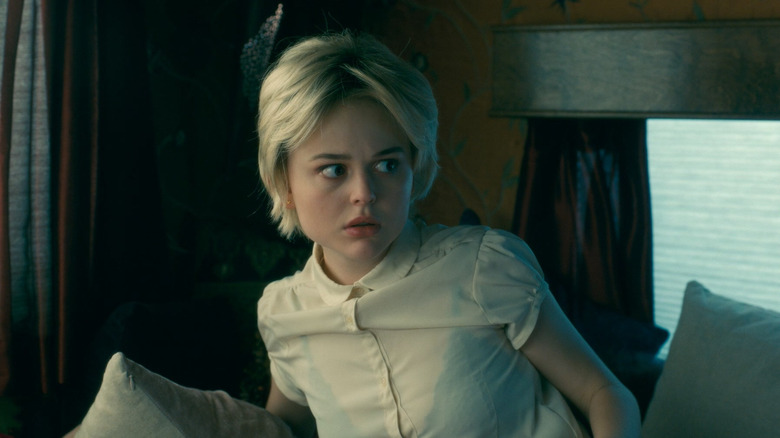 Warner Bros. Pictures
In recent years, Lind has also padded her resumé with notable film roles alongside even more memorable A-list stars. In 2018, she appeared with Keanu Reeves in the sci-fi thriller "Replicas," which centers on a scientist (Reeves) who becomes obsessed with reviving his loved ones who were killed in an accident. She played Sophie, the man's eldest daughter.
By 2019, Lind took on another chilling role by playing Snakebite Andi in the "Shining" sequel film "Doctor Sleep." Her character has the ability to people's behavior, and is a member of the True Knot, a cult that feeds off people with similar psychic abilities.
When the actress was cast in the "Gossip Girl" reboot, she'd already made time for even more projects. Lind portrayed another cult member in the 2020 Facebook original series "Sacred Lies," and starred alongside Casey Affleck and Sam Claflin in the 2021 thriller "Every Breath You Take." Fans will have to wait and see what Audrey gets up to in "Gossip Girl" for themselves, but it's clear Lind has a bright future ahead of her in Hollywood.