Kayla From Too Hot To Handle: 5 Facts You Didn't Know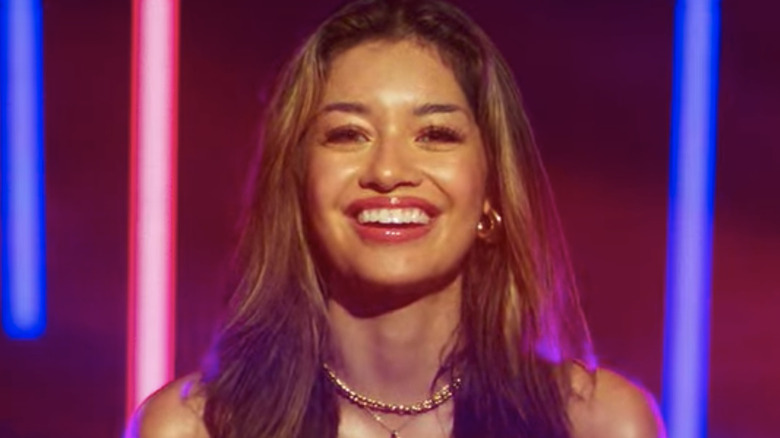 Netflix
When "Too Hot to Handle" first hit Netflix in spring of 2020, the reality dating show became an instant hit for the streaming service. Deadline reported that the first season became the most-viewed Netflix show across 10 different countries last year. And now that Season 2 has officially arrived, the streamer is chasing that summery success once again.
For those unfamiliar with the series, "Too Hot to Handle" follows several eligible young singles as they travel to a tropical villa and search for love. It's like "Love Island," but with a twist — they're forbidden from engaging in any forms of sexual activity, and are monitored at all times by a robot known as Lana. Any rule-breaking results in money being deducted from the grand cash prize of $100,000, putting each contestant's willpower to the test.
One of those singles is Kayla Carter, a 26-year-old from Jacksonville, Florida. While you watch Kayla struggle to resist her desires onscreen, here are some fun facts you should know about her. 
She's a bartender and model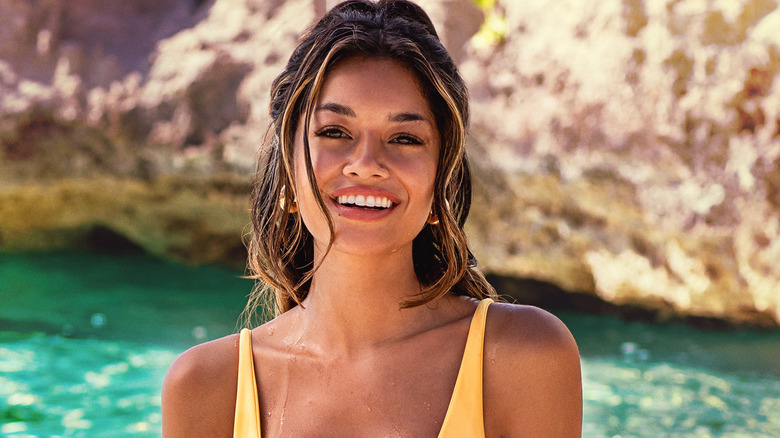 Netflix
Kayla works part-time as a bartender, a role in which she draws the eye of plenty of male patrons. "I do get hit on quite a lot when I'm working," she said on the show. "They're tipping me good. That's all that matters." And as she pointed out, she gets to "meet a load of new people every single day," and the fact that "a bunch of cute guys come through" every day is a major upside of the job.
Outside of bartending, Kayla also has a growing career as an in-demand model. According to her Instagram bio, the "Too Hot to Handle" star is also signed to a notable modeling agency called AC Talent Management. In the past, she's modeled for brands like Ama Bikinis and Knock Out. She also walked twice in the 2019 JMFP runway show designed by Jess Juan Bags. Hopefully, her reality TV appearance will mark the start of even more opportunities.
Kayla Carter is diving into the world of social media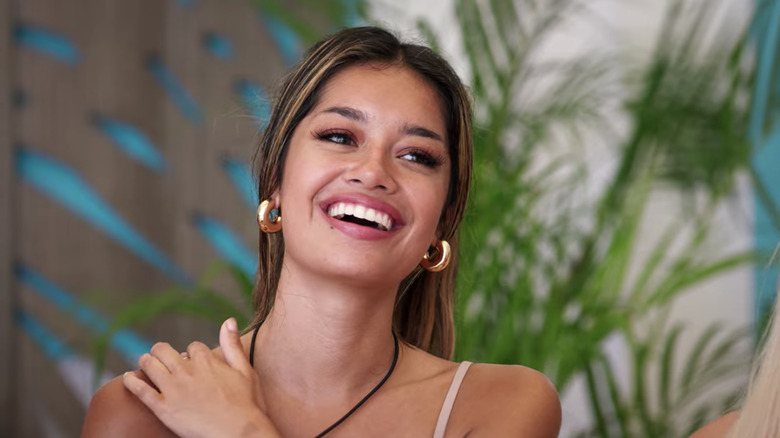 Netflix
As of June 30, Kayla has a whopping 139,000 followers on Instagram, where she often posts shots from her modeling gigs, as well as candid photos and pics of various trips she's gone on in recent years. Despite her growing popularity, Kayla isn't a super frequent poster just yet — she currently has only 48 posts on the platform. 
You can also find Kayla on TikTok. She recently made an account, and has already gained over 6,000 followers after posting just two videos. One introduces her friend group, while the other reveals she's a hardcore Harry Styles fan, and features her dancing to a pic of the former "One Direction" star. "Clearly I didn't get on 'Too Hot to Handle' because of my dancing lmao," she captioned the video. "But manifesting that one day Harry Styles notices me." 
Maybe Kayla's real perfect match is the "Watermelon Sugar" singer himself!
Kayla Carter loves to travel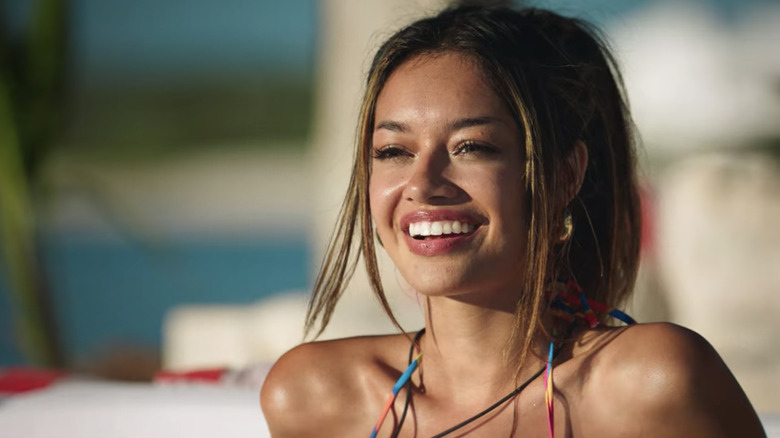 Netflix
Kayla got to enjoy a tropical getaway when she lived in the "Too Hot to Handle" villa in the Caribbean's Turks and Caicos islands. And as she noted on Instagram, appearing on the show has only made her wanderlust grow stronger. "Watching season 2 is giving me the travel bug," she captioned a recent post. "Where should I go next?"
Although "Too Hot to Handle" renewed Kayla's love for travel, she's been a jet-setter for years — especially thanks to her modeling gigs. The reality star's Instagram page is filled with photos of her travels, from the Bernese Alps in Switzerland to Paris, France to Grand Cayman in the Caribbean. "Sometimes when I'm having a bad day, I look back at these pictures," she captioned one travel post. "It reminds me how amazing and beautiful this world and life is, how great God is, and just makes my problems seem a whole lot smaller in the moment."
Kayla Carter grew up in a strict household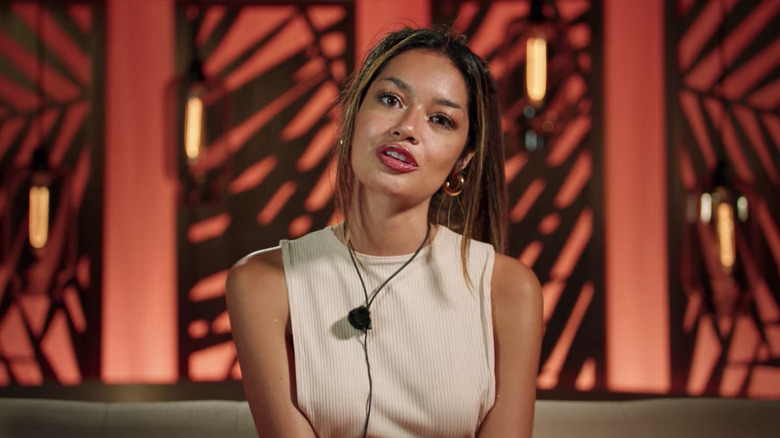 Netflix
As Kayla explained in her "Too Hot to Handle" introduction package, she was raised in a strict and religious Filipino-American household. "My mom was a total co*** block," she laughed, adding that when she left home as a young adult, "I kind of went a little boy crazy ... the more guys who are chasing me, the more interesting it gets."
Although Kayla claimed that she thinks about sex "all day, every day," and that it's "definitely hard to go without it," she was one of the staunchest rule followers on "Too Hot to Handle" Season 2. In fact, by the time she was eliminated in Episode 5, she hadn't broken any rules, making her the most dedicated rule-follower in the group. But as some cast members noted, this also meant she was partially closed off to potential romantic connections and didn't ultimately pair up with anyone.
She's into bad boys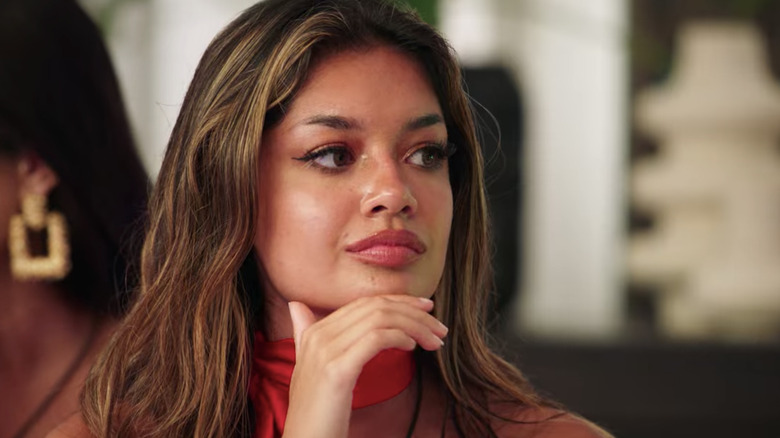 Netflix
Upon arriving at the "Too Hot to Handle" villa, the rest of the cast asked Kayla what her type is. "I'm not too picky," she replied. "They just have to have an edge." Later, Kayla added, "I feel like everyone has a little bit of a bad side to them. If you say that you don't, you're lying."
While plenty of male cast members engaged in "bad boy" behavior by breaking the show's celibacy mandate, Kayla struggled to find anyone who she was genuinely into as the season progressed. "Not anyone here has been my go-to type," she admitted at one point, and later told the camera, "There really isn't anyone here who's my cup of tea, unfortunately."
This lack of commitment ultimately resulted in Kayla getting kicked off the season, because as Lana put it, "I have calculated that you have the lowest possibility of forming meaningful relationships." Perhaps in the real world, her dream guy is just around the corner.