F9's Sung Kang Weighs In On That Big Post-Credits Scene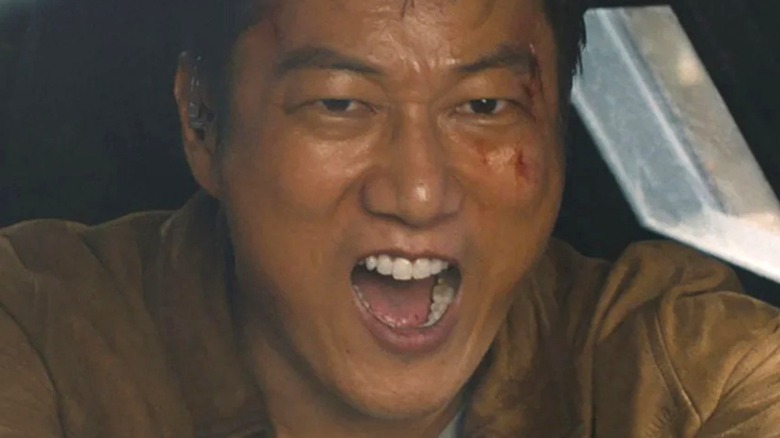 Universal Pictures
Contains spoilers for "F9"
"F9" is a movie that's absolutely filled with big scenes and larger-than-life figures. Still, one of the film's greatest moments is a simple and fairly common plot trope: a returning character. Of course, Han (Sung Kang) is not just any random dude. A breakout character from one of the "Fast" franchise's lower points, "The Fast and the Furious: Tokyo Drift," clever timeline trickery ultimately enabled Han to join Dom Toretto's (Vin Diesel) gang for a few movies. Unfortunately, his demise in "Tokyo Drift" eventually turns out to be the work of "Furious 7" villain Deckard Shaw (Jason Statham), who himself is out to avenge his injured brother, "Fast & Furious 6" villain Owen Shaw (Luke Evans). 
To the joy of many Han fans, "F9" reveals that the news of his death were greatly exaggerated, and that he survived because Mr. Nobody (Kurt Russell) helped fake his death. What's more, an extremely interesting post-credits scene makes it pretty clear that the character's story is only starting to get interesting. 
What's next for Han, then? Here's what Sung Kang has to say about the movie's big post-credits scene, and its meaning for Han. 
Sung Kang says Han might not be after the character you assume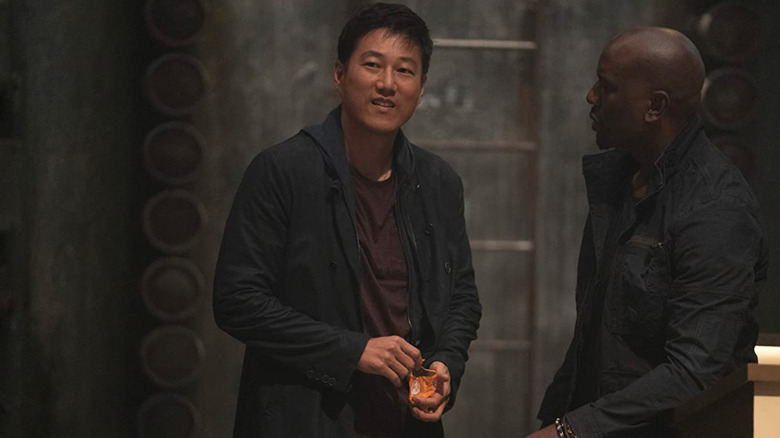 Universal Pictures
The ending of "F9" sets up a pretty big showdown, as you see Deckard Shaw — who, at this point, is more or less an anti-hero protagonist — interrogate someone in a characteristically Deckard Shaw way ... only to find Han standing behind the door. The scene ends before you find out what Han has to say to his would-be murderer, but presumably, he's not delivering a heart-shaped box of chocolates. 
It remains to be seen just how Han plans to take down Deckard, who's one of the franchise's most skilled and brutal fighters. Then again, as Sung Kang told The Hollywood Reporter, the character might have entirely different ideas for the encounter. If you ask Kang, Han may very well be after Deckard's brother, Owen, in order to avenge the death of his romantic interest, Gisele (Gal Gadot), who died in "Fast & Furious 6."  
"But within the story, if you just take away my personal feelings and involvement, yeah, [justice] hasn't been served," Kang said. "It hasn't been served because someone that is dear to Han is not here anymore. So how is that resolved? And if I find the man responsible for it, what do I do to him? So we'll see."
We will indeed. Maybe the 10th "Fast & Furious" movie will finally show us that confrontation — or maybe Gisele will return, too, and the movie will feature a full-on battle between the power couple and the Shaw brothers. Hey, it's the "Fast" franchise. Stranger things have happened.