The Chilling Exorcist Thriller That's Got A Grip On Netflix Subscribers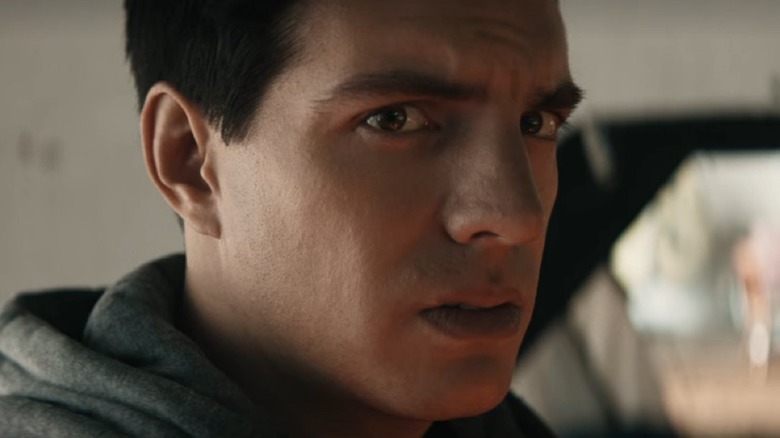 Vertical Entertainment/Redbox Entertainment
The religious thriller "The Seventh Day" gives viewers a firsthand look at the dangers of battling against the forces of evil on earth. Often, the individual fights are the ones that seem like the biggest risk. However, as the characters in this take on the exorcism genre learn, it's the lingering effects of looking into the dark void that even the most pious individuals have to watch out for.
"The Seventh Day" focuses on two priests at very different moments in their lives. Father Daniel Garcia (Vadhir Derbez) is a young priest fresh out of seminary school who is ready to dive headfirst into the realms of darkness and use his holy abilities to save those who need protection. He's been paired up with Father Peter Costello (Guy Pearce), an experienced exorcist with more than a thing or two to teach his latest novice charge. However, with that experience comes misanthropy. Father Costello has encountered true evil throughout his long career and it has certainly left its mark. As the two heed the call of a young man so demonically possessed that he murdered his family (that sounds familiar...), they find that their varying levels of experience may help, or hinder, their efforts.
Although the basic setup will sound familiar to those who've seen films like "The Exorcist" or "The Taking of Deborah Logan," the relationship between the two priests gives "The Seventh Day" a unique twist on the genre. Netflix viewers certainly seem to think so, as the film is currently on the streamer's list of the top 10 most viewed movies. And while "The Seventh Day" didn't exactly blow critics away, several did find things about the film that they were intrigued by.
"The Seventh Day" offers some new variations on a familiar formula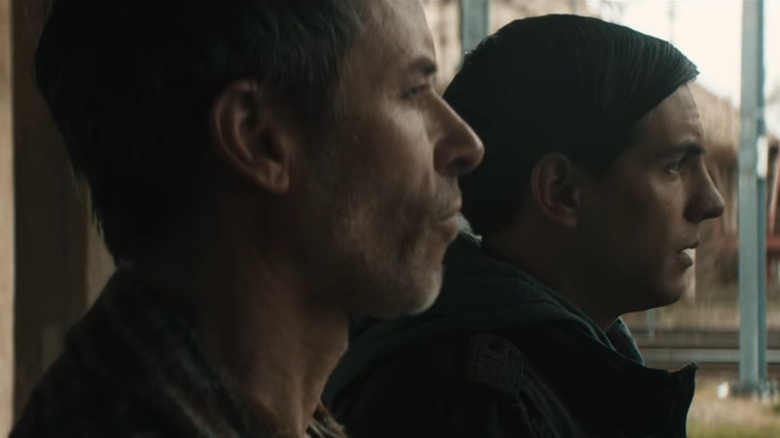 Vertical Entertainment/Redbox Entertainment
While many critics were relatively cool on "The Seventh Day," most were able to point to some aspect of the film that they felt was noteworthy.
In a mostly negative review for Variety, Owen Gleiberman put the spotlight on the Father Costello character, writing, "there's a hint of an innovation, even if it's not about the devil. It's about the figure who's fighting him." Gleiberman went on to elaborate, "As Pearce plays Father Peter, he's a new screen type: the exorcist as hipster, as cool-cat cowboy, as ballbuster. He sports four days' stubble, he smokes, he drives his squared-off '70s jalopy singing along with rock nuggets ..."
Leslie Felperin of The Guardian was a bit kinder to the movie overall, even though they felt it could have pushed itself further. "But this will do," Felperin ultimately wrote, "especially as it's a chance to watch Pearce and his remarkable cheekbones and gleeful weirdness at work with a scripture-chewing performance that puts a lot of meat on what could have been an off-the-peg turn from a lesser actor."
And similar to Felperin, Tomris Laffly expressed that the movie didn't fully deliver on what could have been a strong setup. In a review for RogerEbert.com she wrote, "That's a real shame, because Lange actually formulates a refreshing dive into familiar waters, structuring his saga of good and evil inside a framework that resembles 'Training Day' ..."
Ultimately, though, it appears that whatever reservations critics have about the film, Netflix audiences are still eager to judge "The Seventh Day" for themselves.