Why C. Berman From Fear Street 1994 Looks So Familiar
One of the most unique movie events of the summer is finally here... and it stars a familiar face from the small screen.
After several weeks of steady promotion, Netflix has officially kicked off its long-awaited "Fear Street" trilogy, a series of horror films set to be released on a weekly basis from July 2 through July 16. Directed by Leigh Janiak, the trilogy is based on the "Fear Street" book series by R.L. Stine and takes place in the fictional town of Shadyside, Ohio. With each installment set during a different time period (1994, 1978, and 1666, to be specific), the trilogy follows a wide array of characters across time as they all try to not only survive certain deadly events, but also discover the truth behind Shadyside's bloody history.
The trilogy boasts an impressive ensemble of recognizable actors (including a few breakout "Stranger Things" stars), with certain actors even set to appear in more than just one of the three installments. Among the trilogy's recurring stars is actress Gillian Jacobs, who plays C. Berman, a survivor of the camp massacre depicted in the trilogy's second installment, "Fear Street: Part Two – 1978." Here's where you may have seen Jacobs before.
Gillian Jacobs played Britta on Community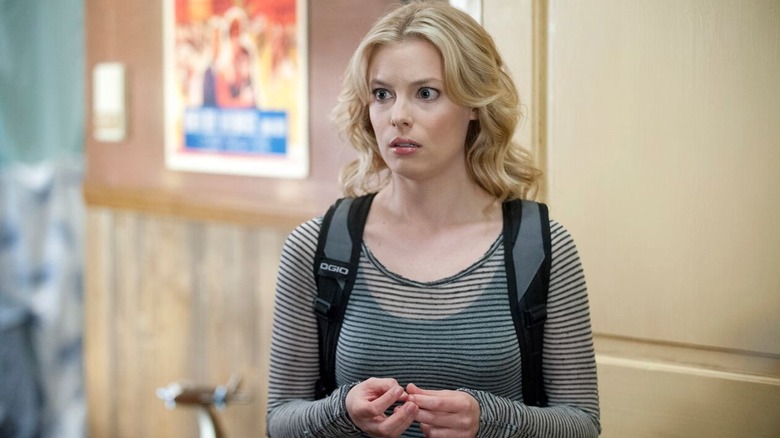 NBC
TV viewers will likely remember Gillian Jacobs best for her performance as Britta Perry on "Community." Created by "Rick and Morty" co-creator Dan Harmon, the beloved TV sitcom took place in a fictional community college and focused on a handful of its most eccentric students. Jacobs' Britta was one member of the show's core group of characters, and the actress' turn as the painfully (and hilariously) self-righteous character made her one of the standout "Community" cast members.
While the sitcom struggled with low viewership numbers when it was on the air, it's well-remembered by its fans as a cult favorite. In fact, the series' enduring popularity on different streaming services has resulted in Jacobs and the show's other lead actors, including Joel McHale, Donald Glover, Alison Brie, and Danny Pudi, continuing to receive some well-deserved acclaim and attention for their performances in it. The series marked a major turning point in Jacobs' career, and provided her with what turned out to be, undoubtedly, her breakout role.
Gillian Jacobs also starred as Mimi-Rose Howard in Girls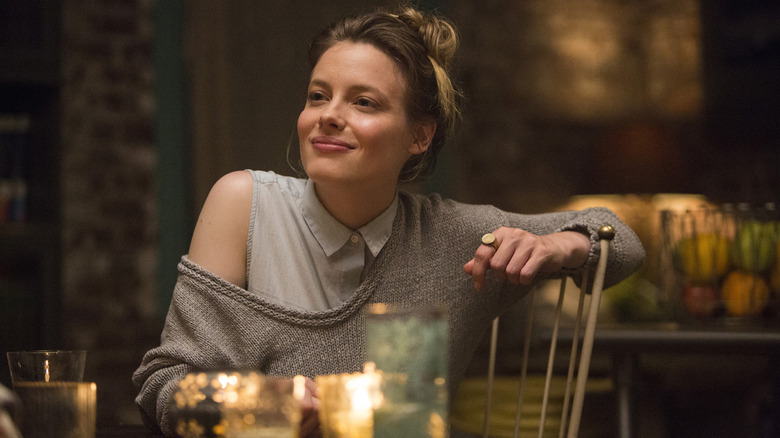 HBO
In 2015, Gillian Jacobs appeared in a handful of episodes throughout the fourth season of HBO's "Girls." The "Community" actress starred in the series as Mimi-Rose Howard, and while her time on the series was limited, she made a major impression.
Introduced in the fourth episode of "Girls" Season 4, Jacobs' Mimi-Rose quickly emerged as a new love interest for Adam Driver's bombastic, oddball Adam. The two characters end up dating for a large portion of the show's fourth season and have more than a few memorable moments together throughout that time. Jacobs, in particular, shines as Mimi-Rose, a fiercely independent woman struggling to move on from her ex while simultaneously navigating her relatively new relationship with Driver's Adam. She brought an interesting new presence to the HBO series, and the character's unique and well-drawn personality led to some notable conflicts with the series' other characters. Jacobs turned in an impressively uncompromising and multi-faceted performance in "Girls," and is one of the most memorable guest stars to ever appear on the HBO series.
Jacobs gave a memorable performance as Mickey Dobbs in Love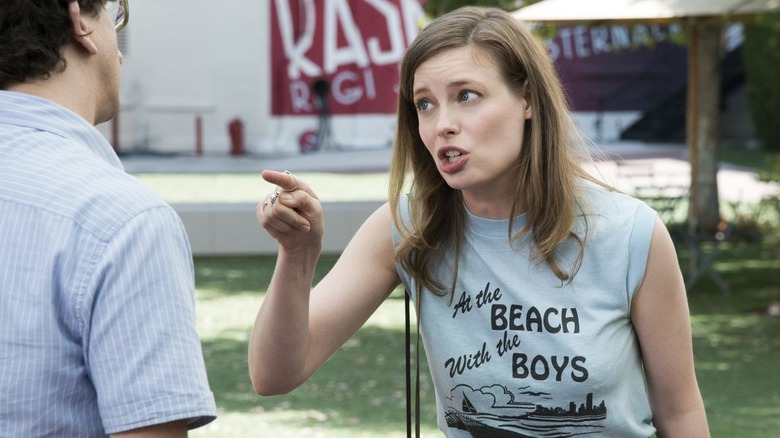 Netflix
Netflix subscribers may also recognize Gillian Jacobs for her performance as Mickey Dobbs on the streaming's service's underrated original series, "Love." Co-created by Judd Apatow, Lesley Arfin, and Paul Rust, "Love" follows the various ups and downs of a Los Angeles couple as they slowly grow more committed to each other. The romantic comedy series ran for a total of three seasons, with Jacobs serving as one of its two leads alongside show co-creator, Paul Rust.
Premiering just one year after "Community" came to an end, "Love" gave Jacobs the chance to step outside of the heightened comedic world of "Community" and showcase her skills as a vulnerable, dramatic performer in much the same way that her character in "Girls" did. Jacobs didn't let the opportunity pass her by either, and over the course of the show's three seasons, the actress plays Mickey's various strengths, weaknesses, and self-destructive tendencies with a stunning level of authenticity and honesty. As a result, "Love" often worked best as a showcase for Jacobs' talents, and her performance as Mickey Dobbs remains one of her very best to date.
Gillian Jacobs has starred in a wide array of big screen comedies and indie films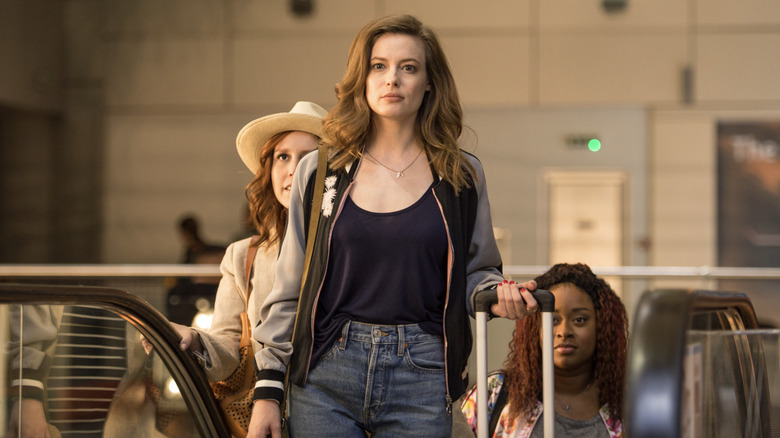 Netflix
In addition to her extensive TV work, Gillian Jacobs has starred in an impressive and diverse assortment of films throughout her career. In 2015, she starred as Jill in the studio comedy sequel, "Hot Tub Time Machine 2," while Netflix viewers may also remember her for her performance as Harper in the streaming service's 2018 vacation rom-com, "Ibiza." That same year saw Jacobs in a scene-stealing supporting turn in the Melissa McCarthy-led comedy, "Life of the Party," and she turned in a similarly playful, delightful performance as a successful career magician in the Disney+ original film "Magic Camp."
Jacobs has found plenty of opportunities to showcase her versatility as an actress outside of the studio comedy world as well. She brought real warmth and charm with her turn as Nicky in the Demetri Martin-directed "Dean," and turned in one of the best performances of her career as Samantha in the underrated Mike Birbiglia dramedy "Don't Think Twice." She also received some noteworthy praise last year for her lead performance as a writer in her mid-30s who finds herself drawn back into college society in the indie gem "I Used to Go Here."
In other words, while Jacobs may be most well-known for her pitch-perfect comedic performance on "Community," she's already proven herself perfectly capable of turning in memorable dramatic work, whether it be on the big or small screen.
Jacobs recently appeared in Come Play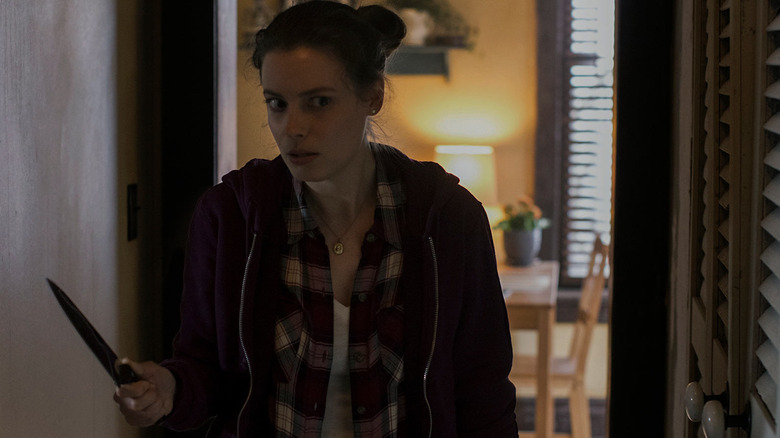 Focus Features
More recently, Gillian Jacobs was seen in the 2020 indie horror film, "Come Play." Written and directed by Jacob Chase, the film follows the struggles of one fractured family as they're terrorized by a mysterious and powerful monster capable of reaching into the real world through various smartphones and mobile devices. The film's cast also included Azhy Robertson and John Gallagher Jr., and Jacobs centers the narrative as Sarah, the mother of Robertson's Oliver and wife of Gallagher Jr.'s Marty.
The actress brings a much-needed level of heart and vulnerability to "Come Play," which helps ground all of its various scares and fantastic moments in real human emotion. The film itself is one of the most interesting and unique genre films that came out in 2020, and while it flew a bit under the radar when it was released, it's still a title well-worth seeking out. Jacobs' performance, in particular, does a lot to make "Come Play" a seriously successful horror flick.