The Bizarre Thing That Happened To Iliza Shlesinger At A Meet And Greet - Exclusive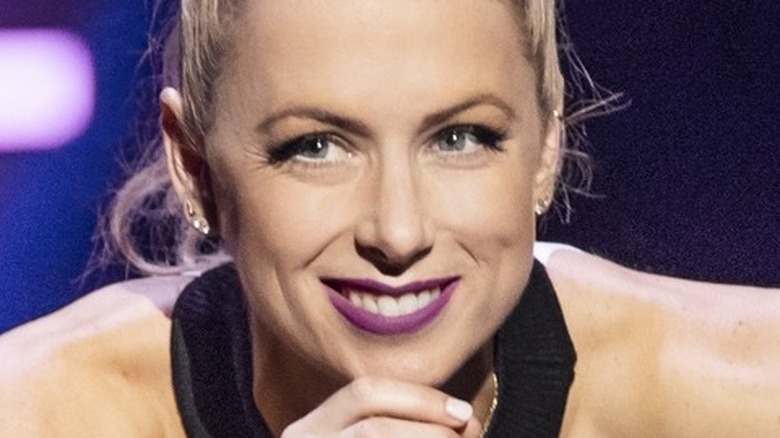 Netflix
Stand-up comic Iliza Shlesinger – best known for her five Netflix specials and her stunning 2008 win on "Last Comic Standing," where she became both the youngest and the first female comic to win the reality competition — has created a fictionalized version of a toxic relationship she endured in her new Netflix film "Good on Paper," which she wrote and also stars in.
The film stars Shlesinger as Andrea Singer, a thinly disguised version of the real Shlesinger who's struggling to get her acting career in gear while continuing to work the mic in comedy clubs several nights a week. Andrea meets and falls in love with a man named Dennis (Ryan Hansen), who's too good to be true. No, really — everything Dennis has told Andrea about himself is a lie.
"Good on Paper" touches on many aspects of Shlesinger's real life, including some of the less-savory facets of being a woman working in clubs as a stand-up comic. In one brief but memorable scene, Andrea is accosted on the street by an intoxicated patron who has taken umbrage with her act for some reason. "You know, female safety was never at the top of anyone's priority list when it came to this career," Shlesinger tells Looper in an exclusive interview. "I think people are more cognizant of it now."
Iliza Shlesinger has had some disturbing things happen at her gigs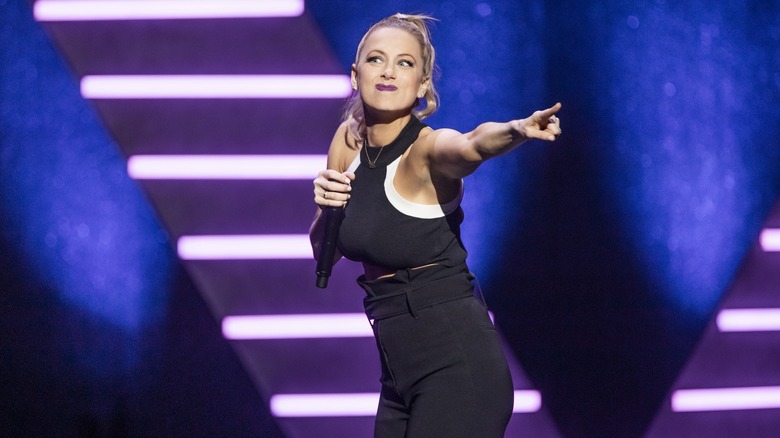 Netflix
The scene with the drunken audience member in "Good on Paper" apparently just scratches the surface of what Iliza Shlesinger had seen in her years as a comedian.
"I have had stalkers and continue to have them," she says. "And these are not people, you know? This is just somebody who wants to do harm because they saw you on a stage or on TV. I've had anti-Semitic things yelled at me from the crowd. I've dumped a drink on someone before. I've had a fight break out."
Interacting with her audience during her show and sometimes afterwards comes with the territory of being a stand-up comic — and an entertainer in general — and Shlesinger admits that there comes a point where one just has to put their faith in people to act normally. Still, prioritizing your safety is important, and Shlesinger wants women in comedy to know that.
"It's really one of those things where it's a trust act. You're standing on a stage, the audience is dark, and you're hoping we all came with good intentions," she says. "But the longer you go on in this career, the more you learn to prepare for those things and to say, 'I need security. I need to be walked here.' So, that's my, I hope, takeaway for young women in comedy: Your safety matters, and you're not a diva if you ask for someone to be by your side just to create a barrier."
Even so, Shlesinger admits that she's had some truly weird things happen. "Someone licked my ear once at a meet and greet," she recalls. "People get drunk and they forget how to act, or they never knew [how to act in the first place], but as long as you're okay, then they're all learning tools, I guess."
Before anyone out there starts thinking, "Oh, that doesn't sound so bad," just imagine how you might feel if a total stranger licked your ear. Suddenly doesn't sound like too much fun, does it? Fortunately, incidents like that haven't put Shlesinger off her career in comedy.
"Good on Paper" is streaming now on Netflix.