Why Billie From Sex/Life Looks So Familiar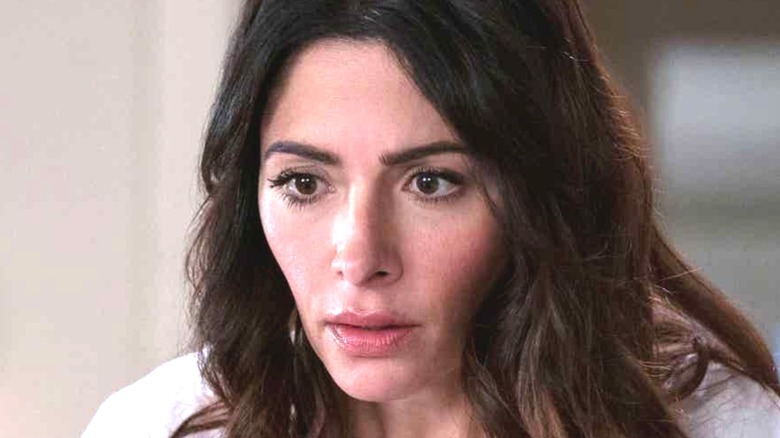 Netflix
Netflix's new show "Sex/Life" stars Sarah Shahi as protagonist Billie Connelly, a suburban wife and mother of two who feels unfulfilled in her current life. We watch as the discontented Billie reminisces about her life as a single woman in New York City. Each episode includes flashbacks to her varying trysts, past relationship, and erotic daydreams before she settled down and married her husband Cooper (Mike Vogel).
Based on the novel "44 Chapters About 4 Men" by B. B. Easton, show creator Stacy Rukeyser's adaptation is a steamy romp that indulges in Billie's fantasies about all the great sex she had with her ex-boyfriend Brad (Adam Demos). Shahi doesn't shy away from the nudity and explicit nature of the show's material as the character Billie chronicles her desires in her sex journal. 
While you're surely unable to pry your eyes away from the actress's acrobatic sexual adventures, you may also be wondering where you've seen her before. Shahi has had a long and varied television and film career, and here are a few projects you may remember her from. 
Sarah Shahi had a small role in The Sopranos, as well as other movies and TV shows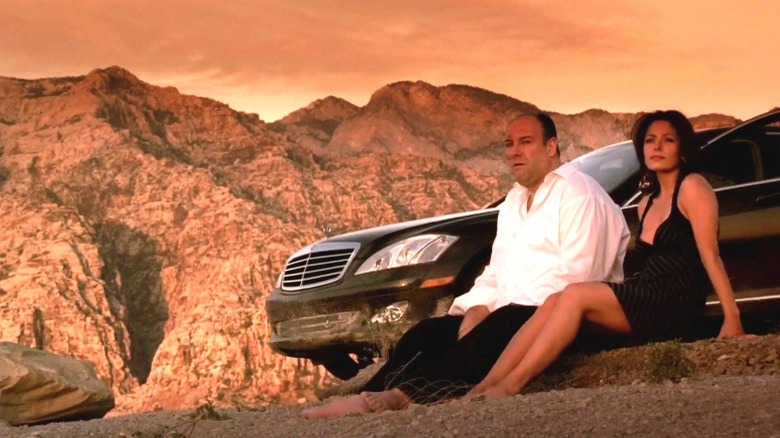 HBO
Towards the beginning of Sarah Shahi's career she had numerous guest roles in several shows, including "Dawson's Creek," "Reba," "ER," and "Supernatural." In the Jennifer Garner spy thriller series "Alias," she played Jenny, the young and talented newspaper intern who was in love with Will Tipin (Bradley Cooper) a local reporter. Unfortunately for the young intern, Will only had eyes for his best friend and secret double agent Sydney Bristow. In 2007, Shahi appeared in another small role in "Rush Hour 3" as a rich girl named Zoe who is pursued by Detective Carter (Chris Tucker). 
That same year she also had a role on HBO's "The Sopranos," in the Season 6 episode "Kennedy and Heidi," which aired in 2007. 
Her character, Sonya Aragon, is portrayed as a college student who also works as a stripper in Las Vegas. Sonya spends a weekend with the show's protagonist Tony Soprano (James Gandolfini) after the death of Tony's protégé Christopher Moltisanti (Michael Imperioli). As Tony grieves, he and Sonya indulge in psychedelics (peyote, to be precise), and have a winning gambling streak which ends as they watch the sunrise at Nevada's Red Rock Canyon. 
Sarah Shahi's first major role was as Carmen de la Pica Morales on The L Word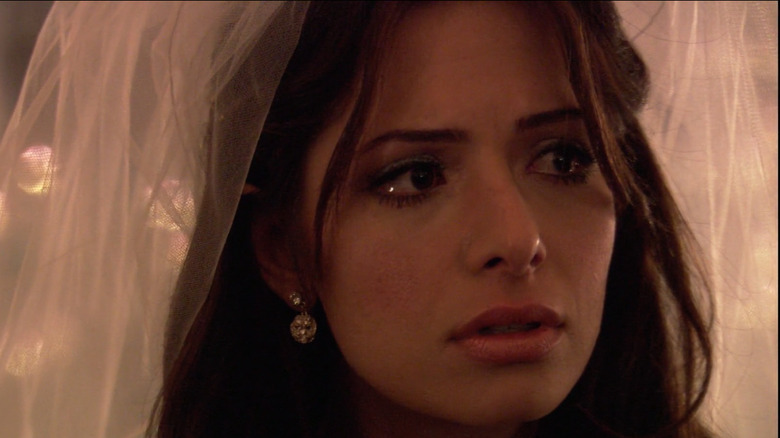 Showtime
It wasn't until 2005 that Sarah Shahi had her first extended role on "The L Word." She played the supporting character of Carmen de la Pica Morales during the show's second and third season. 
Carmen is a a DJ who becomes part of a love triangle with the show's main characters Shane McCutcheon (Katherine Moennig) and Jenny Schecter (Mia Kirshner). After a tumultuous relationship between Shane and Carmen, Carmen begins dating Jenny in order to make Shane jealous. After Shane and Carmen reconcile, Shane proposes in the third season, and Carmen accepts. 
In the dramatic Season 3 finale, the whole gang travels to Canada for the wedding. However, before the ceremony, Shane abandons her fiancé at the altar, leaving Carmen utterly heartbroken. This proves to be the end of her arc: Shahi's character is not seen again during the show's run until the last episode of the series, where she appears in a tribute video for show protagonists Bette Porter (Jennifer Beals) and Tina Kennard (Laurel Holloman), wishing them the best in New York.
Sarah Shahi starred in multiple shows that were canceled too soon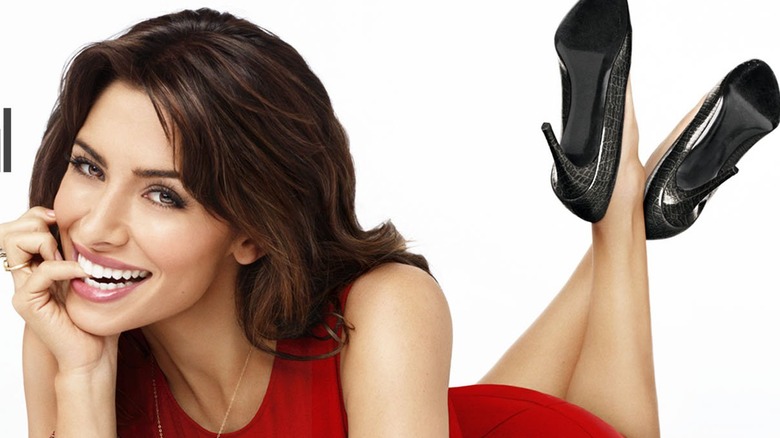 USA Network
Sarah Shahi's first permanent leading role on a TV series was the 2007 show "Life" on NBC, co-starring Damian Lewis as Charlie Crews. Lewis played a detective released from prison after serving twelve years for a crime he did not commit. Shahi's role was the homicide detective Dani Reese, who is partnered with Charlie after his release and reinstatement to the LAPD. The series was cancelled after two seasons. 
This would prove to be a trend, unfortunately, when it came to the shows that Shahi landed on. In 2011, Shahi nabbed another lead role on the USA Network show "Fairly Legal." This time the show followed Shahi's character, Kate Reed, a legal mediator who is frustrated with the bureaucracy and injustice she witnesses in the legal system. According to The Hollywood Reporter, "Fairly Legal," similarly, only lasted two seasons, with the network calling it quits in 2012.
Shahi also starred in the 2018 TV series "Reverie" as as Mara Kint, a former hostage negotiator and behavioral expert who is hired to extract patients trapped in a highly advanced virtual simulation. After low ratings, only 10 episodes of "Reverie" ever aired on NBC (via Deadline).
Sarah Shahi played Sameen Shaw on Person of Interest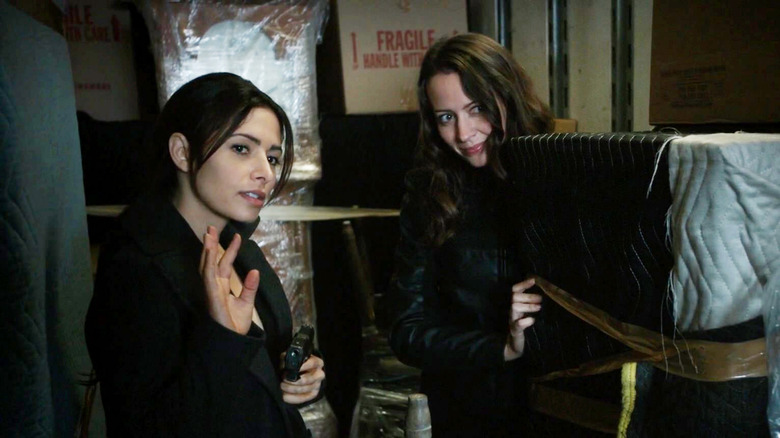 Warner Bros. Television
In 2013, Sarah Shahi was cast as Sameen Shaw on "Person of Interest." Her character was first featured in Season 2 Episode 16. Sameen is a physician and a former operative for the U.S. Army Intelligence Support Activity. The character has self-diagnosed herself with an Axis II Personality Disorder — making her an effective assassin who has little concern for her victims. However, it also means that she has few demonstrable emotions. 
Sameen does, though, reveal a same-sex attraction to the genius computer hacker and killer known as Root, played by Amy Acker. The couple and Shahi's character were both a huge hit with the show's fandom, as confirmed by TV Line, and Shahi became a series regular in Season 3. After taking a brief hiatus during Season 4 — due to Shahi's real-life pregnancy, via Cinema Blend – she came back to resume her role as Shaw, and continued playing her until the show's series finale in 2016.