Sex/Life Season 2 - What We Know So Far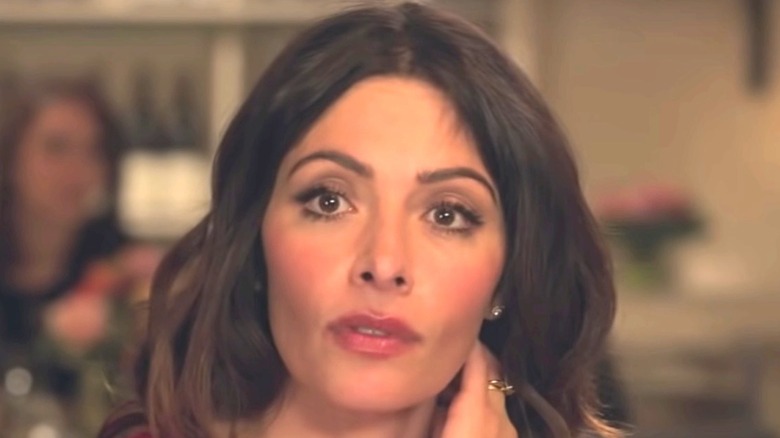 Netflix
The steamy new Netflix original, "Sex/Life" is currently, well, heating up the streaming service. At this time of writing, it has remained in the trending Top 10 of the platform since its premiere on June 24, 2021.
Based on the book titled "44 Chapters About 4 Men" by B. B. Easton and developed for television by Stacy Rukeyser, "Sex/Life" focuses on a suburban wife and mother, Billie Connelly (Sarah Shahi). Despite a committed and loving husband, wonderful children and a generally near-perfect home life, Billie is finding herself unfilled and bored. She finds herself fantasizing about the wild, party-filled life she used to live — and, namely, the ex-boyfriend she used to live that life with, Brad (Adam Demos). When Brad unexpectedly comes back into her life, Billie finds herself torn between her past life and the life she's built with her husband Cooper (Mike Vogel).
With Billie's dilemma — and her plethora of sexual explorations along the way — proving captivating to Netflix users, a second season could very much be in the horizon for "Sex/Life." Here's what we know so far about a potential Season 2 of "Sex/Life."
When will Season 2 be released?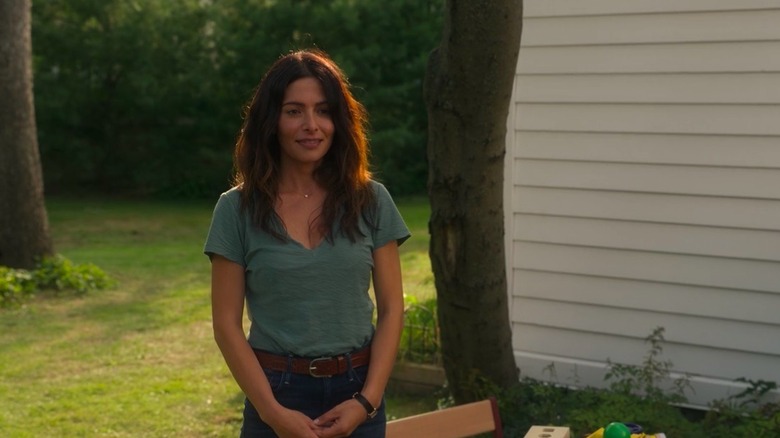 Netflix
As of now, Netflix has not renewed "Sex/Life" for a second season. Considering the immediate popular reaction though, it seems highly likely that the streaming service will commit to another season.
For reference, another popular — and bawdy — series from Netflix, "Bridgerton," was renewed just about a month after its release — it premiered on December 25, 2020 and its renewal was announced on January 21, 2021 (via The Hollywood Reporter). So, if "Sex/Life" continues to remain on the Netflix trending chart, it seems likely that we'll hear about a renewal within the next month or two.
The first season of "Sex/Life" also ended on a cliffhanger — more on that later — which is sure to elicit an enthusiastic response from viewers who will want to know how Billie's story continues from the finale's last moments. And it's not just the fans who want more — the cast and crew involved are eager for that renewal news, as well. Speaking to TV Line, star Sarah Shahi said, "I just hope that if we do get to Season 2, we can continue down the rabbit hole because it sure is messy to play. It's fun to play, and I think it's just incredibly real."
Who will be in Season 2?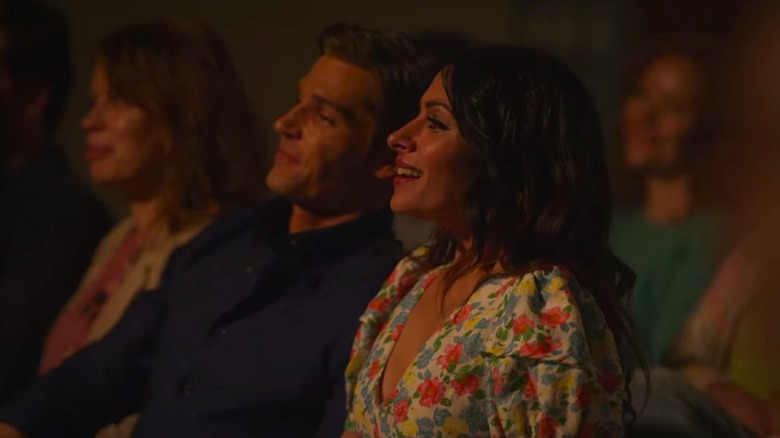 Netflix
If "Sex/Life" gets renewed, we can expect to see all of the same key actors returning to reprise their roles and dive right back into where the story left off. Our protagonist, Billie, is torn between the two men in her life — the one from her past and the one from her present. The one from her past, Brad, is played by Adam Demos, while her present day husband, Cooper, is played by Mike Vogel. With the ending of Season 1 leaving Billie at odds with the two of them, we can expect both Demos and Vogel to return for Season 2.
Another vital presence is Billie's best friend, Sasha, who is played by Margaret Odette. As her best friend, Sasha acts as an outlet for Billie to discuss her conflicted feelings surrounding her marriage. Sasha, who has remained single — and living the kind of life Billie finds herself pining for — spends much of the season encouraging Billie to stop putting her marriage at risk and leave her past behind. At the end of the season, Sasha has her own pivotal moment when she decides to finally settle down and get married. With a potential new season, there's a lot of room to explore Sasha in her own right and see how she faces married life after being single for so long.
Additionally, Cooper, while dealing with his wife's doubts, found himself facing his own opportunity to step outside of his marriage when his boss, Francesca, played by Li Jun Li, declares her feelings for him. At the end of Season 1, a future between the two is hinted at, so Francesca can definitely be expected to return and play a role in Cooper's life.
What will Season 2 be about?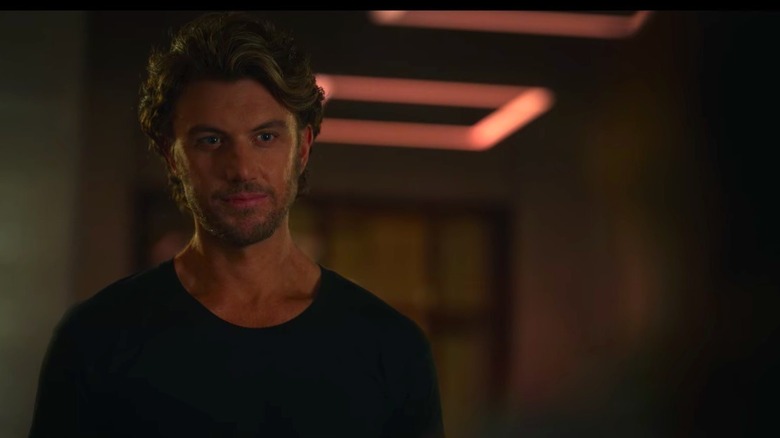 Netflix
In the Season 1 finale, Billie has seemingly made her choice: she wants to make her marriage work. After Brad declares how much he loves her and that he wants to get married and have a stable life together, Billie turns him down, saying she doesn't want to lose the family she's built. But, at the end of the episode, Billie realizes that her family life isn't enough for her, she also wants to exciting sex life that she experienced with Brad. So after leaving her kid's recital, Billie runs to Brad and declares that she is still not leaving her husband, but that she wants to begin a sexual relationship with him anyway.
After eight episodes of Billie contemplating her choice, it's shocking to see her not pick between the two, but rather begin the fight for both. And it opens up a lot of questions for Season 2 — namely, how will the two men in her life react?
Creator and showrunner Stacy Rukeyser told TVLine, "I don't know what Brad is going to say to her. He really put his heart out there on the driveway and proposed a happily-ever-after to her, and that is not what she's proposing to him. I'm not sure if Brad will say yes to that or not. But that's what we're hoping to get a chance to explore in Season 2."
Stay tuned for more "Sex/Life" Season 2 updates.