Aquaman 2 Filming Is Underway In A Mysterious, Icy Location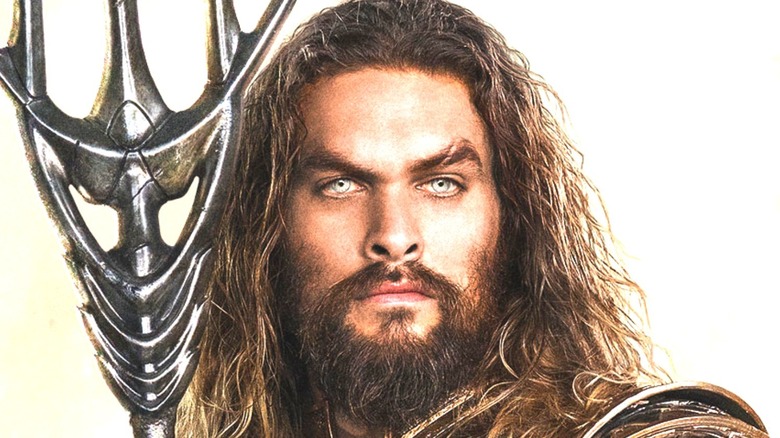 Warner Bros. Pictures
Movies and TV shows often go to great lengths to keep plot details a secret. But in today's hyperconnected world, it's only a matter of time before information gets out. This is especially likely when it comes to shooting locations: When a film production shows up with hundreds of crew members, people will notice. For many fans, learning where their favorite movie or show is being shot — and possibly even getting a glimpse of said shooting location — is enough to make the long wait between premieres bearable.
The sequel to 2018's "Aquaman," "Aquaman and the Lost Kingdom," doesn't hit theaters until December 16, 2022. But on June 28, 2021, production officially began. To mark the occasion, director James Wan posted a photo on Instagram revealing one of the film's first shooting locations. Wan doesn't indicate where the photo was taken precisely, and movie magic means that even if we did know the location, the film wouldn't necessarily be set there. For example, "Aquaman" mostly takes place in Italy, a small town in Maine, and Atlantis, but it was filmed in Australia, Newfoundland, and Morocco (via Atlas of Wonders).
With the premiere of "Aquaman and the Lost Kingdom" still about a year and a half away, however, fans will take anything they can get. Here's your first glimpse of the "Aquaman" sequel's start of production.
Hypothermia might be Aquaman's new foe in Aquaman 2
Warner Bros. Pictures
Wan's Instagram post consists of a photo with a simple caption: "Day One. #aquaman2." The photo shows a frigid locale full of snow and ice. In the foreground, a production clapboard showing the film's working title, "Necrus," can be seen. 
"Necrus" is both revealing and mysterious. As fans of DC's moistest superhero know, Necrus is the name of another underwater kingdom that factors heavily in Aquaman-centric comics. Prior to the landmark 1985 DC Comics event "Crisis on Infinite Earths," underwater civilization was split into several fiefdoms. One of them was Necrus, also known as "The Black City." It's likely this is the same place as the "Lost Kingdom" from the film's title, although the name change could be significant.
Necrus' main feature is that it only appears temporarily, and never in the same place. So, if Wan's photo actually does show Necrus as it appears in the film, that locates the city somewhere with freezing conditions — at least for a while. Of course, it's also possible that Wan's photo doesn't show Necrus at all, but an entirely different location from the film. At this point, all we can really say about "Aquaman and the Lost Kingdom" is that it's going to be chilly.
This freezing location raises another question for Aquaman fans: Does this mean Jason Momoa will finally have to wear a shirt? Fortunately, we've already seen Aquaman in a frigid locale before — He journeys to Iceland in 2017's "Justice League." In that scene, the answer is a resounding "nope." So yeah, "Aquaman and the Lost Kingdom" should have everything fans need.