Is Jujutsu Kaisen Okay For Kids To Watch?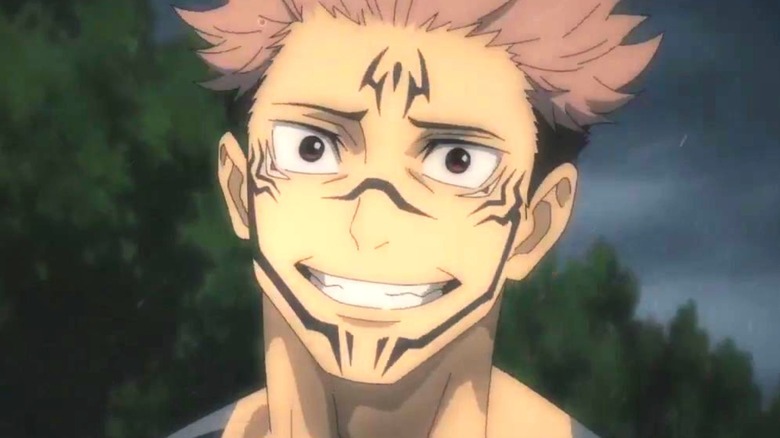 MAPPA/Crunchyroll
The horror-action anime "Jujutsu Kaisen" premiered in both Japan and the U.S. through Crunchyroll in October 2020. It has since been added to HBO Max, making the series available to an entirely new and arguably wider audience as one of a limited number of new anime series included on the streaming service.
"Jujutsu Kaisen" is based on a manga originally anthologized in the influential Weekly Shonen Jump magazine in Japan (via Anime News Network). Other anime that originated in the pages of Weekly Shonen Jump include mega hits like "Dragon Ball" and "Demon Slayer: Kimetsu no Yaiba," the latter of which recently spawned a record-breaking film.
Not only is "Jujutsu Kaisen" popular in Japan, but in the eight or so months since its debut, the series has also become a hit in the U.S. According to Parrot Analytics, "Jujutsu Kaisen" ranks in the top 2.7% of all TV series when ordered by popularity using the company's proprietary data software. Furthermore, Parrot Analytics' data determined that the domestic popularity of "Jujutsu Kaisen" is a full 98% of its popularity in its country of origin.
In short, "Jujutsu Kaisen" is a hit by both anime standards and when compared to most other TV series. Fashion brand Uniqlo even released a line of T-shirts featuring designs inspired by or taken from the series. A growing number of parents may be noticing their children taking interest in "Jujutsu Kaisen" as a result of its popularity, and thus need to determine whether or not the show is appropriate for them to watch. So, is "Jujutsu Kaisen" okay for kids to stream?
Jujutsu Kaisen is more mature than the average shonen anime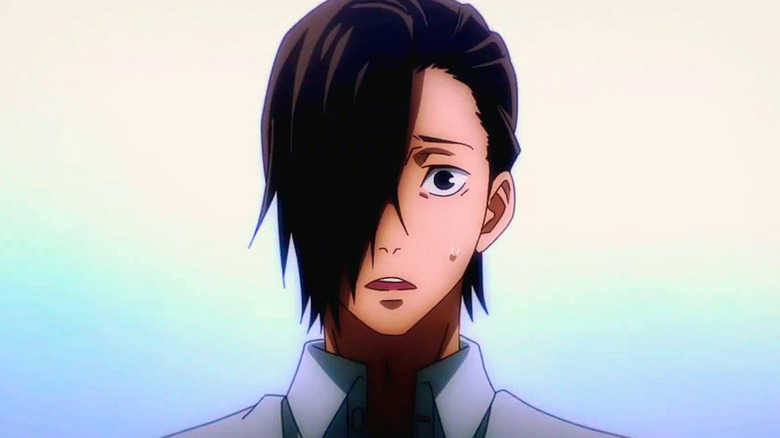 MAPPA/Crunchyroll
"Jujutsu Kaisen" debuted as a manga series in Weekly Shonen Jump. Given its origin and the fact that it features a number of tropes common in the genre, "Jujutsu Kaisen" can thus be safely categorized as a shonen anime series. In Japanese, shonen (少年) simply means "boy" (via Jisho). Shonen anime, then, are typically appropriate for boys — and, by extension, all children — to watch. That said, other examples of popular shonen anime series — like, say, "Naruto" — can feature considerably more blood and even some mature content in comparison to series made for a similar demographic stateside.
While "Jujutsu Kaisen" is virtually absent of any mature content, its violence is more graphic than many of its contemporaries, predominately as a result of its darker tone. Parents comfortable letting their kids watch "Naruto" or other similar shonen anime series shouldn't find the violence in "Jujutsu Kaisen" uniquely objectionable. Nevertheless, it's worth noting that certain fight scenes are slightly more violent and potentially more disturbing than much of what is in a typical shonen anime.
Furthermore, certain plot points in "Jujutsu Kaisen" can be deemed psychologically disturbing, which is uncharacteristic of a show intended primarily for an audience of children In the episode "To You Someday," for example, series protagonist Yuji Itadori is — spoiler alert — forced to kill Junpei, a socially outcast boy he befriended, who ultimately succumbed to the influence of demonic evil after a group of the series' villainous cursed spirits murdered his mother.
That moment is perhaps the darkest and most somber in the anime's run thus far, so if parents find it, in addition to some bloody violence, acceptable viewing for their child, the series should be appropriate on the whole. If not, then skip "Jujutsu Kaisen" in favor of a more lighthearted anime.