These New Character Posters For Monsters At Work Are Super Revealing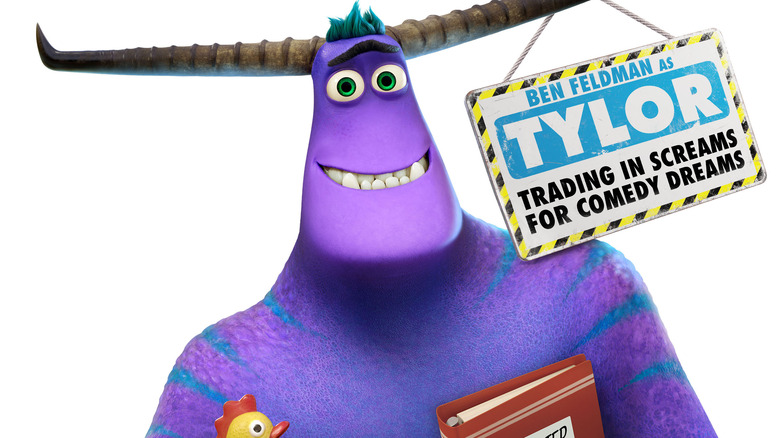 Disney+
In Disney+'s upcoming series "Monsters at Work," James P. "Sulley" Sullivan (John Goodman) and Mike Wazowski (Billy Crystal) are back, this time in a promoted role at Monsters, Incorporated. Starting a day after the duo takes over their workplace and begins the transition from screams to laughs, the series mainly focuses on a new character named Tylor Tuskman, voiced by Ben Feldman, a new worker at Monsters, Incorporated who finds his dreams of being a top Scarer crushed. Instead, Tylor is relegated to being a mechanic for the MIFT, or Monsters, Inc. Facilities Team. 
"Monsters at Work" will showcase Tylor and the MIFT team, with Mindy Kaling playing Tylor's best friend and fellow mechanic, Val, and Henry Winkler playing Fritz, Tylor's boss, along with a few others. For longtime fans of the "Monsters, Inc." movie franchise, don't worry, there will be plenty of familiar faces making an appearance in the spinoff, including the grumpy leader of the Child Detection Agency, Roz (Bob Peterson), and Mike's longtime girlfriend, Celia Mae (Jennifer Tilly). Throughout Season 1, Tylor adjusts to his unexpected position at Monsters, Incorporated, while building a new dream and setting his sights on becoming one of the company's Jokesters. He starts making friends as he does his best to fix doors and various mechanics on the laugh floor, while also practicing how to be funny so he can get that promotion he truly wants. 
The premiere date for "Monsters at Work" is July 7, 2021 — with new episodes streaming every Wednesday — and it's fast approaching. In order to get fans hyped up about the spinoff series, Disney has just released new character posters that provide a deep look at the MIFT members. 
Disney+ introduces the MIFT crew with new character posters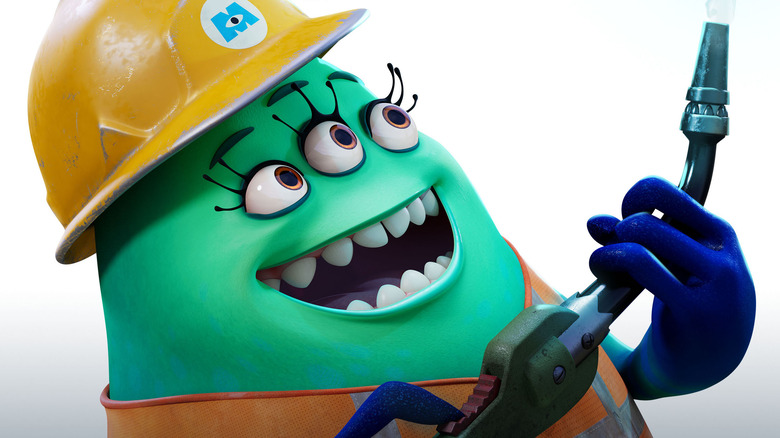 Disney+
Disney+ was kind enough to release five character posters for the upcoming animated series, "Monsters at Work," which were shared on the official Disney Twitter page. Along with a picture of each MIFT member, the posters display the character's name and a small subtitle to describe them. For Tylor, the main character, his description is pretty straightforward, as the poster reads, "Trading in screams for comedy dreams." The other four characters featured include Cutter, a green crab-like monster who loves following the rules and is described as "Lean. Mean. Full of caffeine," the bubbly Val, Fritz, Tylor's absentminded boss, and the troublesome Duncan (Lucas Neff), who appears to have a little angry, purple friend. Each character feels unique, very fresh, and definitely interesting enough to center a whole new TV show around. 
Thanks to the new character posters, excited fans of "Monsters at Work" now know a bit more about the new characters that will take center stage in the series. It's unclear as of yet exactly what role each character will play in Tylor's life and career, and one might just have darker intentions than the others, similar to Randall Boggs (Steve Buscemi) and Mr. Waternoose (James Coburn) in the original films. "Monsters at Work" is now one of many shows on Disney+ that expands upon an already existing franchise, like "WandaVision" and "Loki" for the Marvel Cinematic Universe, or "The Bad Batch" for "Star Wars." Luckily, Disney managed to convince the voice actors from the original "Monsters, Inc." movies to return, adding a big nostalgia factor for older Disney and Pixar fans, and many Disney+ subscribers are eagerly waiting for the first episode to drop.