Who Are The Stars In The New Balance 'Impatience Is A Virtue: We Got Now' Commercial?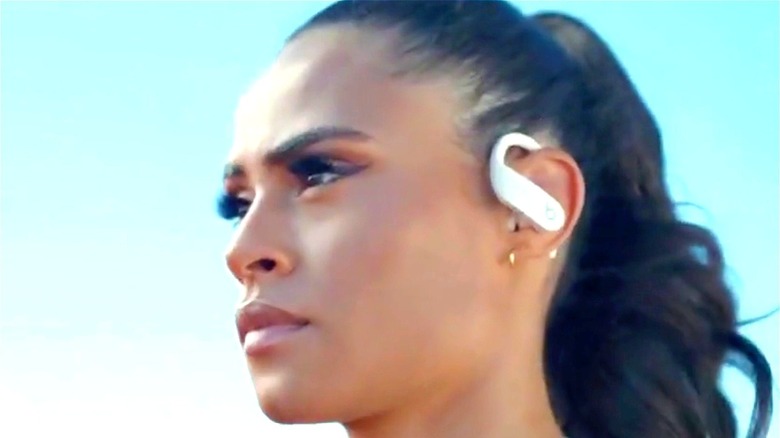 New Balance
When it comes to famous sports apparel commercials of the last few decades some particular select brands probably come to mind. Companies like Converse, Under Armour and Adidas all had their string of memorable ads, endorsed along the way by various athletes and celebrities. It's hard not to see a clear winner over the years though: Nike. The brand had Charles Barkley famously tell his fans he's not a role model, Bo Jackson show off everything he "knows," and advertising wiz Michael Jordan and Spike Lee (as Mars Blackmon) convince us all that "it's gotta be the shoes." But now another brand is getting its time to shine in a new ad.
In a new ad campaign, New Balance encourages viewers to embrace the moment. With phrases scattered throughout the ad like"impatience is a virtue" and "waiting isn't an option," New Balance's latest commercial aims to inspire giving and seizing the moment. It's also an announcement that a new sports apparel company has come to take over, culminating in the end of the commercials stating: "New Balance: We Got Now."
So who are the stars featured in the commercial telling us to embrace the now? 
Jaden Smith leads the charge in the latest New Balance commercial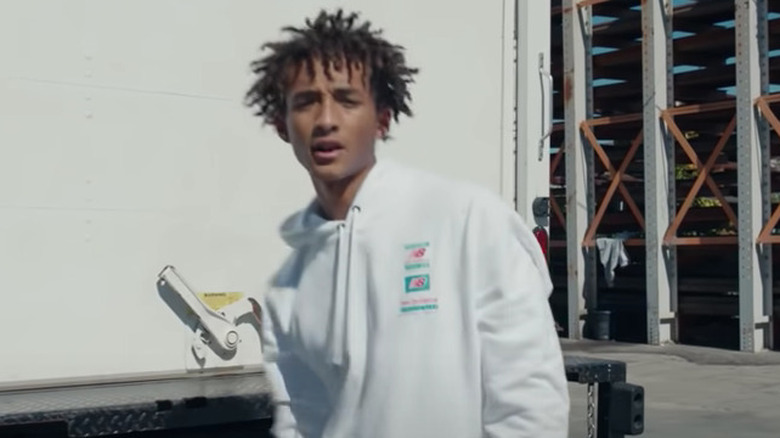 New Balance
Jaden Smith begins the commercial by wheeling a blue box of water in a warehouse telling viewers about impatience being a virtue. The actor reappears as we see him roll the blue box to a truck that says Clean Water is a Human Right — a reference to Smith's Waterbox, showcasing his efforts to provide impoverished cities with clean drinking water. He packs it up and utters the "New Balance: We Got Now" slogan.
The "Karate Kid" actor signed with New Balance in 2019 and has since released the popular Vision Racer shoe along with several commercials promoting the product.
"The reason I wanted to do it is because I feel like it has a bigger message of We Got Now, like, the culture has now, the youth has now," Smith told Billboard of including his clean water mission in New Balance's "We Got Now" campaign. "The youth is going to take over and really change and bring something different for the future of the world."
The commercial also features athletes like Coco Gauff and Kawhi Leonard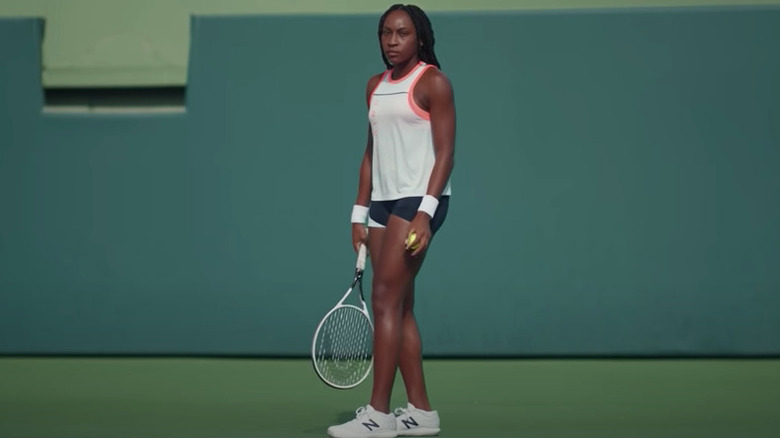 New Balance
In addition to Jaden Smith, the New Balance ad shows NBA superstar Kawhi Leonard dunking a basketball and inspiring an NBA hopeful, a young soccer player autographing a soccer ball for Sadio Mané, and Olympic hurdler and sprinter Sydney McLaughlin training on a track. New Balance described the ad as "a twist on the old adage that Gen Z has heard all their lives. But this generation isn't waiting around for someone to give them the keys to entry. Instead, they're figuring out the path to success for themselves." (via Muse).
We also see tennis sensation Coco Gauff smack a tennis ball. A previous New Balance ad featuring Gauff showed her rise from kid prodigy to teenage phenom. "My spot shows how tennis has allowed me to express the causes I am passionate about while striving to be the best tennis player and human I can be," she told PopSugar.