What Is The Song In The Gatorade 'Be Like Mike' 2020 Commercial?
Gatorade/YouTube
When it comes to discussions about who's the best basketball player who ever lived, things will inevitably get heated. You'll have some who point to Lebron James dominating the sport right now regardless of whatever team he's on. Others will remind you about Kobe Bryant's five NBA titles. Still, there will be those who forever insist the greatest ever to play the game is none other than the one and only Michael Jordan.
The Chicago Bull has plenty of titles to his name as well, and he has the highest points-per-game career average (30.1) in NBA history (via Bleacher Report). It's perhaps, for this reason, the basketball superstar continues to rack up endorsements with companies like Nike, Hanes, and Gatorade, to name a few. That last one has come out with a brand new ad featuring some of Jordan's best moments intercut with clips from other rising stars, such as Zion Williamson and Elena Delle Donne, playing the game.
Underneath it all is a song that sounds like it was tailor-made for this commercial. It's a song about being "like Mike," and yes, the singer's referring to Jordan himself. So, where exactly does the tune originate?
'Be Like Mike' has an intriguing background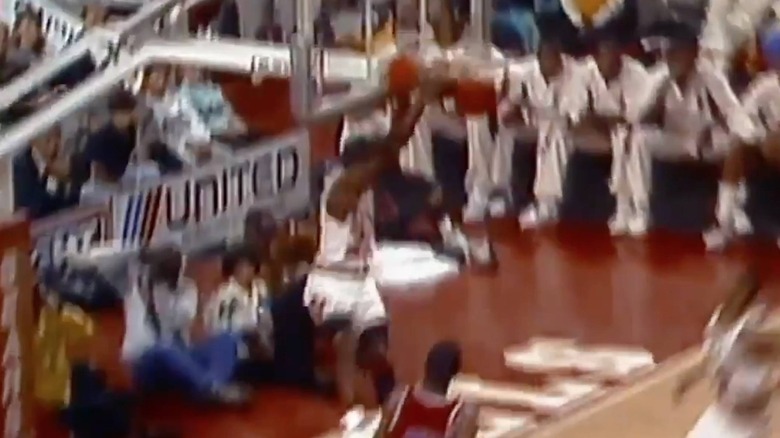 Gatorade/YouTube
People have wanted to be like Michael Jordan ever since he made that epic free-throw line dunk. His popularity was through the roof in the late 1980s/early 1990s, so when he starred in his very own Gatorade commercial back in 1991, they couldn't use just any song to commemorate the occasion. The ad agency behind the TV spot wanted to create its own tune, and that legacy lives on to this day with the newest Gatorade ad making waves (via Complex). "Be Like Mike" appears 30 years after the original ad aired, and it's all thanks to Disney's lawyers being tough negotiators. 
The original idea for the 1991 commercial was for clips of Michael Jordan to play while "I Wanna Be Like You" from Disney's "The Jungle Book" played under them. Negotiations fell through, and the company was left without a song for its commercial and a looming deadline. Former advertising executive Bernie Pitzel spoke with The Associated Press about the ordeal and how he came up with the lyrics for a song titled "Be Like Mike" to get the commercial completed before it was set to debut. A cast recorded it, and the rest is advertising history.
The music has become a cherished part of Jordan's legacy as much as his championships. In addition to various commercials, the song was also a part of the soundtrack for the documentary, "Michael Jordan to the Max." Oddly enough, it's nowhere on the soundtrack for 2002's "Like Mike."