Scarlett Johansson Has Some Kind Words For Elizabeth Olsen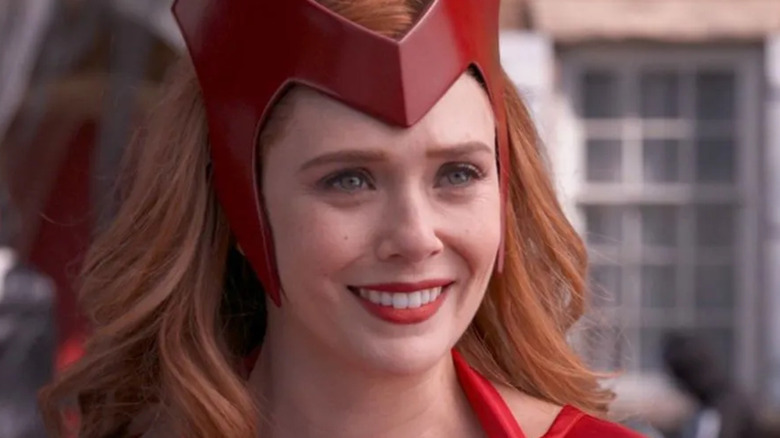 Disney+/Marvel Studios
From 2010 to 2015, Scarlett Johansson was the only leading lady with a major role in the Marvel Cinematic Universe. Pepper Potts (Gwyneth Paltrow) served as a supporting character in the "Iron Man" films and the first "Avengers" flick but was never a part of the core group. Cobie Smulders joined the gang for the first team-up movie in 2012 as well, but was also just a supporting star. This left Johnasson to drown in testosterone as she shot most of her scenes with Robert Downey Jr., Chris Evans, Chris Hemsworth, Jeremy Renner, and Mark Ruffalo. In 2015, she finally had another woman on her side when Elizabeth Olsen joined the MCU as Wanda Maximoff in "Avengers: Age of Ultron."
The women starred in four of the same films, sharing screen time in three of them. It was quite the relief for Johnasson to have another lady around on set, and she recently revealed just how great it was to have Olsen join the MCU in such a prominent role. The "Black Widow" actress confirmed everything we thought about Olsen, having nothing but amazing things to say about the "WandaVision" star.
Scarlett Johansson gives Elizabeth Olsen high praise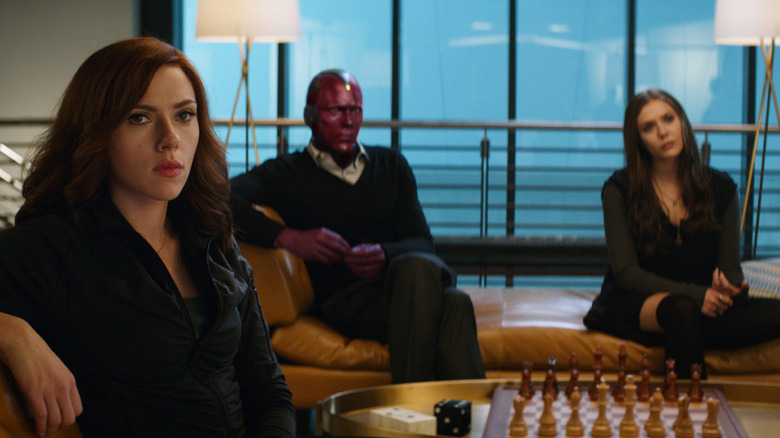 Disney/Marvel Studios
Scarlett Johansson recently sat down with Jess Cagle on SiriusXM's "The Jess Cagle Show" to discuss "Black Widow" and couldn't help but talk about some of her former MCU co-stars. When asked about what it was like to have Elizabeth Olsen join her in the Marvel Cinematic Universe, Johansson had nothing but great things to say about her co-star. "It was so great when Lizzy [Olsen] came on because yeah we had Cobie [Smulders], it was basically the two of us who kind of holding down the fort," the actress remembered. "And then when Lizzie came on, it was semi-balanced out because it was very heavy on the testosterone for a very long time. Now, [it was] like calibrated, finally caught up."
Additionally, Johansson called Olsen "fantastic" and "so funny." Coming into a group of friends who led a world-famous franchise must have been so intimidating for Olsen, but Johansson said she "fit in perfectly." The "Black Widow" star also said her co-star "had such a passion" and was amazed by the physicality she brought to the character of Wanda Maximoff. "I was like, 'wow this is like an amazing thing you've created, this mystical, beautiful thing that had such strong, like, feminine energy.' It was much needed," she continued.
While Olsen has at least one MCU project in the chamber, Johansson recently confirmed she would not be returning to the role of Natasha Romanoff after "Black Widow." We wish we could have seen more of these two fearless females together on screen, but are happy with the films we got.