This Just Might Be The Smartest Action Movie Of 2021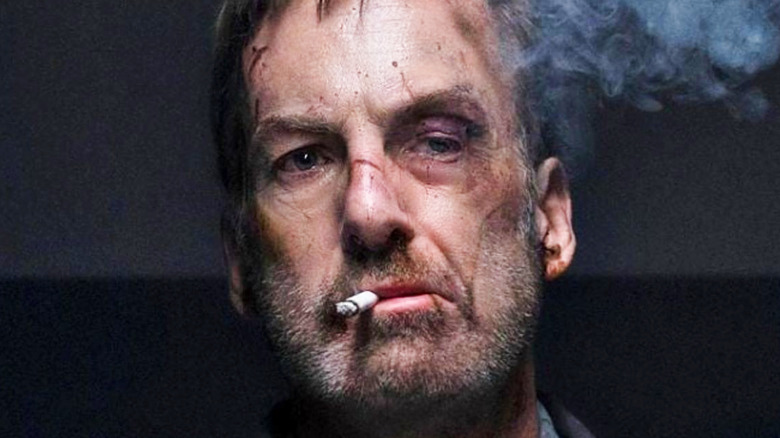 Universal Pictures
The action genre has become a beloved Hollywood hallmark over the past several decades, allowing certain titles to reach legendary status. Whether it's the tried and true "Mission: Impossible" series or the fan-favorite "John Wick" franchise, action flicks have taken many different forms that give viewers of all preferences something to enjoy. However, the overabundance of productions in this class has led to the establishment of certain motifs that refuse to disappear, leaving behind plenty of material for filmmakers to use to poke fun at the increasingly homogenized genre. Case in point: director Ilya Naishuller's "Nobody" from 2021.
Though not a direct parody of action movies, "Nobody" attempts to take the formula set before it in a new yet familiar direction. Bob Odenkirk plays family man Hutch Mansell, who finds himself at the epicenter of the criminal world following a burglary at his home. Come to find out, long before he settled down, Hutch was a skilled assassin known as an "auditor," but his desire to leave that life behind nearly led to him forgetting all of it. Nevertheless, he holds his own through various fight sequences and stands up to some of the most dangerous individuals in the world.
On paper, "Nobody" seems like your average, run-of-the-mill thriller, albeit with a typically comedic actor in the main role, right? In reality, it's actually a very clever take on the genre — perhaps even the smartest of 2021 up to this point. Here's why.
Nobody puts a clever spin on the action movie blueprint in more ways than one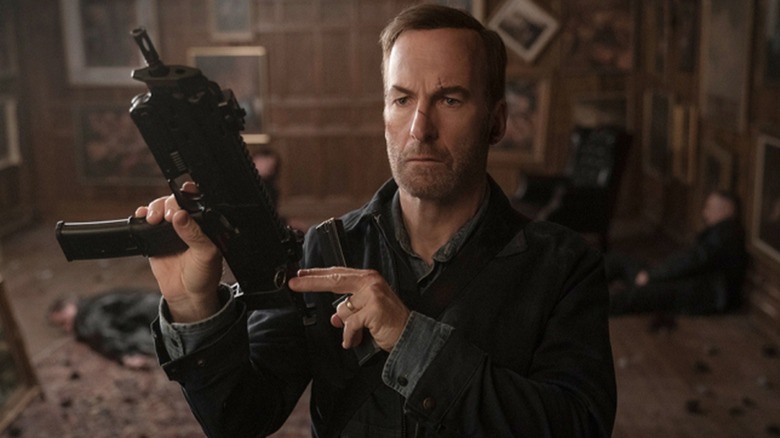 Universal Pictures
Currently resting at an impressive 84% fresh critical score and a 94% audience score on Rotten Tomatoes, "Nobody" is nothing if not a hit. But what about the film makes it such a winner? Well, first and foremost, it's important to give credit to the star of the show: Bob Odenkirk. Recognized best as Saul Goodman from "Breaking Bad" and its spin-off, "Better Call Saul," the actor isn't known for his action star chops, but it's not a reach to say he left an impression on viewers with his surprisingly raw performance as Hutch Mansell.
"He proves he is just as much of a badass as Keanu Reeves, Bruce Willis, and Denzel Washington. In fact, he's the most realistic one. His minor injuries and reactions to pain makes him more human than the typical action star," wrote Susan Kamyab of This Chix Flix, and she wasn't alone in her sentiments. Martin Carr of Flickering Myth agreed that Odenkirk's work was tremendous, so much so that "'Nobody' demonstrates that Liam Neeson is no longer cornering the market when it comes to action star reinvention."
Aside from Odenkirk's innovative, humanized take on the action star archetype, the story itself garnered tons of support as well for its light-hearted embrace of overused tropes. Nicolás Delgadillo of Discussing Film notes that "'Nobody' doesn't put forth any effort to break any genre traditions, "but the film does seem aware of that fact and has a huge amount of fun with its basic premise." Radio Times' Jeremy Aspinall noted that "'Nobody' oozes with irony and a sense of its own absurdity," citing its subtle self-awareness as one of its defining strengths. 
All things considered, "Nobody" is a triumph not only in the realm of 2021 action movies but in the cinema world at large. Should you elect to give it a watch, its surprisingly subversive lead performance and cognizant presentation will leave you glad that you did.