Emily From Too Hot To Handle: 5 Facts You Didn't Know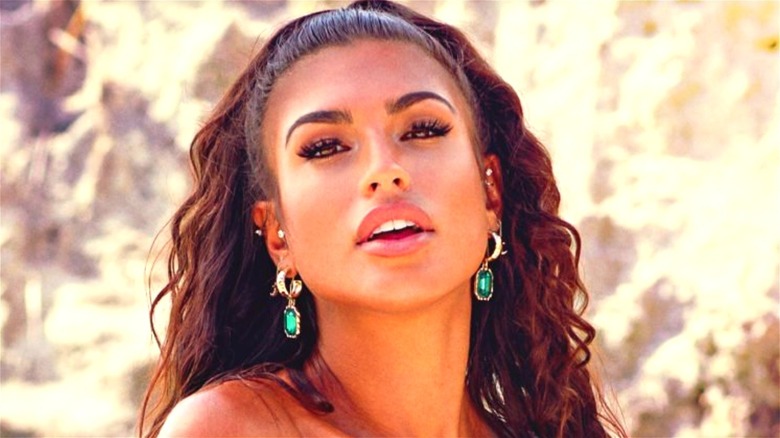 Netflix
From sitcoms to reality series, Netflix has dipped its toes into every genre of television imaginable. No matter how you like to pass the time, there's something for you on the streaming platform, and for all of the people out there who enjoy watching sexy people do sexy things, Netflix has the perfect show for you. "Too Hot to Handle" Season 1 debuted on April 17, 2020 with a simple premise. The production would drop off a group of contestants on the island, and they can't have any sexual contact with one another for four whole weeks. Those who make it until the end split the remaining prize. 
"Too Hot to Handle" Season 2 premiered in June 2021, dropping new players off in Turks and Caicos. A bunch of smoking hot singles have to resist temptation, all while stirring up drama. All of the viewers at home have their favorites, and judging across social media, Emily Miller from London already has quite the fan base. Other than the fact she looks good in a bikini, here's all you need to know about the reality starlet. 
She's a professional model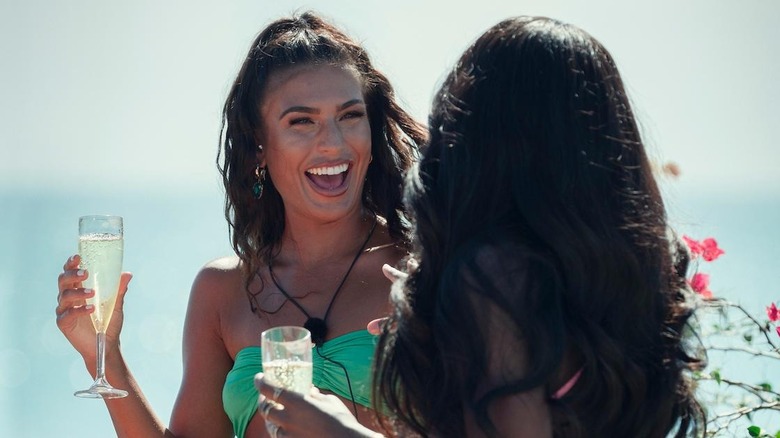 Netflix
Netflix certainly knows where to look to find beautiful people willing to walk around half-naked with one another. Emily Miller is no stranger to having all eyes on her, seeing how she works as a professional model. She's represented by FOMO Models, where she struts her stuff on magazine covers and runways. 
In what's undoubtedly a coincidental move, Miller isn't the only person on Season 2 of "Too Hot to Handle" representing the good folks over at FOMO Models. Her fellow contestant, Cam Holmes, also hails from the company, working as a professional model. The two have entirely different personalities. Miller is a party girl, while Holmes enjoys things on the geekier side, even having a full-blown obsession with "The Lord of the Rings." Opposites must attract, seeing as how the two didn't waste any time making out with one another within the first few episodes of the season.
She's extremely active on social media
If you're the kind of person who likes to binge-watch through every Netflix series as quickly as you can, then you may find yourself needing more Emily Miller in your life. You'll be happy to hear that she has set up shop all over the web, provided you know where to look. You can keep up with her on Instagram, where she already has over 120,000 followers. Every photo of her looks like a professional photographer took it (and it very well could've been). 
It looks like her party girl persona isn't just for the "Too Hot to Handle" cameras either. One of the messages she's written at the top of her Instagram profile is, "A little party never killed nobody." You can also keep up with her over on TikTok, where she posts videos of her dancing along with the latest viral trends. You can also see her with her adorable dog, Twix. Speaking of which ...
She loves her dog, Twix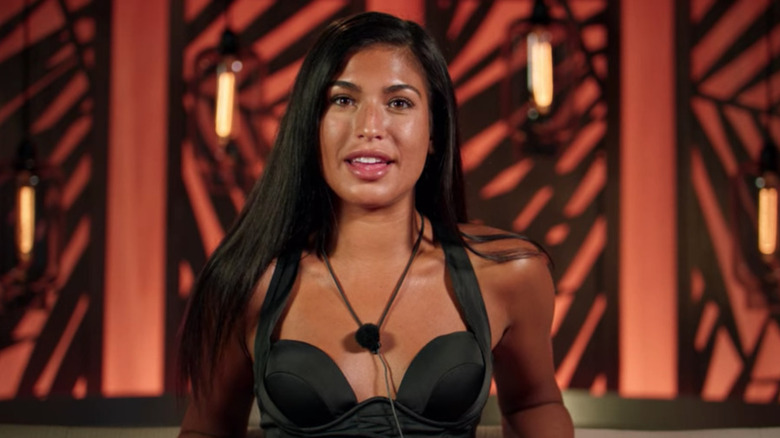 Netflix
When you follow Emily Miller on any of her social media platforms, you can be sure her pup, Twix, will pop up at some point. As is the case with any good dog momma, she's obsessed with her furry child. She has an entire Reel on her Instagram dedicated to Twix, where she's uploaded videos of the animal going for a walk and pooping in the backyard. Any dog parent can relate.
Twix also has a sizable presence on TikTok, where he frequently appears alongside Miller in her videos. Sometimes he's just bopping along to whatever song Miller dances to, and in other instances, he's the star of the show. In one video, she reveals all of the funny nicknames she has for him, including Tiny, Tony, Pumpkin Seed, Mr. Dog, and Spaghetti Bolognese. We sure hope Twix didn't miss her too much while she was away filming "Too Hot to Handle" Season 2.
She loves to travel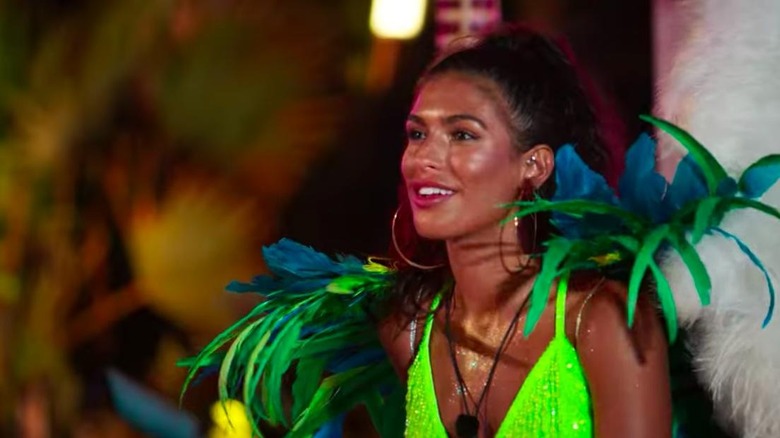 Netflix
Browsing from her social media presence, it looks like Emily Miller doesn't like to stay in one place for too long. Even before she journeyed to the Turks and Caicos Islands to film "Too Hot to Handle," she had seen much of the world, as evidenced from her Instagram profile. One photo shows her on a ledge in New South Wales, Australia with the caption: "Action shot just before I dived in."
Other photos show her having a good time in Portugal and the Mediterranean, and by all accounts, her fans love living vicariously through her. Some of the comments you can find under her photo to Formentera include "How is it even possible to be that unreal" and "looking good boo." Sadly, "Too Hot to Handle" confiscates the contestants' phones before arriving at their destination (via Cheat Sheet). She'll unlikely have that many pictures of her time at the resort to upload to social media.
She ran into some controversy before Too Hot to Handle Season 2 even aired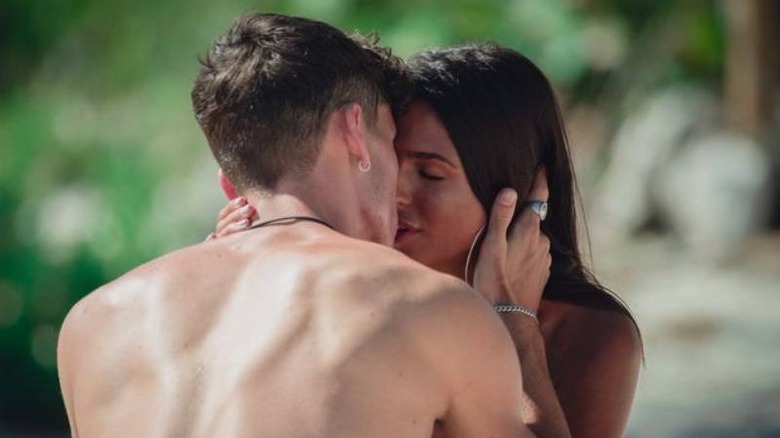 Netflix
Usually, reality show scandals start once episodes begin to air. However, about a week and a half before Season 2 of "Too Hot to Handle" aired, Emily Miller found herself getting called out over Twitter when someone posted: "This b**** is BLACKFISHING. like i really thought she was black but she's pale as hell." Two pictures accompany the post where Miller looks paler in one compared to the other. Blackfishing is a term coined by journalist Wanna Thompson described as a white person going to various lengths to appear mixed-race or Black (via Health). 
It's a serious accusation to lobby at someone, but Miller was quick to reach out, tweeting: "I'm Indian hun." Plenty of other people in the thread came to her defense, and it looks like the controversy has died down. It's safe to say that when it comes to Emily Miller being on people's radars, the party's only just begun.