Exclusive Clip: Chris Pratt Stares Down An Alien Threat In The Tomorrow War
Chris Pratt is one of the biggest names in Hollywood, having transformed from a college dropout to a coupon salesman to the lovable goof Andy Dwyer on "Parks and Recreation" to the galaxy-saving superhero Star-Lord in the Marvel Cinematic Universe. He's also ventured into dramatic territory on the big screen, delivering captivating performances in films like "Passengers," "Moneyball," "Zero Dark Thirty," and "Her." And who could forget the moment he stole hearts as he silenced a pack of raptors in "Jurassic World," the first entry in the trilogy in which he plays ethologist Owen Grady?
In short, Pratt is a superstar — and his star is only growing brighter with each new project he puts out. Next up on his docket is "The Tomorrow War," Amazon Studios' sci-fi action flick directed by Chris Kay in his feature directorial debut. Ahead of the film's release on Amazon Prime Video on July 2, Looper is thrilled to share an exclusive clip from "The Tomorrow War."
An enemy like no other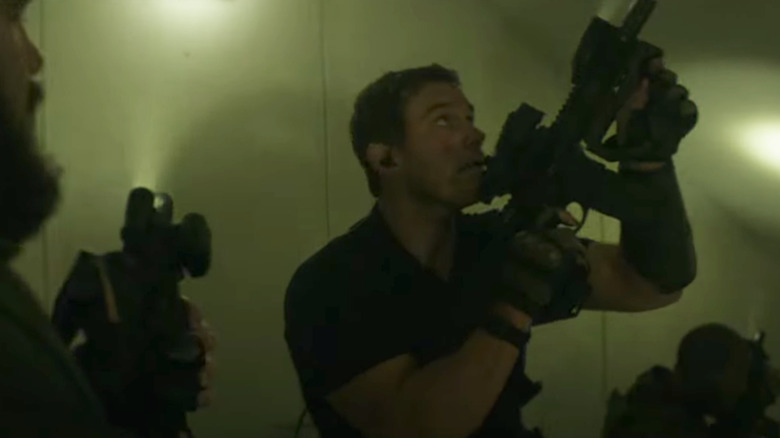 Amazon Studios
In the clip, entitled "Whitespike," Chris Pratt's Dan Forester and a group of soldiers are seen carrying guns through a war-torn stairwell. In the distance is the sound of a creature approaching, and closer is the sound of a squad member breathing heavily. It's clear that this is an enemy that no human in the year 2021 has faced before — and that's because this moment doesn't take place in 2021. It's set in 2051, 30 years into the future, when human-eating aliens have ravaged Earth and left humanity with zero chance of survival. With the population dwindling and the aliens only growing more powerful, the humans of 2051 travel back in time to recruit others to leap to the future and help defeat the creatures killing Earth's people. 
Dan Forester, a military veteran, agrees to join the cause — knowing that if he doesn't, his wife Emmy (Betty Gilpin) will be selected to take his place. He hopes that by traveling to the future and putting his life on the line — something he's certainly no stranger to doing — he'll secure a future for his young daughter Muri (Ryan Kiera Armstrong).
The clip does a keen job of teasing just how tense "The Tomorrow War" will be, and just how high the stakes truly are. Apart from the noise the alien is making as it stalks the humans and the shaky breaths the soldier is letting out, one could drop a pin on the floor and be able to hear the tiny clink! it makes. At the end of the clip, Dan points his flashlight up to the sky, and we finally come face-to-face with its creepy, one-eyed tentacle. How's that for heart-stopping?
"The Tomorrow War" debuts on Amazon Prime Video on July 2.