The Tomorrow War - What We Know So Far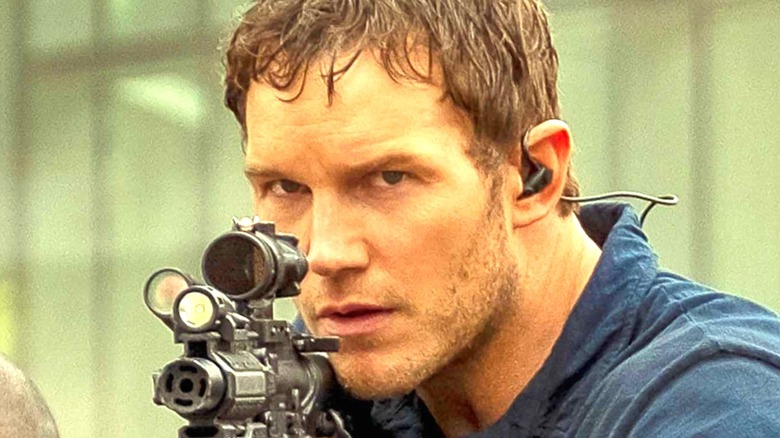 Amazon Studios
The future is often a scary time to consider, mostly because it's uncertain what will happen. Perhaps the world would be a more comforting place if we could know the future before it happens. Well, Amazon Studios' new original movie "The Tomorrow War" shows us that in this instance, you should be careful what you wish for. The future has equal potential to be bad and good, and it may be so bad that you wish you never learned the truth about it in the first place.
That's the hard lesson that characters in "The Tomorrow War" must learn. After a group of people from the future travel to the present day to gather allies for an impending and hopeless conflict, the characters of "The Tomorrow War" are forced to deal with the fact that the future isn't a very kind or forgiving place. Here's everything we know so far about "The Tomorrow War."
Getting The Tomorrow War off the ground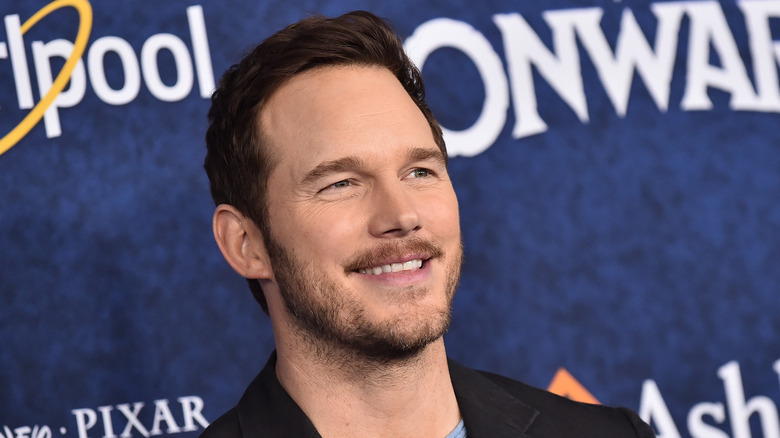 Shutterstock
The journey of "The Tomorrow War" from idea to reality began a few years ago, back in mid-February 2019. At the time, Variety reported that Marvel Cinematic Universe superstar Chris Pratt, known to Marvelites everywhere as Peter Quill, aka Star-Lord, was in talks to team with director Chris McKay for a movie entitled "Ghost Draft." It was set to be a rousing sci-fi actioner, meant to be released in cinemas under Paramount Pictures and Skydance Media — the same banner behind the "Mission: Impossible" and rebooted "Star Trek" franchises, as well as movies including the yet-to-be-released sequel "Top Gun: Maverick." That was early days for the project, which wasn't even called "The Tomorrow War" yet, and it had an uphill climb from there. 
The movie formerly known as "Ghost Draft" was slated to begin production, per Variety's 2019 report, sometime in the summer of that year. That didn't end up happening, but after a few months of the film's team rounding out the cast (more on them in a bit), principal photography began in September 2019 (via Backstage). 
Many different title options for The Tomorrow War
It's clear that the movie first announced as "Ghost Draft" at some point got its new title of "The Tomorrow War." But, as with nearly all creative projects, the minds behind this movie didn't immediately land on "The Tomorrow War" when thinking of a fresh name. According to the film's lead himself, there were a ton of different title options tossed around before "The Tomorrow War" emerged as the winner. 
On November 9, 2019, Chris Pratt — who signed on to executive-produce the movie in addition to starring in it — took to Instagram to share a snazzy black-and-white photo from the set of the film. He announced that "Ghost Draft" got a brand-new name, offering a rundown of all the titles that he and the film's team considered and throwing in a few joke ones, as is signature of Pratt's sense of humor. The actor-slash-producer explained, though not in great detail, why "Ghost Draft" didn't work out as a title: It "turned out to be problematic for various reasons." Hmm.
"We started looking at other options... We went through: Generation Alien, World War A, Generation Gone, Saving private Ryaalien, WWZ2 but with As not Zs, HORIZON WHITESPIKE, HERO movie brought to you by Verizon, JUrassic Draft, GENERATION Draft, Miller genuine Draft, City Slickers, Alien Dawn, Rapture Dawn, Apocalypse Dawn, Hero Dawn, Destiny war, Saving tomorrow, The Tomorrow War," wrote Pratt. "And that's when it hit me.... We're calling it #TheTomorrowWar."
For what it's worth, we're pretty sure "Saving Private Rya-alien" would've been a blockbuster hit.
COVID-19 affected The Tomorrow War's release date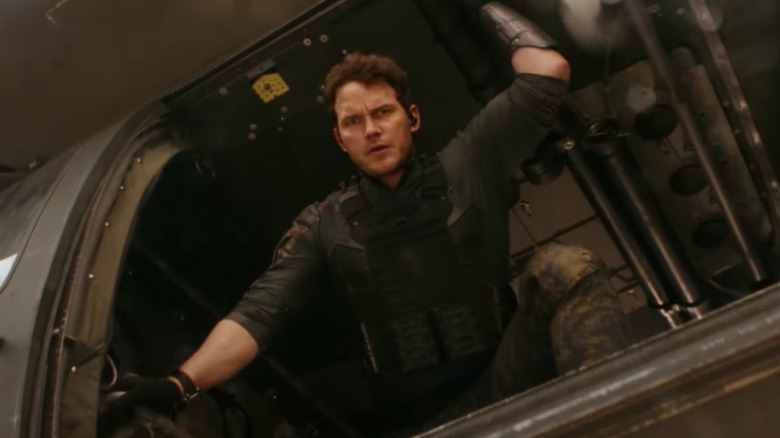 Amazon Studios
With a more appropriate, apparently less problematic title locked in and shooting underway, "The Tomorrow War" was on track for its planned December 25, 2020 release (via Deadline). Then a little thing called the COVID-19 pandemic happened, and the movie's release date was pushed back. "The Tomorrow War" had reportedly wrapped principal photography in January 2020, before the pandemic forced in-progress films and television shows to suspend production until further notice, so it wasn't an issue of not having the required footage captured. The reason for "The Tomorrow War" being delayed was because other movies on Paramount and Skydance's schedule were affected by the pandemic-induced production shutdowns, and those films had to be moved. Plus, it was April 2020 when Paramount and Skydance executives were making these decisions to delay films; at the time, theaters across the world were closing indefinitely, and many questioned whether anyone would step foot into a cinema at all in 2020.
On April 2, 2020, Deadline confirmed that "Top Gun: Maverick" had been moved to December 23, 2020 (as of June 2021, it's still not out yet), and "The Tomorrow War" had been pushed to an undetermined date. Three weeks later, Variety reported that "The Tomorrow War" would debut on July 23, 2021. But more change was on the horizon.
Amazon Studios acquired The Tomorrow War in 2021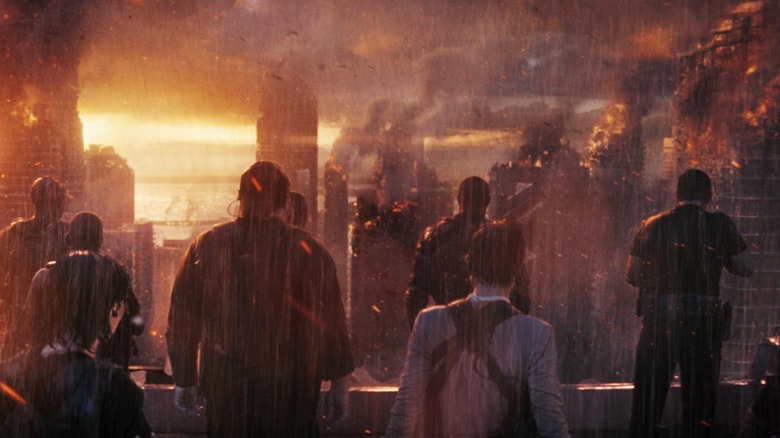 Amazon Studios
"The Tomorrow War" endured being pulled off Paramount and Skydance's schedule and a seven-month delay, but its journey to the big screen was thrown for a loop in January 2021, when Deadline got word that the film wouldn't be going to the big screen at all. 
The outlet reported on January 12 that the major streaming services of the world had screened "The Tomorrow War" that weekend — possibly in a move inspired by Warner Bros.' commitment to release all its 2021 movies simultaneously in theaters and on HBO Max, its newly launched streaming service, and perhaps motivated by lingering concern over the safety of seeing films in theaters. Skydance, not Paramount, was said to have been pushing to sell "The Tomorrow War" to a streamer, and Amazon Studios was keen on picking it up. Deadline noted that the company "aggressively offered $200 million," though the deal wasn't set in stone just yet. 
It wasn't until April 2021 that everything was made official (via theWrap), and "The Tomorrow War" was officially a streaming exclusive set to hit Amazon Prime Video ... though not on July 23 as expected.
What's the release date for The Tomorrow War?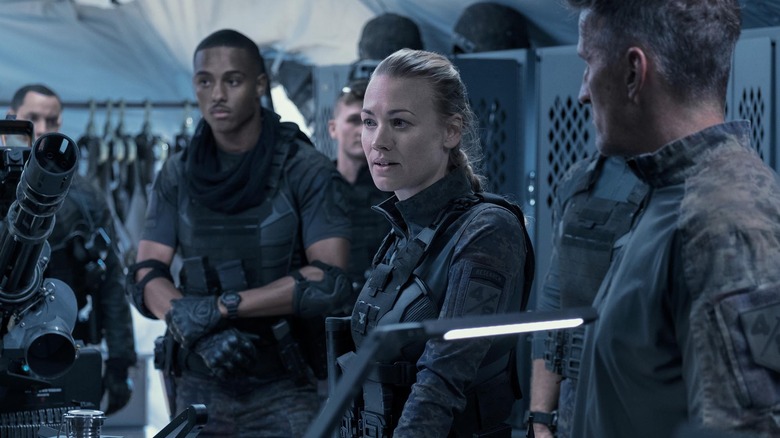 Frank Masi/Amazon Studios
"The Tomorrow War" is scheduled to arrive on Amazon Prime Video on Friday, July 2, 2021 — just in time for the July Fourth holiday weekend. 
Thankfully, the movie doesn't have any direct competition on this day. "The Boss Baby: Family Business," Universal Pictures' follow-up to the 2017 3D-animated film "Boss Baby," is launching in theaters and on the Peacock streaming site on July 2 as well, but there probably won't be very much (if any) overlap between the people watching the new "Boss Baby" movie and those tuning into "The Tomorrow War." 
The film also doesn't have to worry about Marvel Studios' "Black Widow" stealing its thunder. Starring Scarlett Johansson as the titular character and set between the events of 2016's "Captain America: Civil War" and 2018's "Avengers: Infinity War," "Black Widow" will open in theaters and be available to stream on Disney+ via Premier Access on July 9. That gives "The Tomorrow War" a full week to shine and dominate news headlines before the MCU movie becomes the talk of the 'net. 
Now, since the film is is an Amazon Prime Video exclusive, there isn't a very great chance that "The Tomorrow War" will receive a second release date on other video-on-demand platforms for quite some time after it's released — if at all. If you aren't an Amazon Prime subscriber and you've been meaning to catch up on Chris Pratt's filmography, you'll want to consider a subscription.
Who's in the cast of The Tomorrow War?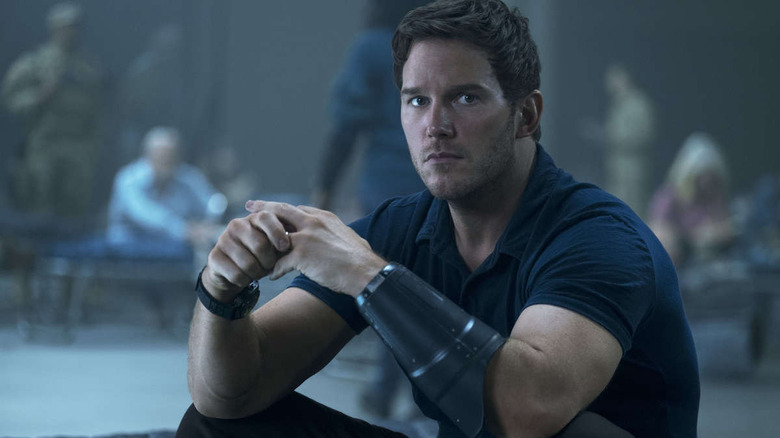 Amazon Studios
So, who's in "The Tomorrow War" anyhow — apart from Chris Pratt? Well, let's get Pratt out of the way first, since we've been talking about him for a while. In the film, he plays Dan Forester, an Army veteran and current high school teacher who's sent 30 years into the future — to the year 2051 — to combat a mysterious conflict and save the world. "GLOW" alum Betty Gilpin plays Dan's wife Emmy, while Ryan Kiera Armstrong portrays his daughter Muri. 
Joining Dan on this planet-saving mission is a "brilliant scientist" portrayed by "Dexter" and "The Handmaid's Tale" actress Yvonne Strahovski, as well as Dan's estranged father, played by Oscar-winning actor J.K. Simmons (via Amazon Studios). Simmons is coming hot off the success of Amazon's animated super-series "Invincible," in which he voiced the super-powered alien Nolan Grayson, aka Omni-Man. 
Filling out the cast of "The Tomorrow War" are Sam Richardson, Seychelle Gabriel, Theo Von, Edwin Hodge, Jasmine Mathews, Keith Powers, Mary Lynn Rajskub, and Mike Mitchell.
What's the plot of The Tomorrow War?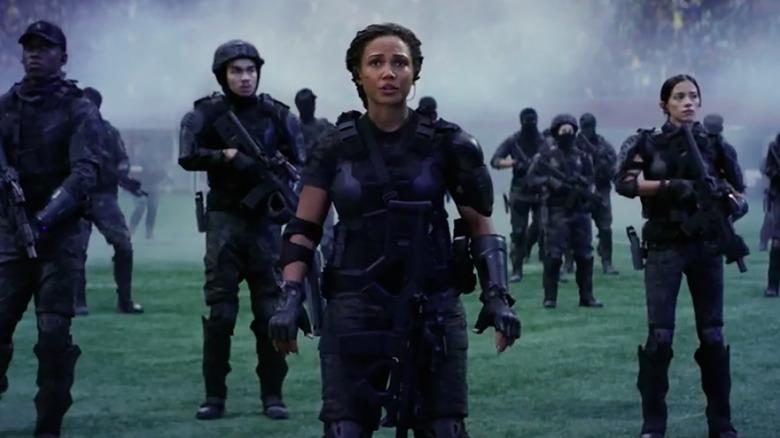 Amazon Studios
The plot of "The Tomorrow War" is a bit of a unique take on time-travel stories. It follows military veteran and loving father Dan, who comes to a child's birthday party in order to see his daughter. While watching a live soccer game with his family, a strange event interrupts the broadcast. Soldiers from the future open a portal in the center of the soccer field. They claim that in 30 years' time, humanity will wage a losing war against an overwhelming alien force. With too few humans left to combat the force in 2051, soldiers from that time have come to the year 2021 to conscript people in order to save the humans of tomorrow.
Soon after this occurs, people begin getting drafted into what's known as the Tomorrow War. Dan's wife Emmy is one of these unlucky few, but he volunteers to go in her stead. Fixed with a time-traveling device on his wrist, Dan and the other soldiers travel to the future in order to save the world from a race of animalistic aliens.
The aliens of The Tomorrow War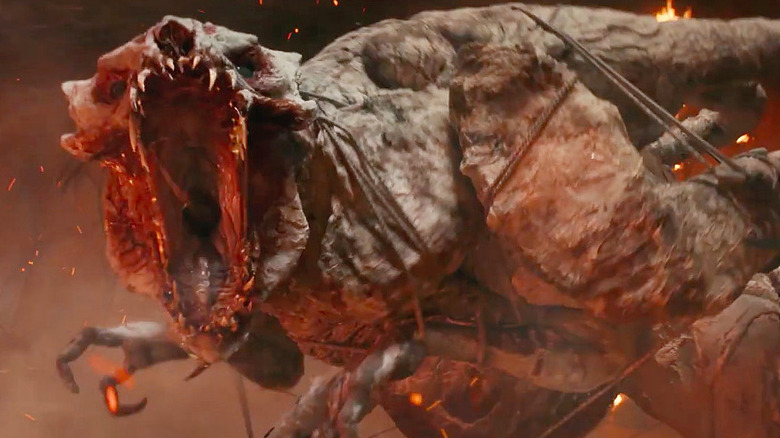 Amazon Studios
Speaking of the aliens in "The Tomorrow War," they're quite gnarly-looking. That's thanks to Ken Barthelmey, the creature designer who brought the film's extraterrestrial monsters to life. 
You may not instantly recognize Barthelmey's name, but you've likely seen his work on the silver screen in some of the biggest movies of the last few years. He's worked as a creature designer, character designer, or concept artist on everything from 2014's "The Maze Runner," 2015's "Maze Runner: The Scorch Trials," and 2018's "Maze Runner: The Death Cure" to 2018's "The Predator," "The Nun," and "Fantastic Beasts: The Crimes of Grindelwald" to 2019's "Pokémon Detective Pikachu" and "Godzilla: King of the Monsters." Most recently, Barthelmey's creature-designing work was on glorious display in 2021's "Godzilla vs. Kong." Looking ahead, Barthelmey will be lending his talents to "Thor: Love and Thunder" and "Mouse Guard" (as a character designer), and "Aquaman and the Lost Kingdom" and "Revival" (as a creature designer).
The trailers for "The Tomorrow War" tease that the aliens will be fearsome, but viewers will have to wait until the movie debuts on July 2 to get the full scope of just how dangerous they really are.
The trailers for The Tomorrow War
On the topic of what "Tomorrow War" footage Amazon Studios has released, the company put out two full-length trailers for the upcoming movie. The first "Tomorrow War" trailer dropped on May 26, and it does what all solid first-look trailers should do: sets up the premise of the film, offers a taste of the action, and gets audiences invested in the story. Here, emphasis is placed on the massive stakes at hand: As Dan's wife explains, "70% of draftees don't return," so there's little comfort to be found in Dan's promise that Emmy and Muri will be "taken care of" if something bad happens to him in the future. But, as Dan's father says in the first trailer, sometimes a man has to do what's best for his family and not himself. For Dan, that means saving the world so that his daughter and wife can be saved too. 
The second and final trailer for "The Tomorrow War" arrived on June 15. There are some reused scenes, but most of it is fresh — showing off the ravenous, man-eating aliens the humans are fighting in 2051 and explaining that the situation is extremely dire. The most intense scene of this final trailer comes at the 1:33 mark, when a group of soldiers led by Yvonne Strahovski's character enter a cave and lure out an alien, which leaps out of the dark in a pure jump-scare moment. Sprinkled in both trailers are moments of humor, teasing that "The Tomorrow War" will probably make you laugh, cry, and cheer throughout its runtime.
The Tomorrow War's powerful themes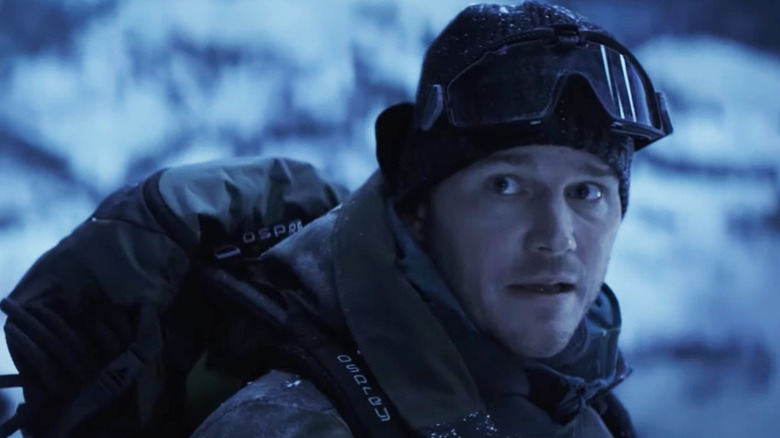 Amazon Studios
"The Tomorrow War" is more than just a time-travel action-sci-fi flick. It grapples with themes of family and duty, explores the bonds between fathers and their children, dives into humans' desire (and responsibility, many would argue) to create a better life for the generations after us, and unravels what motivates people to enlist to serve their country. 
Chatting with Variety in a June 2021 interview, "The Tomorrow War" writer Zach Dean and stars Chris Pratt opened up about the film's themes. Dean explained that although it may appear to be about "an ideology or patriotism or loyalty to protect your country," it's actually about a very literal "desire to save your own kids," which is what Dan's primary motivation for participating in the Tomorrow War is. "Who doesn't sign up for that? It's a different thing," Dean added. "We're not asking for an abstract idea. It's about parenting."
Pratt also noted, "You are dealing with people who are making life decisions based not on the life that they could lead, but rather the world that they're leaving for their children. It's a different theme to think about someone being drafted away from their children rather than children being drafted away from their parents."
As for how Dan's relationship with his estranged father shaped his dynamic with his daughter Muri, Pratt explained that Dan is "blaming his father for all of his issues," pinning everything on his dad not being around when he was growing up. But when Dan comes to realize that he's a lot like his father, things begin to change for the better. 
"When we look at our parents as these deities in our life, we come to a moment in our life where we realize, 'Oh, wow, that was just a kid who had a kid.' When you realize that, you can forgive them for any shortcomings they had because they didn't live up to the God-like status you'd given them when you were young," said Pratt. "You realize, 'Okay, now I'm in the same dilemma, my kids are going to look at me like I'm some sort of infallible person and of course I'm not.'"
The best way to watch The Tomorrow War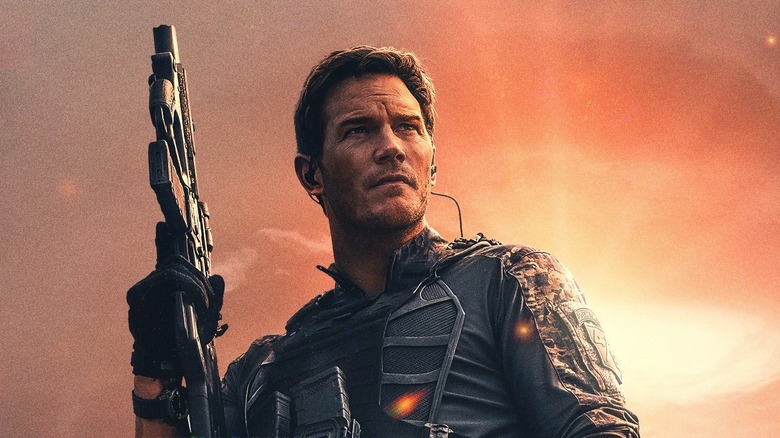 Amazon Studios
At this point, you know basically all there is to know about "The Tomorrow War," except for one pivotal thing: how to watch the movie the right way. Of course, the only things truly required of you are an Amazon Prime account and some time set aside to stream the flick once it debuts on July 2. But there's a rule that lead actor Chris Pratt requests you abide by if you want to have the best "Tomorrow War" viewing experience possible. It's simple: Pretend you're in a movie theater and turn your phone off. 
Pratt spoke with Digital Spy and explained that because "The Tomorrow War" isn't hitting theaters, where audiences are "guaranteed a certain viewing experience" where everyone is focused solely on what's playing on screen, viewers watching at home should act like they're at the cinema and not scroll on their phones. 
"You can still have an amazing viewing experience watching this on Prime. I would just advocate that people turn their phones off. Sit down, commit to watching all the way through. You can do it in the comfort of your own home. Turn up the volume as loud as you can, watch on the biggest screen you can, and really just allow yourself to be immersed in the story because that's the intention. That was always the intention," Pratt said. "Watch it at home, but pretend you're at the movie theater. Turn your phone off and sit back and enjoy, because it's freaking awesome."