Titus Welliver Reflects On Seven Seasons Of Bosch And Relives The Magic Of Lost - Exclusive Interview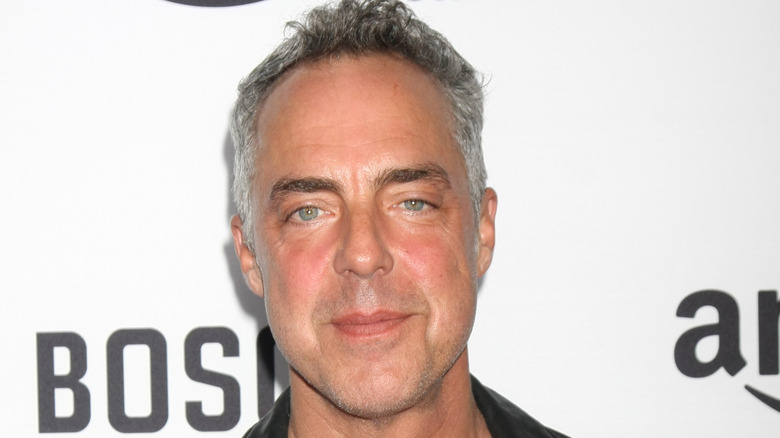 Shutterstock
Titus Welliver has an envious acting career that spans over three decades and includes numerous high-profile TV shows and films. He has appeared in all four movies that Ben Affleck has directed — "Gone Baby Gone," "The Town," "Live By Night," and the Academy Award-winning "Argo" — and starred on such hit series as "Sons of Anarchy" and "The Good Wife." He has also had small but memorable turns on "Agents of S.H.I.E.L.D." and "The Mandalorian."
But Welliver may be best known as the Man in Black (aka the Smoke Monster) on "Lost" and as the title character on Amazon Prime Video's longest-running original series "Bosch," on which he plays a no-nonsense LAPD homicide detective.
Now streaming its seventh and final season on Amazon Prime Video, "Bosch" is based on the bestselling book series by novelist Michael Connelly. The season follows Hieronymous "Harry" Bosch as he works to solve an arson fire that killed a 10-year-old girl, meeting opposition from powerful forces along the way that leave him contemplating how far he's willing to go to achieve justice.
While season 7 is the final season of "Bosch" as viewers know it, the story of Harry Bosch will continue in an as-yet-untitled IMDb TV spinoff, where, in addition to Welliver, Mimi Rogers and Madison Lintz will reprise their roles from the original hit series.
In an exclusive interview with Looper, Welliver dove into all things "Bosch" — from filming the final season to life lessons he has learned from playing the titular character — and looked back on his time on "Lost."
The series finale of Bosch decisively sets up the spin-off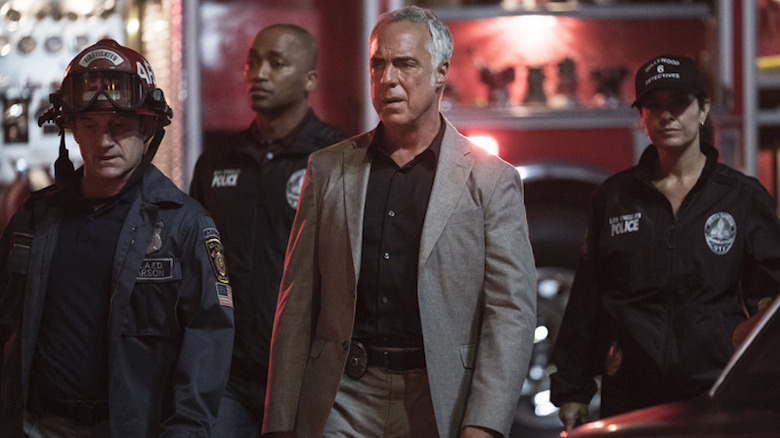 Amazon Studios
Let's talk about what it was like filming the final season of "Bosch." Was it bittersweet?
Well, it was a process and then some because we were in the thick of the COVID-19 pandemic. So Amazon and our producers had to create protocols to keep everyone safe and to keep us moving. It was a big gamble because a lot of productions were dropping off and we had a very, very tight protocol. It was very different because the process of making a TV show or a film, there's the social aspect that always exists, and that was not there and it couldn't exist. So it was a lot of masks on and then "action," your masks came off. And "cut" and the masks went back on and then everybody split to their neutral corners.
In a way, I think that was an enormous distraction, for lack of a better word. We were so incredibly focused on getting into work, getting the work done, and doing it safely that I don't think we were necessarily conscious of recognizing that it was, in fact, the final season. And as it did start to resonate, as we were coming into the last episode and we were saying our goodbyes to cast members, who had just finished shooting their last scene, that's when it really started to land and it was very emotional.
At what point in the filming process did you get the news about the spinoff?
It really wasn't until the bitter end that the call came, which was, "What do you think about continuing this?" And without hesitation, I certainly said, "Yes, a hundred percent." And I think we set that up very, very well in the last episode of season seven, that connective tissue is there. I mean, I think of it really as an Easter egg in the way and by design. But also what's nice is that you can watch it and you see it coming, even if they kept it top secret and never revealed that we were going to have a continuation of the show.
There's, I don't want to say closure because as Harry Bosch always says closure is a myth, but I think we end it on a note where people say, "Oh, life is going to go on." And of course, what we now know is that it will go on, less so as a spinoff but more of a continuation, if you will, or another chapter in the saga of Harry Bosch. And so, that's called having your cake and eating it too.
Titus Welliver considers Bosch to have a 'flawless moral compass'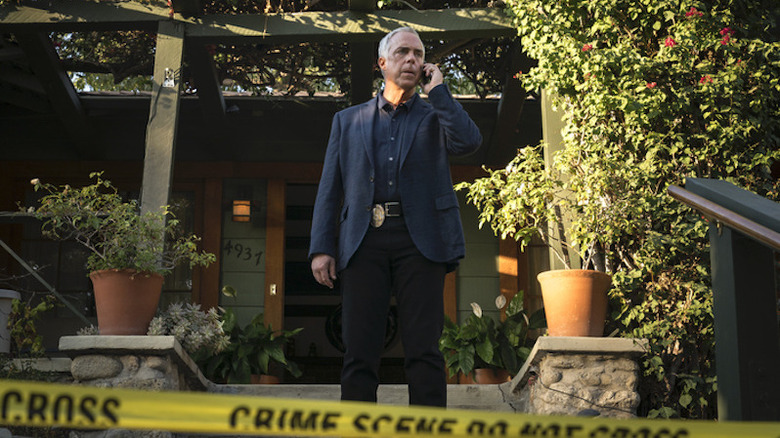 Amazon Studios
Bosch is a complicated, brooding character, but what makes it fun to play him?
There's a quality about the character. He has a flawless moral compass. I mean, if a person was a victim of a crime, they would want a detective like Harry Bosch to work it because he's relentless. I like the humanity of Harry Bosch. I like that he is a flawed guy. I like that he is a vulnerable guy. And I like the fact that he doesn't subscribe to the social norms of society. I mean, there's a part of him that enters a room and says, "I'm Harry Bosch. Good, bad, or indifferent." You're either going to like him or you're not going to like him. And he doesn't always play well with others. It's not to say that he's a jerk because I don't think that he is. I think he's just very direct.
I think that in a society that we live in now, where everyone is hyper-conscious, which is not a bad thing about people's feelings, I like that Harry is kind of a throwback. "I've got a thing to do here and I'm sorry that I don't have time to stop and chat and be sweet. I've got a thing to do, I'm trying to solve a murder here." And it's fun to watch how Harry moves through the world. I think he's a real person. He's capable and commits heroic deeds. But this is the guy who sacrifices without reward, that's just who he is. It's how he operates. And to play a character or to observe a character that has that kind of conviction and that kind of commitment makes him very appealing.
And now to get into character, have you ever watched any classic cop shows or current police procedurals to get ideas on what to do — or not to do?
No, not really. You know, the thing about playing Bosch was that all I had to do to understand this character was to read the script first and foremost, and then read the books that Michael Connelly has written, because the character is very, very clear on the page as to who he is. And that was always the thing that has been at the center, and most important.
We did have to change certain things — his age and where he is in time, you know, we couldn't follow the chronology of the books, but the important thing was to sustain the integrity of the DNA of who Harry Bosch is. And that's a guy who has this moral compass who is driven to the point of being myopic, but he's also a dark and kind of haunted character without being morose.
He has a sense of humor and he has a beautiful sense of connection and love for his daughter. And I think anyone who's a parent, whether it's to a human child or to their favorite pet, there's a bond there that exists. And I think that's identifiable for members of our audience. They see that and it resonates.
What life lessons have you learned from Bosch, the character?
Well, when I'm in crowds, my powers of observation through the process of osmosis of playing this character, I think I look a little closer and I look a little harder when I'm out in the world and in public. And that's not from a place of paranoia, it's just obviously as an actor and as a painter my powers of observation are not dissimilar to Harry, I'm just not looking for people doing bad things like Harry is. But I would say in that way there's a parallel and it's probably deepened my senses of playing this character.
Titus Welliver believes Lost stands the test of time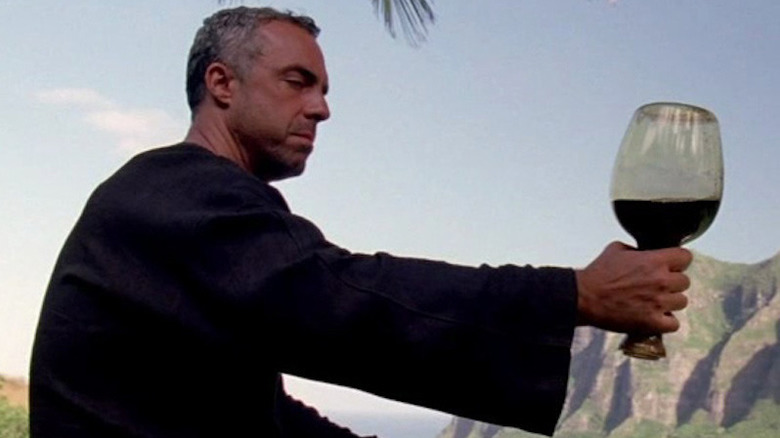 ABC
You and Lance Reddick, who plays Chief Irving, were both on "Lost." Did you meet on that set or was it just a coincidence that he's also on "Bosch"?
No, Lance and I did a television series in 1999 for CBS called "Falcone." It was Jason Gedrick and I. It was basically "Donnie Brasco" the TV series. And I played kind of a hybrid of the Michael Madsen, Al Pacino characters from "Brasco" and Jason Gedrick played the Donnie Brasco character and Lance played this investigator cop who worked with Patti LuPone, who was trying to infiltrate and bust my crew. And that's where we met.
Then many, many moons later Lance and I individually did an ad campaign for Cadillac and we reconnected again, and I followed Lance's work. I was a huge fan of "The Wire" and "Fringe" over the years. And Lance and I would periodically bump into each other, so when I got the call and was looking at who they cast, I was thrilled.
And because I had a relationship with Lance, I was very, very happy and knew the relationship between Bosch and the Chief so I knew that I was anticipating a lot of great stuff to do. And I have to say, that's a relationship at the center of the show that has moved, in that we find it as strained as it could possibly be without fracturing, and who knows it may completely implode. But it gave Lance and I opportunities to do some really wonderful scenes together. And also for me seeing the journey of the Irving character, he's had a fantastic arc on the show and he's just done, as he always does, seamless work.
Looking back on "Lost," what does that show mean to you now?
You know, that show is still relevant and I think it always will be. It's one of those shows that will continue to chart. It was original. It was unlike anything we'd ever seen before. And I am a person who has, since I was little, loved television, watched a lot of television, and fancy myself as a bit of a TV savant, and that show's relevance has not diminished at all in time. And that's a testament to great writing and great imagination, and a marvelous group of creators and writers and directors that were put together there. I mean, everybody. it
So many of my friends intersected on "Lost." A lot of "Deadwood" alumni on it, some "Sons of Anarchy" people there. And the experience of shooting that show as top secret and everything as it was, Hawaii is not a bad place to shoot. It was a beautiful location.
I think it's a great story. It's a great story. I've gone back during the pandemic and re-watched the series and it held up in a whole different way. And going back and revisiting it, I have to say, I saw it with different eyes. It had been a few years since I'd watched it and it still moved me and intrigued me and excited me in the same way that it did when I watched it the first time.
You have such a long, impressive resume — when people recognize you on the street, which film or TV show is it usually for?
It depends. If I'm in New England, it's certainly the films that I've done with Ben Affleck, people talk about "The Town." But you know they're all different. I did "The Mandalorian" so now all of a sudden I'm in the "Star Wars" canon and that's a whole different level of fanbase. But "Lost" and, of course, "Bosch" being where I have been for these seven moving on to eight years, I get a lot of "Bosch" shoutouts. It's really funny when I'm in traffic and a police car happens to roll by.
I get a lot of double takes from cops. But I have to say it fills me with great pride and joy that there's a lot of goodwill towards the show and people that have enjoyed Michael's books and still continue to do so. He's finding new readers all the time, as well. There's a wonderful kind of excitement that registers on people's faces and you see how much they enjoy the show and the books and they demonstrate that in a very kind and lovely way, and that makes me feel good that we've touched and moved people.
All eight episodes of the seventh and final season of "Bosch" are available today, June 25, on Amazon Prime Video.