The Real Reason John Cena Struggled With Fight Scenes In F9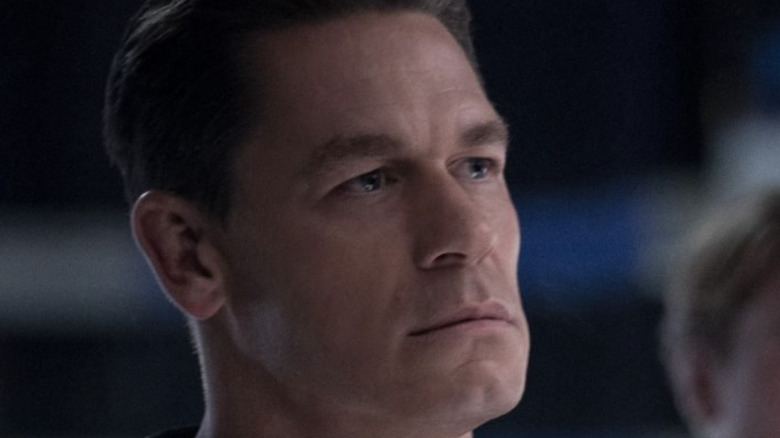 Universal Pictures
John Cena is no stranger to high-intensity work, but "Fast and Furious" fans may be surprised to learn that the fight scenes in "F9" actually proved to be a major challenge for the WWE-wrestler-turned-actor.
The new film, which has finally hit theaters in the U.S. after being delayed by the COVID-19 pandemic last year, is the ninth installment in the core "Fast and Furious" saga. Cena stars as one of the movie's primary antagonists, Jakob Toretto, who just so happens to be the estranged brother of Vin Diesel's Dominic Toretto. As a result of the relationship between the two characters, most of the plot of "F9" centers around the brothers' complicated and bitter bond, with Jakob and Dom facing off in a conflict that takes the "Fast and Furious" franchise to some unexpected new places.
Cena has been steadily establishing himself over the past several years as a movie star worth taking seriously, and "F9" gives him the chance to prove that he can work as the villain of a major franchise film. However, starring in "F9" also meant participating in some of the biggest action set pieces of his career so far, which turned out to be more difficult for him than his fans might expect.
A big difference between fighting in the WWE and in movies
Appearing in a new installment of Entertainment Weekly's "BINGE: The Fast Saga" video series, John Cena opened up about why filming the action sequences in "F9" proved to be uniquely challenging for him. The actor admitted that while his time in the WWE provided him with plenty of experience fighting on camera, it didn't prepare him for the repetitive nature of shooting action sequences in a blockbuster film. 
"Action in film is so much different than live-action performance," Cena explained. "In WWE, it happens as it happens, and there is no going wrong because you see what you see. In film ... if something isn't perfect, you continue to attack it until it's perfect, but when it's perfect, you then have to attack it from multiple angles."
Cena described in further detail how difficult it was to shoot the action scenes in "F9," saying, "It is arduous and you are beat up because it is not just 30 minutes of action. And that's a long performance in WWE. It's weeks. The confrontation between Vin and I was discussed that it had to have certain elements, and it was very arduous and very long, but I don't regret any of it." 
Rounding out his thoughts on the matter, Cena confessed, "I'm still kind of adjusting to the way action is done in film, but I understand it, and that was something I struggled with early on."
"F9" isn't the only major franchise film Cena is starring in this year. He'll also appear as Peacemaker in James Gunn's "The Suicide Squad," and is set to reprise his role in that film in the "Peacemaker" HBO Max series that's currently in production. In other words, while Cena may still be getting used to various Hollywood filmmaking techniques, it's pretty clear that the adjustment process hasn't affected his career trajectory in any real way.