Star Wars Legend Liam Neeson Reveals His Thoughts On A Qui-Gon Jinn Spinoff Series - Exclusive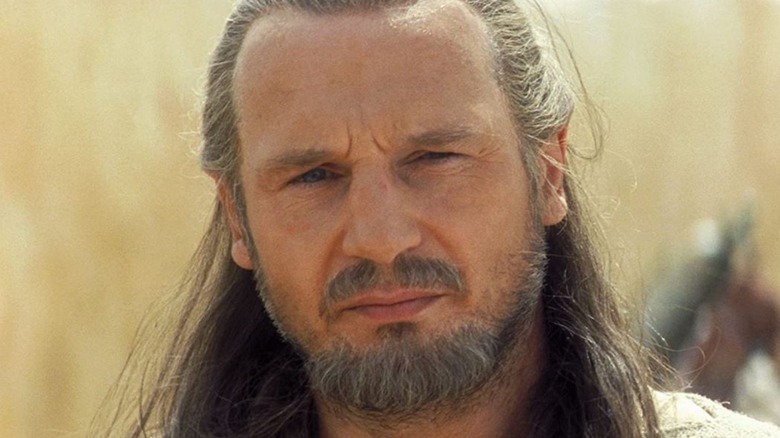 Lucasfilm/20th Century/Disney
Actor Liam Neeson has been lauded for his portrayal of many different characters over the past four decades. And while there are far too many credits to mention, top of mind to many is his Oscar-nominated role as real-life German industrialist Oskar Schindler, who helped save 1,100 Jewish lives in Steven Spielberg's historical Holocaust drama "Schindler's List." His turn as Bruce Wayne's mentor-turned-foe Ra's al Ghul in Christopher Nolan's "Batman Begins" has become legendary, as has his role in "Taken" as ex-CIA agent Bryan Mills with his "very particular set of skills."
One of Neeson's most beloved characters, though, is Qui-Gon Jinn, the Jedi master who mentored Obi-Wan Kenobi (Ewan McGregor) and identified Anakin Skywalker's Jedi traits in the "Star Wars" prequel "Episode I – The Phantom Menace." Qui-Gon's death at the hands of Darth Maul (Ray Park) proved to be a heartbreaking moment for fans, effectively putting to an end to the idea of the character appearing in physical form again for a future live-action "Star Wars" project.
Quite a bit has occurred in the "Star Wars" universe, though, since Qui-Gon's demise in "The Phantom Menace," including the release of two more prequel films, an animated "Clone Wars" movie, and three sequel films to wrap up the Skywalker saga. As the success of "The Mandalorian" has proven, there are plenty of opportunities for more "Star Wars" stories to be told. "The Mandalorian," McGregor's upcoming Obi-Wan Kenobi series, and other live-action projects in the pipeline show that new stories can be told anywhere in the "Star Wars" timeline.

Keeping up with the expanding Star Wars universe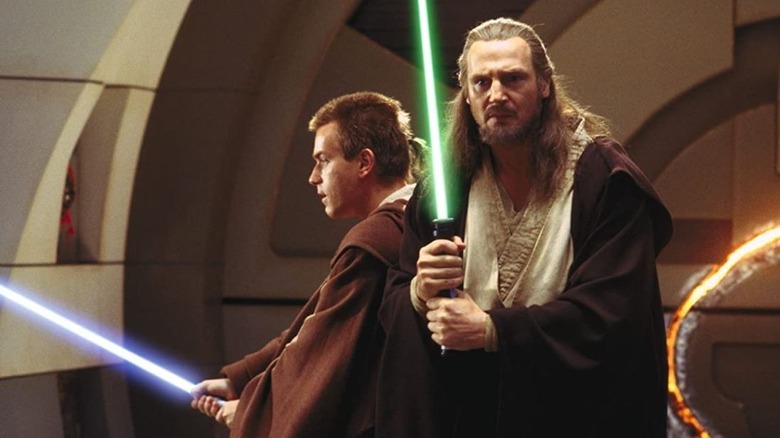 Lucasfilm/20th Century/Disney
In an exclusive interview with Looper to discuss his new Netflix film, "The Ice Road," Neeson said it's been tough staying current with everything happening with the "Star Wars" franchise. The saga has definitely been a hot topic for Neeson lately, ever since he denied that he would reprise Qui-Gon opposite McGregor in the Obi-Wan series. However, if Neeson is not going to be in "Obi-Wan Kenobi," it still begs the question of whether he has been approached for a potential Qui-Gon series.
"There've been so many spinoffs from the series. I'll be honest with you; I've just lost track. I did see the last [movie that featured] Skellig Island, which is a famous island off the southwest coast of Ireland, where Mark Hamill's character is beside [the areas] built by monks way [back in the] sixth century, I think," Neeson said. "But, no, I haven't been approached on that. I believe Ewan's planning a TV series based on Obi-Wan, so good luck to him."
One thing that continues to impress Neeson more than two decades after his turn in "The Phantom Menace" is how the "Star Wars" franchise continues to thrive as the films are being passed from generation to generation. "The audience for these films just seems to grow and grow, from child to adult, from adult to grandparent," Neeson said. "It's amazing, actually. It's terrific."
While Neeson said he's proud that a pivotal role in "Star Wars" lore is part of history, only time will tell if it will be part of future. In the meantime, Neeson is staying busy with films like "The Ice Road," in which he plays a big rig driver in a three-semi convoy tasked with transporting life-saving equipment over treacherous frozen lakes in Canada to help save workers trapped in a collapsed mine. The movie was filmed on location in Canada, which definitely has conditions akin to the ice planet of Hoth in "The Empire Strikes Back." "It was very cold. There were some days it was heading minus-30 degrees. My assistant told me that it was minus-35 a couple of days," Neeson said. "So, you had to really layer up underneath your costume. That's why we all looked like Michelin men when we were walking."
"The Ice Road" is streaming exclusively on Netflix.