The Actor Who Plays Sonny In I, Robot Might Surprise You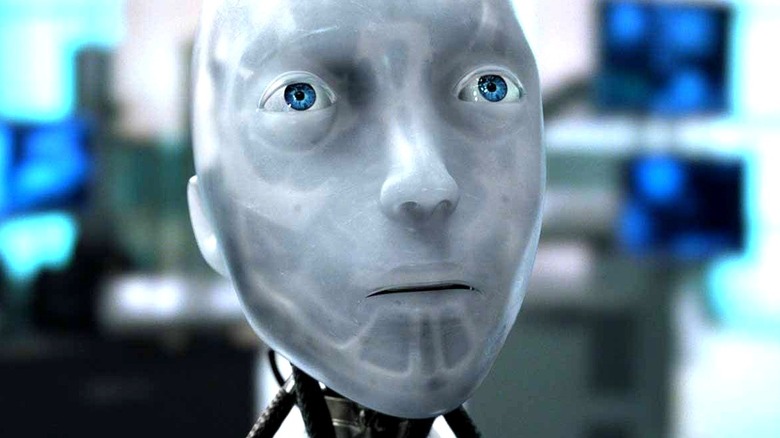 20th Century Fox
The 2004 action film "I, Robot" utilizes themes that have been used in science fiction countless times before — but never with such style. It's the movie's awesome action and impressive special effects that make it a hit with sci-fi fans, and the A-list cast doesn't hurt, either. Inspired by the works of author Isaac Asimov and directed by Alex Proyas, "I, Robot" stars such prominent names as Will Smith, Bridget Moynahan, James Cromwell, and Shia LeBeouf. The movie uses Asimov's Three Laws as a basis for a story set in a futuristic world where robots are the norm.
On top of being a sci-fi thriller, "I, Robot" is also a murder mystery. When the co-founder of U.S. Robotics, Dr. Alfred Lanning (Cromwell), commits apparent suicide by jumping out of a window, homicide detective Del Spooner (Smith) takes on the case. Spooner soon uncovers a deeper conspiracy which threatens the future of all humanity, and he must race to discover the truth before it's too late.
It's established early in the film that Spooner has a notorious hatred for robots, and yet ironically must team up with one to find the answers he seeks. That robot is Sonny, the latest NS-5 model who — unlike all of the other robots that came before him — has human-like emotions and can dream. Unlike his co-stars, Sonny is not instantly recognizable on sight — probably because he is obviously a computer-generated character. But there is an actor behind Sonny's performance, and the name of that actor may come as a surprise.
Alan Tudyk is a master of disguise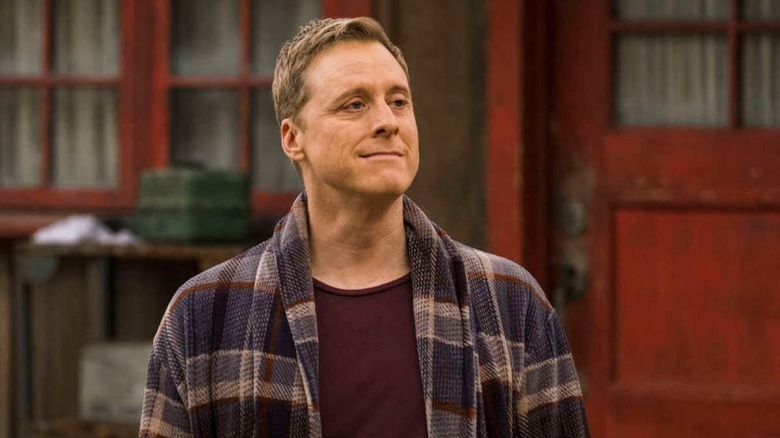 Syfy
Sonny is played by actor Alan Tudyk, who provides the robot's voice as well as the motion-capture performance. Tudyk, a native of El Paso, Texas, studied drama in college and also attended the prestigious Juilliard School for a short time. Tudyk's acting credits go back to the late 1990s, and his career has been going nonstop ever since.
Perhaps one of Tudyk's most well-known film roles comes from the anachronistic 2001 comedy, "A Knight's Tale." Tudyk played the squire, Wat, sporting a shock of red hair and a hot temper. He starred alongside actors Paul Bettany ("WandaVision"), Mark Addy ("Game of Thrones"), and the late Heath Ledger ("The Dark Knight"). For sci-fi fans, Tudyk is known best as Wash, the dry-witted pilot of the spaceship Serenity in the short-lived cult TV series, "Firefly." He reprised his role as Wash in the feature film, "Serenity," which helped to conclude the storyline of the canceled series.
Tudyk has appeared in a plethora of film and television roles over the years, and is often cast in a supporting or minor role. However, he finally found his niche as the star of Syfy's "Resident Alien," in which he plays an extra-terrestrial who assumes the identity of a human doctor, Harry Vanderspeigle, in order to fulfill a secret mission on Earth. So far the series has been a hit for the cable network, and was recently renewed for a second season.
Where you have heard his voice before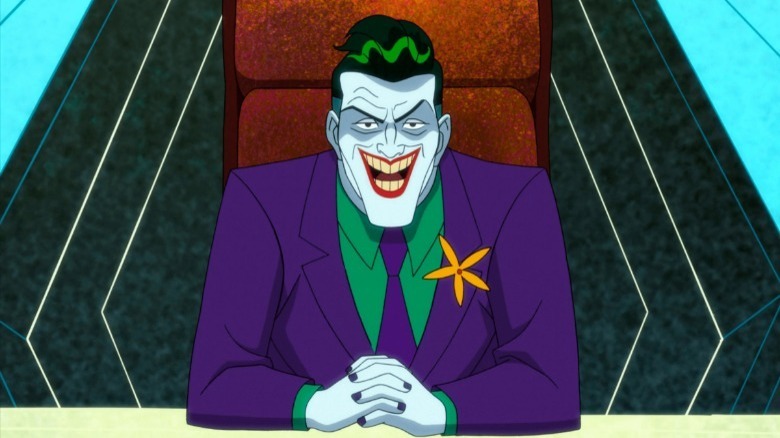 Syfy
Although Alan Tudyk has appeared on camera in many roles, the bulk of his filmography can be attributed to his voice acting work. Tudyk has lent his voice to several Disney animated films, including "Frozen," "Wreck-It Ralph," "Moana," and "Raya and the Last Dragon." Tudyk claimed once in an interview that he considers himself to be Disney's "good luck charm."
Tudyk is also a notable member of the DC animated universe. He performs the voices of both Clayface and the Joker in "Harley Quinn," and he played Green Arrow (among others) in the "Young Justice" series. Tudyk even took on the role of the Devil himself in the animated comedy "Devil May Care," a Syfy series that has the ruler of Hell trying to improve the reputation of his home turf by hiring a social media coordinator.
The role of Sonny in "I, Robot" wouldn't be the last time Tudyk played a mechanical man. In "Rogue One: A Star Wars Story," he was Cassian's (Diego Luna) repurposed and snarky droid companion, K-2SO. Tudyk even managed to throw in some of the movie's funniest lines through ad-libbing. In the scene where K-2SO pretends to hold Cassian and Jyn (Felicity Jones) as hostages, the android backhands Cassian to sell the charade and scolds him, "Quiet! And there's a fresh one if you mouth off again!" The slap was scripted, but the hilarious line that followed was all Tudyk.
Tudyk's years of experience have made him one of the most versatile and sought-after actors in show business. To learn more about him and his work, you can check out our Looper Exclusive interview with him from February 2021.