Who Is The Star In The Allstate 'Along For The Ride' Commercial?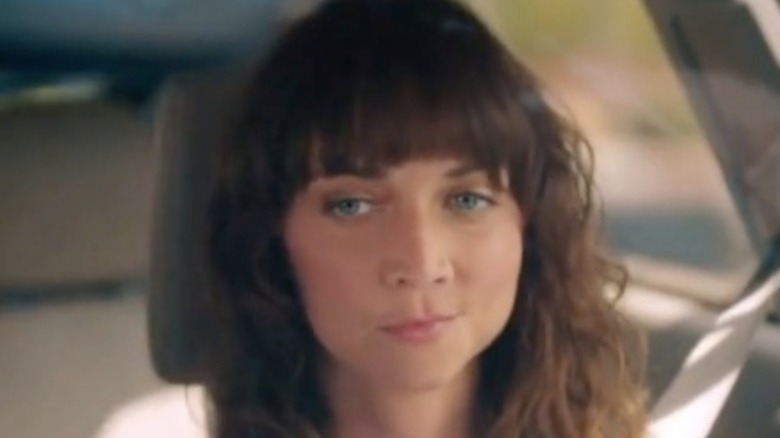 Allstate
Allstate's "Along for the Ride" ad is half over before you figure out what's going on. A young woman drives down the street and everything appears perfectly normal — if you discount cuts to a view rushing by a house window and picture frames shaking and sliding along the mantle. A tornado or earthquake, perhaps? An older woman looks up from her lawn care to widen her eyes in surprise as a large shadow passes overhead. An eclipse? An attack by aliens or locusts or some fictional beast?
The driver smirks at her phone (which displays Allstate's message about savings) and continues on. Does the upbeat tune in the background signal danger? Far from it. And as the song "Our House" by Madness reaches that vintage line of lyrics from 1982, "Our house in the middle of the street," we finally see what's happening. The young woman carrying this commercial is also towing her beautiful blue house behind her.
A brief flash to her eyes in the rearview mirror tells us she's fully confident in her role. That look draws you in and makes you wonder: Who is this delightful Allstate star?
There's more than one reason she looks familiar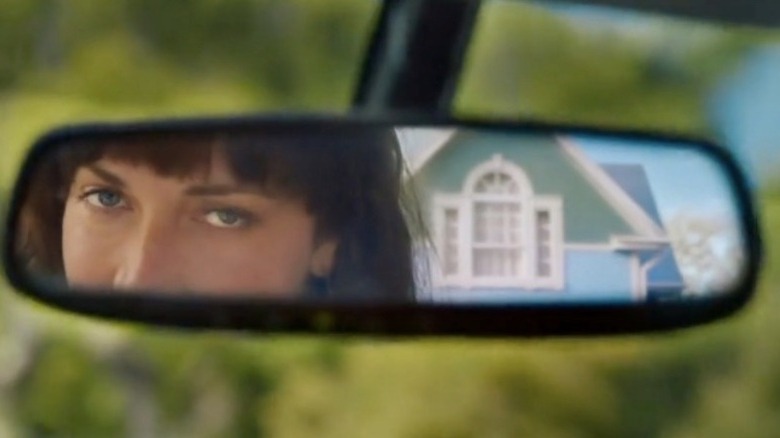 Allstate
The driver towing her house in this commercial is Erin Alexis, an actress, comedian, and published writer, according to the bio on her website. And the Allstate ad isn't her only commercial credit. She also appears in a recent Hulu commercial, dropping a cactus "like a pro," according to her website.
After earning an MFA from Columbia University in New York City, Alexis moved to Los Angeles. If you follow the comedy scene there, you may have spotted her performing stand-up at clubs including The Hollywood Improv, The Comedy Store, The HaHa Comedy Club, and Flappers Comedy Club. She's had her fair share of guest roles on TV shows, appearing on "You're the Worst," "NCIS: Los Angeles," and "True Blood." Not only that, Alexis wrote, produced, and starred in the award-winning comedy pilot "Moderately Put Together," about a 30-something woman who learns her biological parents are looking for her.
Next up, she'll appear in an episode of HBO Max's "Station Eleven," a story of survivors rebuilding their lives after a flu pandemic. Sounds timely, and we can't wait to see Alexis' take on the tale.