What You Need To Remember Before Watching Bosch Season 7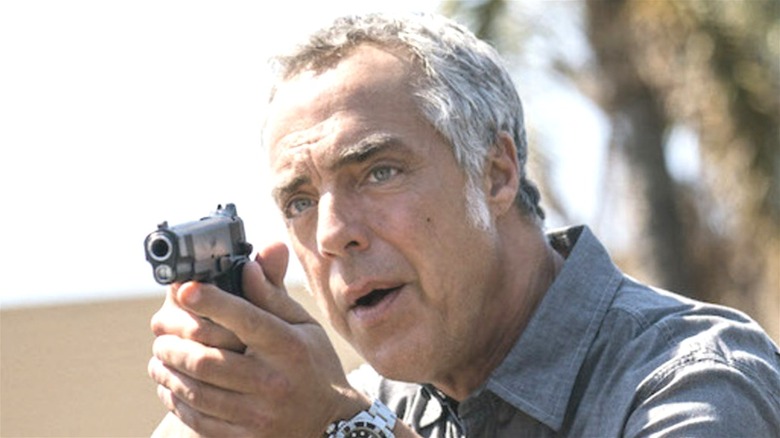 Amazon Studios
Season 7 of "Bosch" is about to premiere on June 25, which is bittersweet news for fans of detective Harry Bosch (Titus Welliver) and the colorful characters that surround him. On one hand, the Amazon Prime Video show is likely coming to an end after this one last batch of episodes — but on the other, hey, a whole new season of "Bosch!"
The eight episodes of the final season will adapt Michael Connelly's "Bosch" novel "The Burning Room," the author's official website has confirmed. As such, the unconventional detective will tackle a nasty arson case that has led to the death of a small girl. As you can probably expect, Bosch takes the case extremely seriously. 
Despite being a police procedural at heart, "Bosch" has never shied away from sordid revelations and character development, and while the Harry Bosch you see in this season is still the gruff, mysterious dude from Season 1, he's also a far more mature character. Per Deadline, a spinoff focusing on Bosch's new career with Honey "Money" Chandler (Mimi Rogers) is already on the way, but this season may still be the last time you'll see the "Bosch" posse as you know it. As such, it's worth preparing yourself for the experience. Let's take a look at what you need to remember before watching "Bosch" Season 7.
A nod at the very first season may be on the way
Though "The Burning Room" is the reported main basis for "Bosch" Season 3, there will also be a pretty nifty nod at the very first season of the show. According to Deadline, Season 7 includes elements of the serial killer-themed novel "The Concrete Blonde," which long-running fans of the show and Connelly's books note was also present in the plot of Season 1. The legal drama surrounding Bosch's actions in the first season is straight out of that book, so it'll be exciting to see which plot points Season 7 will return to — and how they may tie into the events of Season 1. 
Apart from that information nugget, it's anyone's guess just what old Harry will be up to, seeing as he's pretty much closed his main cases from Season 6. However, the Season 7 trailer shows that the arson case he'll be investigating puts him against a dangerous gang leader called Gladys Rodriguez (Vanessa Born), who appears to target Bosch's daughter, Maddie (Madison Lintz). This, of course, means that things are getting pretty personal for Bosch ... which tends to be bad news for whoever's in the receiving end of the protagonist's ire. 
Precarious situations for Chief Irving and Jerry Edgar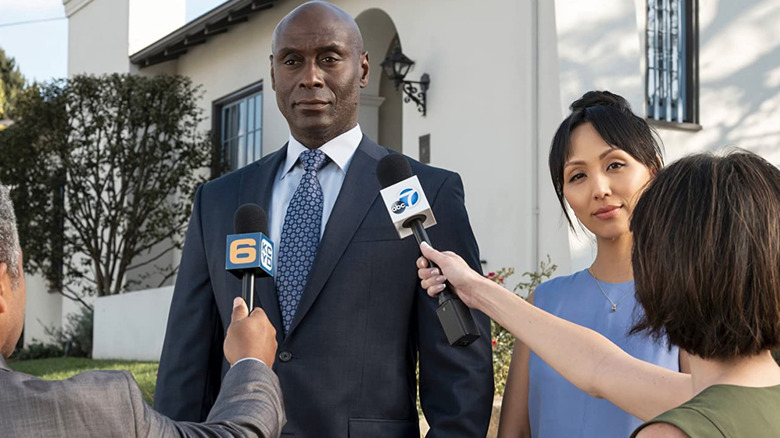 Amazon Studios
"Bosch" Season 6 may have ended with a bunch of solved crime plotlines, but when it comes to the show's characters, it did a good job setting up a whole lot of turmoil for Season 7. Bosch's partner Jerry Edgar (Jamie Hector) is now for all intents and purposes a murderer, having shot the surrendering Jacques Avril (Treva Etienne) in a less than clear-cut situation. Granted, there's a bucketload of mitigating circumstances, but at the end of a day, Edgar's probably in for a whole lot of soul searching — and that's the very best possible scenario that assumes he won't actually have to answer for his deed.
Meanwhile, Chief Irvin Irving (Lance Reddick) starts Season 7 more or less declawed when it comes to his political ambitions. Thanks to the machinations of Jack Killoran (D.W. Moffett), he's no longer running for mayor ... though Killoran still has dirt on him, which may or may not compromise him in his job as the chief of the LAPD, as well.
Interestingly, this might put both characters in solid Harry Bosch territory. Could Jerry or Chief Irving — or, perhaps, both — possibly enlist Bosch's help to keep their noses above water? Will they deal with their respective problems by themselves — or choose to face the music, possibly ruining their respective careers? Harry is already keenly aware of what J. Edgar did, and while Irving may have been able to do some preliminary damage control against Killoran, there's always a chance that the vengeful candidate won't listen to reason. All in all,it seems that things are about to get pretty exciting for everyone, whether they like it or not. 
"Bosch" Season 7 premieres on Amazon Prime Video on June 25.