Liam Neeson Can't Believe He Keeps Landing Action Roles. Here's Why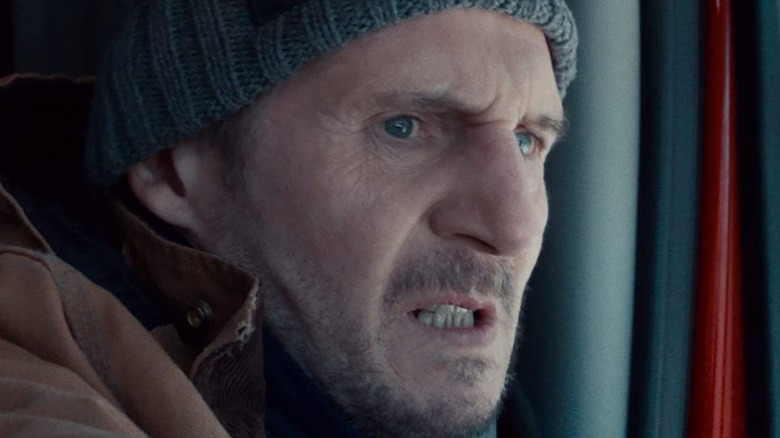 Netflix
Liam Neeson has been an enduring action star for decades, even in the earlier years of his career he appeared in classic films like "The Dead Pool" and the underrated superhero flick, "Darkman" from Sam Raimi. Obviously then there's "Taken," which saw Neeson lead as ex-CIA agent Bryan Mills. It was a surprising success and spawned a franchise of two sequels and a prequel "Taken" TV show. But although the actor isn't getting any younger, he keeps signing on for action roles which cast him as a grizzled brawler or an enduring hero.
His latest project, "The Ice Road," sees him lead a team of trucks across frozen Canadian waters in an attempt to save a group of miners who are trapped in an abandoned mine. It doesn't sound like he'll be scrapping with human traffickers, or battling Sith lords this time around — hello, Qui-Gon Jinn — instead facing off against the dangers of mother nature herself. And when doing press for the upcoming Netflix movie, the star revealed what he really thinks about where his career has taken him. Some audiences might be surprised that Neeson is still interested in playing similar action roles — but no one is more shocked than the star himself.
Liam Neeson points out that he "just turned 69"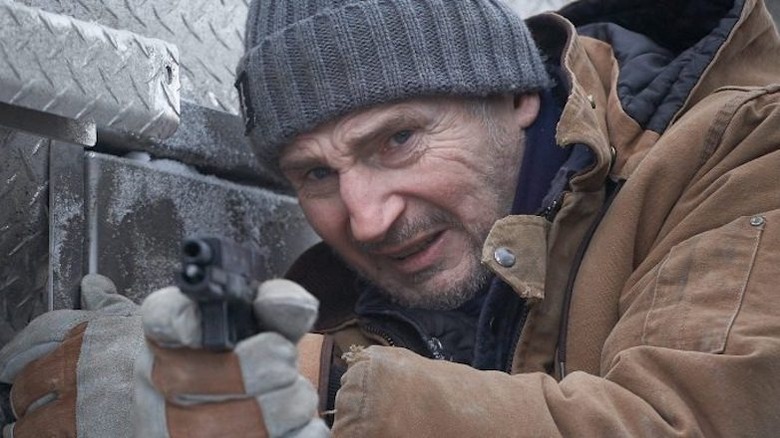 Netflix
When speaking to Entertainment Weekly about "The Ice Road," the star revealed how he prepared for the intense film, explaining that he spoke to actual truck drivers and that the crew shot certain scenes with "no CGI." That sounds a bit scary, eh? Well, action-orientated roles keep coming Neeson's way, but he only has one way of filtering out the scripts that he gets sent. The star explained that because he's "just turned 69 years of age" he has to have certain conversations with his agent.
"I say 'Chris, let me ask you this, they do know what age I am, right?' 'Yes, they do.' 'Okay, that's all I want to know, thank you.'" Clearly as long as they're not just going after Neeson for the instant popularity that comes with his name and actually want to work with the actor then he's onboard. But he is also conscious of his age and that he still works out to stay in decent shape. "I keep reasonably fit, and you just have to for some of these films. If you're playing the lead in any film, you have the responsibility," he said. "You're in practically every scene, it behooves you to be fit."
Although don't expect Neeson to be bragging about a ripped six-pack or bulging biceps — he's just trying to prove he can go the distance, pointing out that "You don't have to look like Arnold Schwarzenegger at the age of 35, but you have to have stamina."