What Scarlett Johansson's Last Day On Set As Black Widow Was Really Like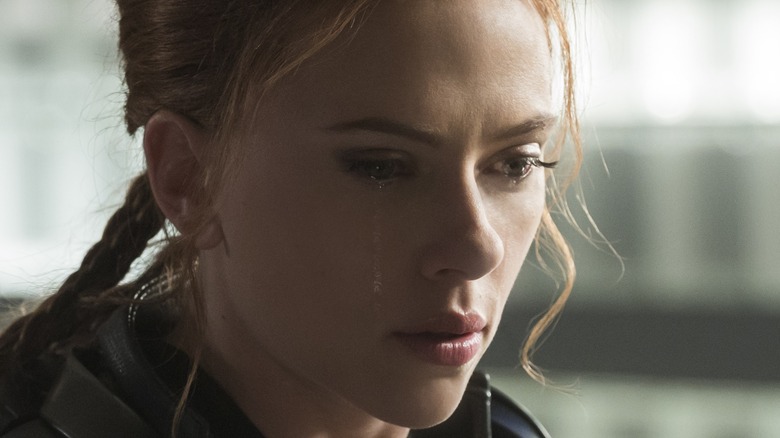 Marvel Studios/Disney
We've known (or at least thought we've known) the final fate of Natasha Romanoff (Scarlett Johansson) since "Avengers: Endgame" bowed on April 26, 2019. Natasha sacrifices herself, leaving Clint Barton (Jeremy Renner) in possession of the Soul Stone. That was one of Scarlet Johansson's first goodbyes to the character she's been playing for the last decade, but it wasn't the last. We know that, after over a decade of almost entirely male-led MCU stories, many of which include Black Widow as a secondary, only now is Natasha finally getting a movie of her very own — and the film is entirely a flashback to the pre-"Avengers: Infinity War" times.
While all things may technically be possible in comic book movies, "Black Widow" (which is set to bow July 9) seems to be the last, true goodbye for Scarlett Johansson after helping define everything the MCU has been so far. So, it's no surprise that Johansson had some pretty potent feelings on the final day of filming "Black Widow."
Scarlett Johansson shared all the feels with one important person
"Black Widow" director Cate Shortland already revealed the set had been emotional for both expected and unexpected reasons. "The first A.D., Jamie [Christopher], had also done, I think, six or seven films with her," Shortland revealed to CinemaBlend. "He was crying. [Johansson] was crying, and I was crying. I think we were all really emotional. She's a trooper, too. She had been shooting for four and a half months, and she had pneumonia."
If you've ever had pneumonia, you know how hard it can be to get out of bed — much less film an action movie. In an interview with CinemaBlend, Johansson confirmed both her illness and her emotional state. "The last thing I shot for this film was actually when Natasha and Taskmaster come together for their final fight beat," Johansson says. "I was fully on an inhaler at that point crawling towards the finish line of the MCU," she said, confirming the pneumonia.
And while that would make anyone emotional, Johansson singled out one other fact: This is the final time her stunt collaborator is playing Black Widow as well. "It was actually even made much more emotional because Heidi Moneymaker, who is my longtime stunt collaborator, who has been with me on this journey for 10 years, it was also her last day as Black Widow," Johansson confirmed. "And so it was very fitting that she was present for that. And we just, you know, took a moment to survey this decade of time, and what we built together. We had all the feels."
"I feel like there have been like seven 'last days' for me on these films," Johansson concluded. "I've had so many last days, and they were all full of tears."
"Black Widow" releases to theaters and on Disney+ Premier Access July 9.