Sex Education Season 3 Release Date News And First-Look Photos Are Breaking Twitter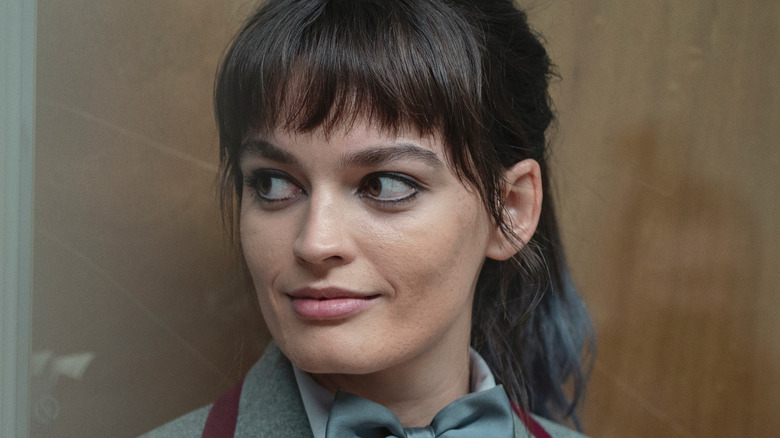 Netflix
With the continued success of the Netflix's coming-of-age comedy series "Sex Education," the streaming service was quick to announce that a third season would be coming — but that was over a year ago. And while filming across the globe was limited (if not entirely prohibited) for a time, it's no surprise that fans of "Sex Education" have become restless. Will Otis (Asa Butterfield) be able to mend fences with Maeve (Emma Mackey) and his mother Jean (Gillian Anderson)? If Jean is truly pregnant, who is the father: Jakob (Mikael Persbrandt) or her ex-husband Remi (James Purefoy)? How will Eric (Ncuti Gatwa) and Adam's (Connor Swindells) relationship evolve now that they seem to actually be together? And can Lily (Tanya Reynolds) and Ola (Patricia Allison) just be happy? They deserve happiness.
We've been waiting a long time to get the answer to these questions, but we found out today that there isn't much longer to wait when Netflix dropped a host of new images and a premiere date — September 17 — for "Sex Education" Season 3 on Twitter. Let's talk about what those new pictures mean as we wait the remainder of the summer to find out where the story of a teenage sex therapist goes next.
New cast, new uniforms, new means of doling out advice?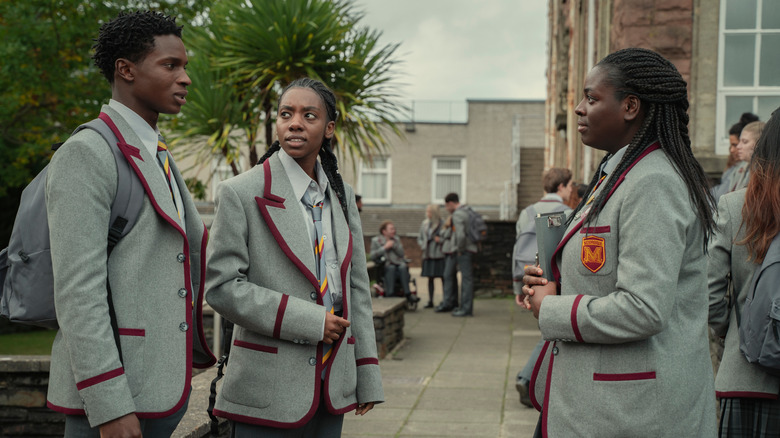 Netflix
According to Netflix's tweet, like previous seasons, "Sex Education" season 3 will have eight episodes. What's immediately different, which we can see from the pictures, is the dress code at Moordale. Everyone appears to be dressed in school uniforms, likely a result of new headteacher Hope (Jemima Kirke) and her plans to improve the status of her school. We can see Hope in one of the new photos from season three looking sternly at Viv (Chinenye Ezeudu), who likely isn't pleased at the new uniforms.
We see a picture of Otis and Eric wearing headsets and smiling together — have they perhaps found a new way to spread Otis's sex advice? And speaking of friend pairings, there's a nice shot of Maeve with Aimee (Aimee Lou Wood) the latter of whom "discovers feminism" this season after the trauma she experienced last season.
And perhaps most exciting of all, we got an image of Viv and Jackson (Kedar Williams Stirling) hanging out with new cast member Cal (Dua Saleh), the series' first non-binary character.
Fans are thrilled at the new photos and the upcoming release date. "CAN'T WAIT FOR JACKSON AND VIV!" user @BARCH1ES tweeted, along with a video montage of the blossoming friendship between the two characters. User @yoncedevil zoomed in on the photo of Viv and Hope to reveal a familiar looking face, tweeting "Omg gaga?" about someone resembling the famous singer. And while you might be expecting to see people wondering about Otis and Maeve finally getting together and making it work, one of the most liked tweets about "Sex Education" Season 3 came from user @LEDGERING: "Can't wait for Maeve and Aimee 2 finally be gfs omg." We're pretty sure Maeve and Otis are still endgame, but "Sex Education" hasn't shied away from queer romance thus far, so who knows?