Sung Kang Reveals How He Landed His Role As Fast & Furious' Han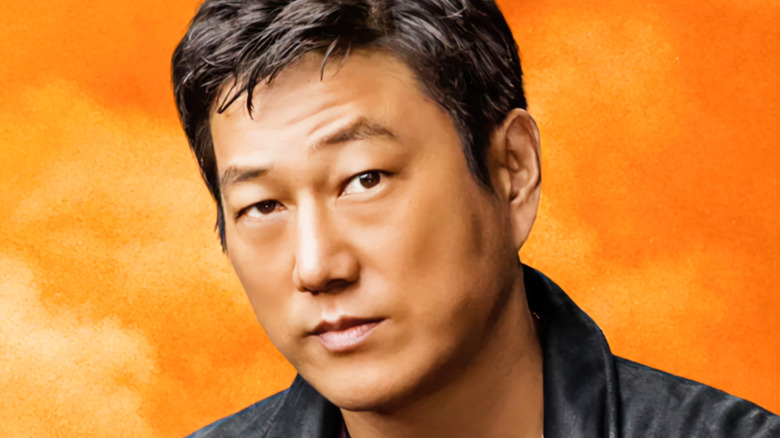 Universal Pictures
Includes spoilers for the "Fast & Furious" franchise
There are a ton of reasons to get hype for "F9." The latest entry in the "Fast & Furious" franchise promises even more explosive action, a continuation of one of the great family sagas in modern cinematic history, and the return of both beloved long-time cast members and supporting players like Charlize Theron, Kurt Russell, and Dame Helen Mirren. But for a certain segment of the fanbase, there's one specific thing that is getting them excited for the movie and that's the return of Han Lue (Sung Kang).
Han appeared in several mid-series entries in the franchise and gained a legion of fans thanks to his romance with Gisele Yashar (Gal Gadot) and his love of a good snack. But unfortunately for the character and fans, his fate was sealed early on. Han was introduced in "The Fast and the Furious: Tokyo Drift," the events of which come after "Fast & Furious 6," despite it being the third release of the franchise. "Tokyo Drift" saw Han die tragically (allegedly), meaning his tenure had a built-in expiration date.
But in a series that has featured a character driving a car out of an airplane and surviving, anything is possible. And thus Han is slated to appear in "F9" and make his first major franchise appearance since "Fast & Furious 6."
During a recent interview with Rotten Tomatoes, Kang took things all the way back to the beginning and gave fans some insight into how he and the character came to be involved in the series. They say great things are launched from humble beginnings, and that is especially true of Han, a character who almost didn't exist in the franchise at all.
Han wasn't originally meant to be in the Fast & Furious franchise
While speaking with Rotten Tomatoes, Kang recalled a lunch "The Fast and the Furious: Tokyo Drift" director Justin Lin arranged with the cast of his previous effort, the crime drama "Better Luck Tomorrow." That film featured a predominantly Asian-American cast, including Kang as a small-time criminal called Han Lue. However, at that initial meeting, Lin didn't have good news for any of them.
"'I just wanted to tell you that I'm directing this big 'Fast and the Furious' movie for Universal,'" Kang recalls Lin saying. "'But none of you are going to be cast in the film, because none of you fit.'"
At some point, though, that changed. The original "Tokyo Drift" script had a character Kang remembers being called Phoenix, who had one scene and was meant to be a cameo role for a hip-hop star. But with Bow Wow already in the film, Lin apparently saw the opportunity to do something else with the part. According to Kang, Lin pitched a new character: "Somebody cool, somebody inclusive, somebody you want to hang out with." And thus, Han ended up in Tokyo.
Kang revealed that once he was brought onto the project, he worked with Lin to build Han's role in the story from the ground up. "Han was barely in the script," he said. "It was me and Justin every day going over his character arc and him finding places to put him in the story."
Considering Han is now one of the most talked-about parts of "F9," that initial instinct to develop the character was clearly a good one.