Why Number Two From The Mysterious Benedict Society Seems So Familiar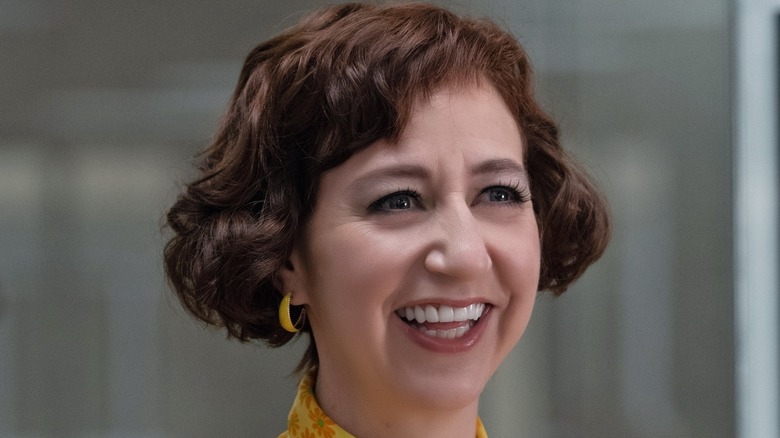 Diyah Pera/Disney
"The Mysterious Benedict Society" is the latest book-to-TV adaptation to hit streaming. Based on the award-winning and best-selling book by Trenton Lee Stewart, the eight-episode first season follows a group of orphans with unique skills who have been individually selected by the mysterious and eccentric Mr. Benedict (Tony Hale) to go undercover at the boarding school known as the L.I.V.E. Institute. Their goal is to save the world from an impending global crisis known only as The Emergency, and the school appears to be ground zero for what's happening.
In this Disney+ series, the character of Number Two is portrayed by actress Kristen Schaal. She is Mr. Benedict's loyal right hand. Schaal has a fairly distinct voice and has lent it to numerous animated properties over the years, though she has spent plenty of time in front of the camera as well. Here is where you've seen or heard her before and why she seems so familiar.
Kristen Schaal was a huge Flight of the Conchords fan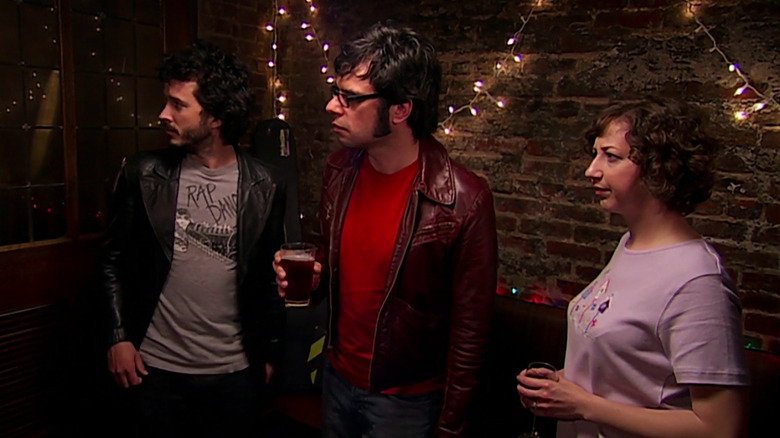 HBO
Schaal's acting career dates back to the early 2000s, when she appeared in small roles in TV shows like "The Education of Max Bickford" and "Ugly Betty" as well as films like "Kate & Leopold." However, the first place many people saw her was likely the HBO comedy "Flight of the Conchords," which ran from 2007 until 2009 and starred real-life comedy duo Jemaine Clement and Bret McKenzie as fictional versions of themselves. 
The comedy series, which also featured Schaal's future "Bob's Burgers" co-star Eugene Mirman, followed Jemaine and Bret's two-man band as they tried to make it in New York City after moving from New Zealand. Schaal appeared in the show as a woman named Mel, who happened to be the band's one and only fan. She often took things to the extreme, as she stalked them with the hope of potentially beginning a romantic relationship despite the fact she was already married. Schaal would later reunite with Clement for a guest appearance on his hit FX vampire comedy "What We Do in the Shadows."
Kristen Schaal also visited 30 Rock a few times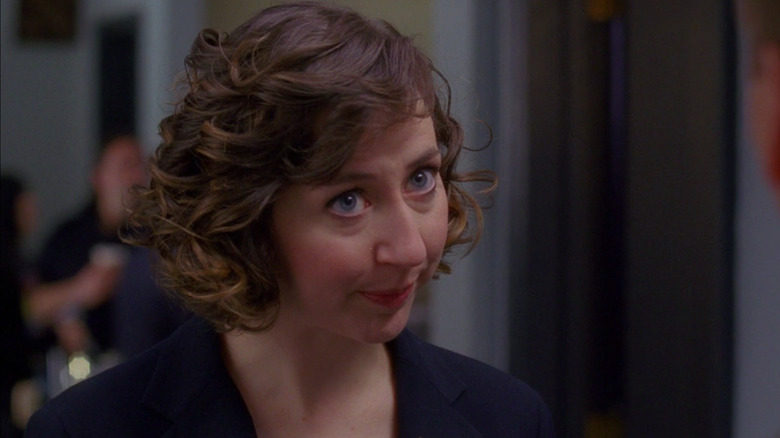 NBC
Schaal stepped back in front of the camera for a recurring role on NBC's Emmy-winning comedy "30 Rock" beginning in 2012 with Season 6. She portrayed Hazel Wassername, who replaced Kenneth (Jack McBrayer) as an NBC page once he was promoted to Standards and Practices. 
The character, who appeared in 10 episodes of the show, was known for causing unnecessary drama everywhere she went thanks to her bad habit for exaggeration and some fairly terrifying tendencies. For instance, Hazel stalked Liz (Tina Fey), attempted to get rid of Jenna (Jane Krakowski) in order to usurp her role as Liz's best friend, and later sabotaged Kenneth's attempt to reapply to the page program. She even pretended to have feelings for him to deflect from her actions. After leaving NBC, she also fabricated a fake sexual harassment case in an attempt to sue Kabeltown. In doing so, she revealed how badly everyone at "TGS" treated Kenneth, which eventually led to bad publicity and the show's cancellation.
Kristen Schaal has lent her voice to many popular animated comedies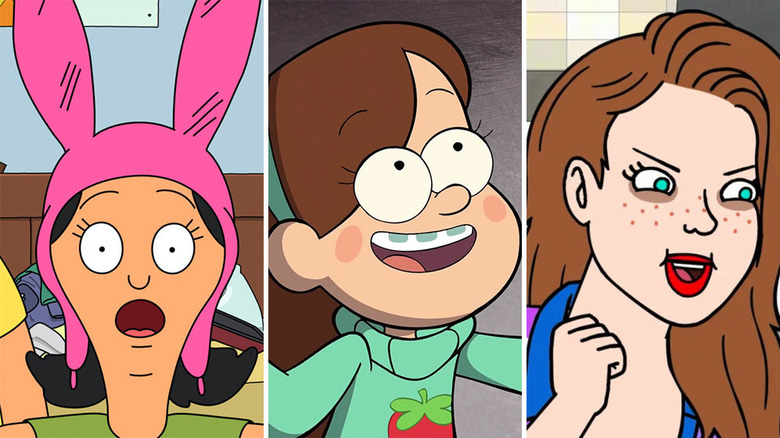 Fox/Disney Channel/Netflix
Despite all of her live-action appearances, if you recognize Schaal and her voice, there's a good chance that it is likely to be from one of the animated series in which she's done voiceover work. 
Since 2011, she has voiced Louise Belcher, the mischievous youngest child of middle class restaurant owner Bob Belcher (H. Jon Benjamin) on Fox's long-running, Emmy-winning comedy "Bob's Burgers." She reprised the role for the "Bob's Burgers" movie. 
From 2012 until 2016, she brought to life the boy-crazy 12-year-old Mabel Pines on the hit Disney Channel comedy "Gravity Falls," which followed the adventures of Mabel and her twin brother, Dipper (Jason Ritter), as they visited their great uncle (series creator Alex Hirsch) in the town of Gravity Falls, Oregon, which was full of strange creatures and bizarre paranormal happenings. 
Schaal also voiced the recurring character of Sarah Lynn, a former child actress who struggled with addiction, in the Netflix comedy "BoJack Horseman," which ran from 2014 until 2020. For her performance, Schaal was nominated for an Emmy for Outstanding Character Voice-Over Performance.
Kristen Schaal also spent four seasons with the last man on Earth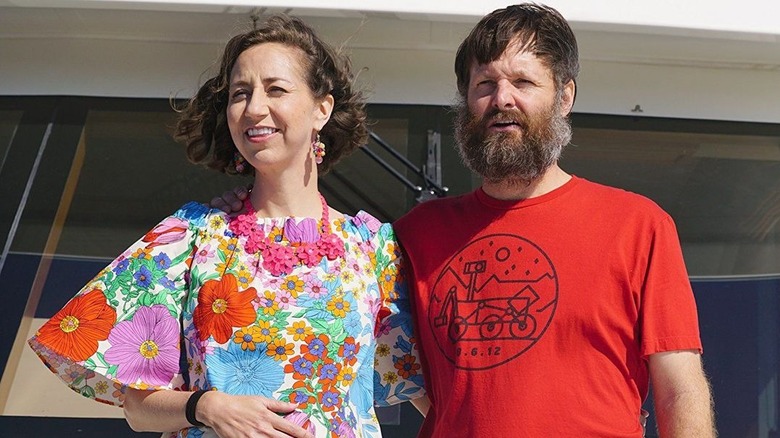 Fox
The post-apocalyptic comedy "The Last Man on Earth" premiered in 2015 and ran for four seasons on Fox. It followed a small group of survivors after a deadly virus wiped out most of the population prior to the beginning of the series. 
Schaal appeared as one of the lead characters, Carol Pilbasian. In the first season, Carol moved to Tucson, Arizona, after learning Will Forte's Phil was alive there. Once she arrived, she pressured Phil into marrying her so they could attempt to begin repopulating the Earth. Predictably, things didn't go well at first, as the two lacked any real chemistry and Carol spent a lot of time chastising Phil for his bad behavior. They soon divorced only to eventually remarry once they left Tucson, and Carol did eventually become pregnant, giving birth to twins in the show's final season.