Why Milligan From The Mysterious Benedict Society Looks So Familiar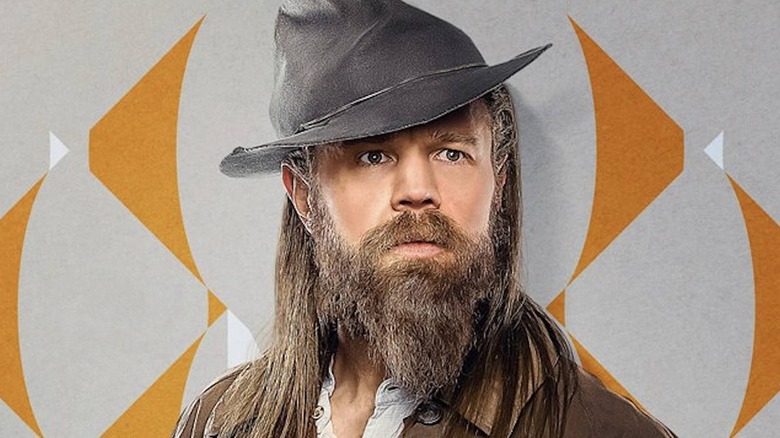 Disney+
Based on the young adult book series by author Trenton Lee Stewart, the upcoming Disney+ series "The Mysterious Benedict Society" tells the story of four brilliant, unique orphans who are summoned to a school called the Institute. There they meet Mr. Benedict, played by Tony Hale in the TV adaptation, the man in charge of the Institute who aims to team up with the orphans to take down his twin brother, Mr. Curtain, who is enacting a devious plan for power. 
By Mr. Benedict and the four children's side are Number Two, played by Kristen Schaal, Rhonda, played by MaameYaa Boafo, and Milligan, played by Ryan Hurst. Milligan is a no-nonsense, deadpan man who travels with the children and works as their protector. The four kids in question are Reynie Muldoon (Mystic Inscho), Kate Weatherall (Emmy DeOliveira), George 'Sticky' Washington (Seth Carr), and Constance Contraire (Marta Timofeeva). The first two episodes of "The Mysterious Benedict Society" will premiere on the Disney+ streaming platform on June 25, 2021, with further episodes released weekly, and the first season will have eight episodes in total. 
While the show's cast is filled with familiar faces, there are a few that might be a bit harder to place, including Hurst as Milligan. The actor has been working for almost 30 years, so you're bound to have seen him in something. Here are the biggest roles of Hurst's long career. 
Ryan Hurst played Gerry Bertier in Remember the Titans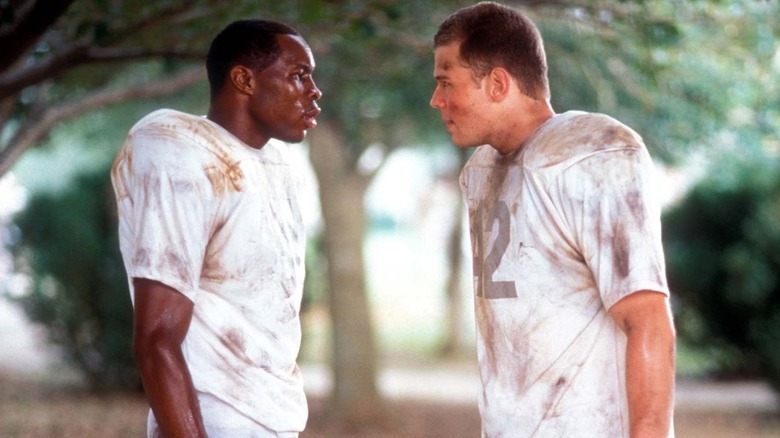 Walt Disney Studios
While Hurst had already done quite a bit of work by the time 2000's "Remember the Titans" came around, his role in the iconic film certainly helped boost his career. The sports drama, based on a true story, focuses on Denzel Washington's Coach Herman Boone, who is brought on as the head coach for the football team of the newly integrated T.C. Williams High School in Virginia in 1971. Will Patton plays the assistant coach, Bill Yoast. Quite young at the time, Hurst portrays real-life footballer Gerry Bertier, opposite Wood Harris as Julius Campbell. Bertier participated in the actual 1971 Virginia State Championship, and soon after he got into a bad car accident that left him paralyzed from the waist down. Still, that didn't hold him back, as he went on to participate in the Paralympics, winning multiple medals. 
If you aren't familiar with the famed football drama, "Remember the Titans" follows the T.C. Williams High School football team as they overcome racial prejudices and personal differences to become a true team and dominate the football league as the only team that's not all-white. While the movie is based on a true story, there are certain liberties taken in the film adaptation, but overall, "Remember the Titans" remains a favorite for audiences for its inspiring, exciting story of the underdog football team and their coaches. 
Hurst is Opie Winston in Sons of Anarchy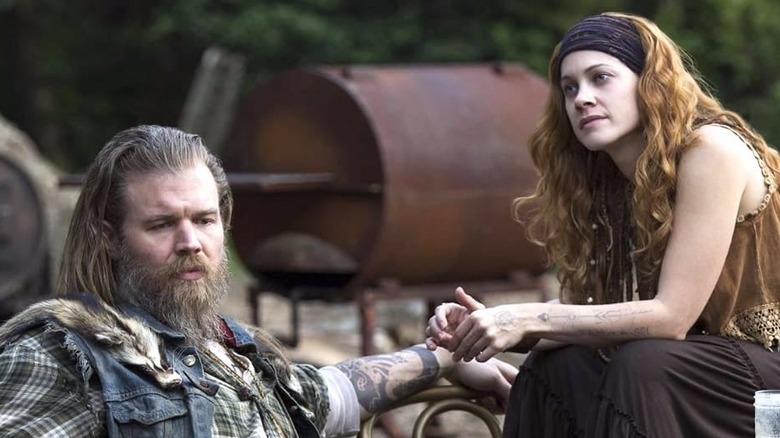 FX
Even after his starring role in "Remember the Titans," Hurst went on to originate many other unforgettable characters on television and in film. Probably what he is most known for these days is playing Harry "Opie" Winston in the FX motorcycle gang-focused drama, "Sons of Anarchy." Hurst's character Opie is a member of the Sons of Anarchy Motorcycle Club (also known as SAMCRO) and the best friend of Jax Teller (Charlie Hunnam), the show's main character. Jax is devoted to the MC but doesn't agree with the extreme violence at play, and attempts to do a better job ruling the club when he's in charge. 
Hurst's Opie will do whatever it takes to stay by Jax's side as a member of the MC. In the beginning of the series, Opie is paroled and released from prison after serving five years for a botched arson attempt. He returns to SAMCRO as a loyal member, but ends up manipulated and targeted by the ATF, who convince the MC that he is a mole in the organization. This leads certain members of SAMCRO to attempt to kill Opie, only for his wife, Donna (Sprague Graydon), to end up dead in his place. The depression at such a huge loss, especially when the couple has two kids together, fuels Opie's actions and drive for revenge in the next few seasons. 
Hurst joined Bates Motel as Chick Hogan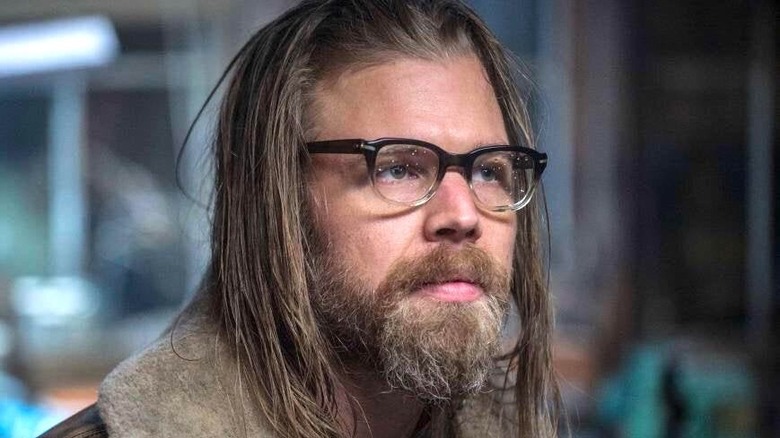 A&E
Appearing in Seasons 3 through 5 of "Bates Motel," the A&E prequel series to the horror film "Psycho," Hurst plays a character named Chick Hogan, an intelligent ex-con who gets deeply involved with the ongoings of Caleb Calhoun (Kenny Johnson), the brother of Norma Bates (Vera Farmiga) and uncle of Norman Bates (Freddie Highmore). A seriously messed up man and a horrible brother, Norma reveals early on that Caleb repeatedly sexually abused her during their childhood, and that Caleb is the actual father of her older son, Dylan (Max Thieriot). As for how exactly Chick ends up involved with Caleb, he owns some land near Dylan's farm and runs into Caleb while out and about. He asks Dylan and Caleb for help with a drug and weapons delivery, and Dylan agrees, but the night's events reveal that Chick has a history of being untrustworthy and ratting people out. 
Going into Season 4, Caleb brutally beats Chick up for endangering his son, and so Chick starts planning his revenge. When he realizes the familial connections between Norma, Caleb, and Dylan, Chick offers to help Norma get rid of Caleb. He tries to blackmail Norma to get what he wants, but she still won't do it. Soon enough, it becomes clear that Norma's grown on him, and so he leaves her alone. When Norma dies, Chick is definitely affected by it, and he offers to help Norman in any way he can. As he spends more time at the motel, Chick starts to put together what's really happening with Norman and his "Mother" persona, leading him further into danger as Norman gets worse. 
Hurst played Beta in The Walking Dead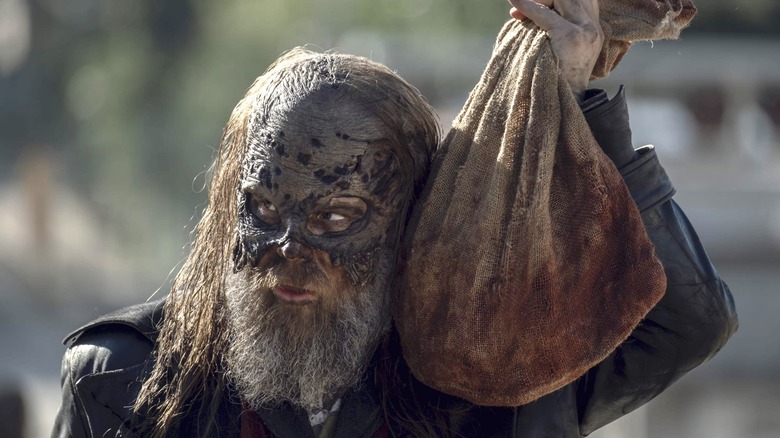 AMC
Aside from the upcoming series "The Mysterious Benedict Society," Hurst's most recent major role was playing Beta in Seasons 9 and 10 of "The Walking Dead." As Beta, Hurst is the second in command of the Whisperers, the main antagonistic group for Daryl (Norman Reedus), Carol (Melissa McBride), and the others in the two most recent seasons. The group is led by Alpha, played by Samantha Morton, who is a ruthless, psychopathic leader willing to abandon the weak and kill those who defy her in order to ensure her survival. As her right-hand man, Beta is just as brutal and mentally unstable. He completely leaves behind who he was before the zombie apocalypse, even killing someone for recognizing his old celebrity identity. 
After Alpha is killed by Negan (Jeffrey Dean Morgan), Beta has a mental breakdown, losing the only person he has even been so devotedly loyal to. When someone dares to call him "the new Alpha," Beta does not take it well. In honor of Alpha — and his own insanity — Beta adds a part of Alpha's face to his creepy mask, which already features part of his best friend's face who died earlier. Beta eventually meets his demise at the end of "The Walking Dead" Season 10, but it might not be the last time you see the character. Hurst previously hinted to Entertainment Weekly that he might already be talking to "The Walking Dead" producer Scott Gimple about appearing in one or more of the various spin-off series.