Forever Purge Photos Tease An Absolutely Wild Final Installment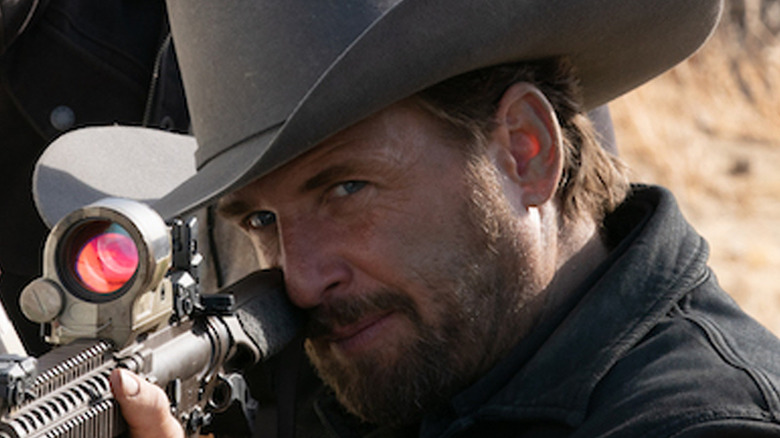 Universal Pictures
Many films have explored humanity's innate love of violence, but few franchises have done it as explicitly as "The Purge." The basic concept of all "Purge" movies is simple: In the near future, the crime rate in America has plummeted thanks to a new social program. For one night only, Americans are allowed to commit any crimes they want, consequence free. The first two films, "The Purge" (2013) and "The Purge: Anarchy" (2014), explored what it would be like to live through such a nightmare. "The Purge: Election Year" (2016) explored the political ramifications of this policy, and "The First Purge" (2018) told the story of — you guessed it — the first time America held a Purge. Altogether, the movies have grossed over $450 million worldwide (via The Numbers). That doesn't even count the "Purge" TV series that aired on USA in 2018 and 2019 to universal meh. 
Despite all of those Purges, there's still at least one more story to be told: "The Forever Purge." The fifth "Purge" premieres on July 2, 2021, and it will allegedly be the final installment in the series. If the recently released set production photos are any indication, we can all rest assured that "The Purge" will be going out with a bang.
Get ready for a Purge with plenty of Tex-Mex flavor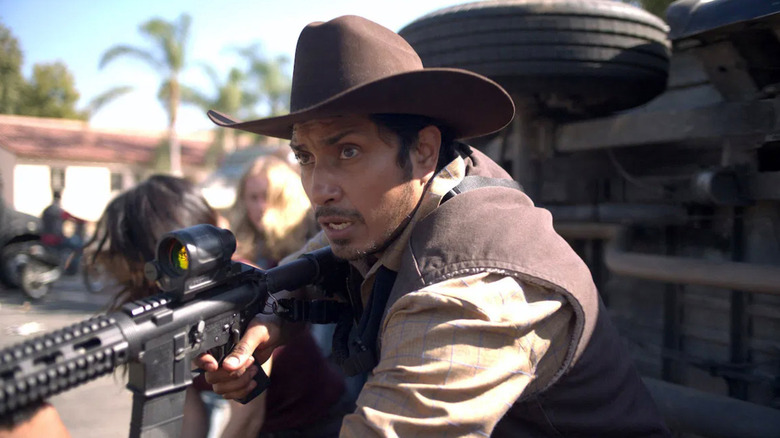 Universal Pictures
On June 23, 2021, Bloody Disgusting shared a new image gallery from "The Forever Purge," and the photos give a thorough look at what's going to happen in the upcoming film. According to the film's synopsis, "The Forever Purge" begins when the most violent Purgers band together to force America to make the Purge permanent. The film follows two Texas families who get caught in the crossfire: the wealthy Tuckers, and their ranch hands, Adela and Juan. When the Purge begins, both families are forced to put aside their class tensions and work together to survive.
The photos show most of the film's main characters in action, including Josh Lucas as Dylan Tucker and Leven Rambin as Dylan's wife, Harper. Alongside them are Ana de la Reguera as Adela, Tenoch Huerta as Juan, and Alejandro Edda as T.T. The photos also show many of the Purgers. Some of them are wearing the traditional Purger masks, like a bunny mask, while others have a more country-western flavor befitting the film's setting.
Per the photos and the plot synopsis, "The Forever Purge" should have nonstop gunfights and a high body count. Would "Purge" fans really want it any other way?