The Forever Purge - What We Know So Far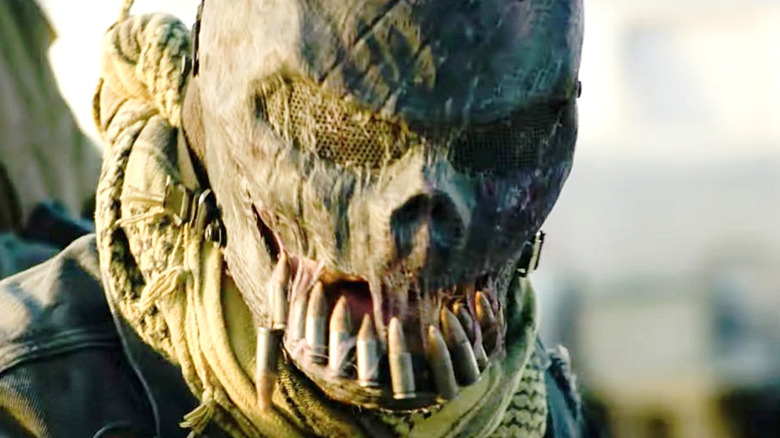 Universal Pictures
Ready to purge again, fellow citizens? 
If you've been following the five-film series that comprises the "Purge" franchise, you know that hell truly is other people — especially if you're out past dark on a Purge night. Set in a dystopian alternate version of the United States where all crime has been declared legal by the current dictatorial ruling political party, The New Founding Fathers of America, for 12 hours on a designated holiday, the yearly Purge event invites residents to engage in all manner of illegal activity, up to and including mass murder. 
For your average American citizen, this means trying to survive a yearly battle royale without being murdered or maimed. There are, of course, many people out there who take great pleasure in causing great pain to their fellow Americans. These active purgers will do anything to harm the innocent and helpless, even as kinder souls try to protect the weak during each Purge, while they fight to restore everyday life back to the way it once was. It's a system that seems to be working for the nation, per "The Purge" series' political mythology. In other words, there has been a method to the mayhem; all of this legalized violence, malfeasance, and disaster has apparently led to a peaceful and crime-free nation for the rest of the American calendar year. Or so The New Founding Fathers of America say.
The franchise has seen a sizable group of sympathetic characters pass through their own personal nightmares and come out the other end. "The Forever Purge" promises to introduce a few more into a situation that takes the franchise's adoration of mass chaos to a whole new level. As the title suggests, "The Forever Purge" will explore a frightening new scenario for this cinematic dystopia: A group of purging sociopaths who consider themselves unbound by the statutory time constraints  of the legal, 12-hour Purge. 
Here's what we know about the film so far. 
What went into making The Forever Purge and when will it be released?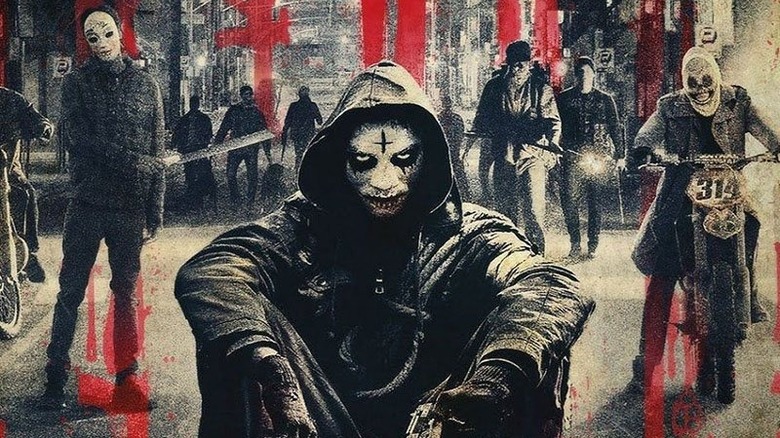 Universal Pictures
"The Forever Purge" was conceived by James DeMonaco, creator of the "Purge" franchise, who told Entertainment Weekly in 2018 he had a "really cool" notion for ending the series as a whole. "I have it in my head. I think I'm going to write it. I think it's a great way to end it all. We want to end it all, I think, in this one, and I'm very excited," he told the magazine.
The movie entered into development at Universal Pictures in May of 2019, according to Deadline, at which time it was originally scheduled for a July 10, 2020 release date. DeMonaco wrote the screenplay. The film is produced by Michael Bay, Brad Fuller, and Andrew Form for Platinum Dunes. Sébastien K. Lemercier and DeMonaco also co-produced the film through their Man in a Tree production company, so the action pedigree here is substantial. 
Everardo Gout was tapped to direct the film in August 2019; he's mainly worked in television up until this point, with credits on Netflix's "Luke Cage" and AMC's "The Terror." But what drew Universal's eyes to Gout, according to Variety, was his work on National Geographic's "MARS" miniseries, which combined scripted drama with documentary footage and interviews with actual scientists.
"The Forever Purge" was shot in various locations in California from November 2019 to February 2020, according to The Hollywood Reporter. While the COVID-19 pandemic didn't impact the production of "The Forever Purge," it did delay the movie's release, which was moved from 2020 to July 9, 2021, according to Variety. The film was then pushed forward to April of 2021, and will now be released on July 2, 2021. Reports do continue to indicate that this is the franchise's final installment.
Who stars in The Forever Purge?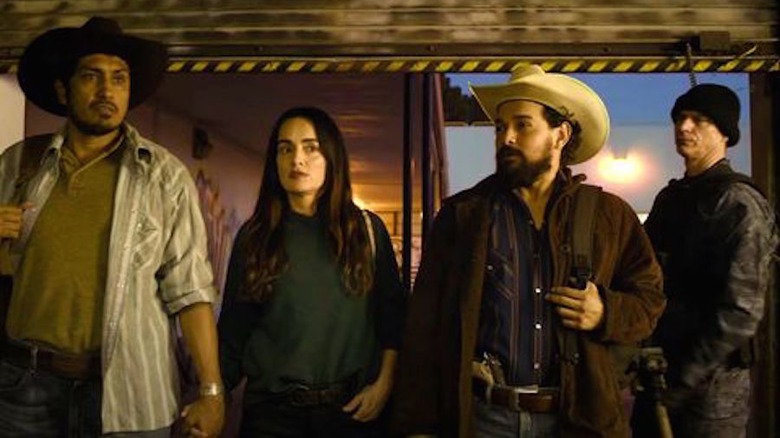 Universal Pictures
"The Forever Purge" will, as is characteristic for the series, plunge a whole new set of people into the franchise's typical stew of mayhem, violence, and anarchy. The characters will likely fall into the mold of the series' other heroes and heroines — they will be vulnerable, likable, relatable, and tough, but not superheroes who can resist the literal slings and arrows of their opponents. It's not just about surviving the night thanks to grit and good intentions; it's about taking what the universe hands you and making it count until the hysteria is over.
This final batch of "Purge"-ticipants have the talent and experience to make the audience root for their characters, as they try to avoid terrible deaths on the most dangerous night of the year. According to The Hollywood Reporter, Ana de la Reguera and Tenoch Huerta will head the cast. SlashFilm reports that the two actors play characters named Adela and Juan, respectively. THR has also announced that Will Patton and Cassidy Freeman will appear in the movie. Deadline notes that actress Leven Rambin signed on to the cast in January 2020, and Collider noted back in July 2020 that Josh Lucas will feature in the film, as well. Lucas, Freeman, Patton, and Rambin's roles in the film have not yet been named or described, and their characters are not included in the descriptions available from Universal at this time.
While very little has been released in regard to the supporting cast's characters and what they'll be doing in "The Forever Purge," this keeps the movie's general franchise-wide aura of mystery and foreboding intact. It's all very on-brand for DeMonaco and "The Purge."
What is The Forever Purge about?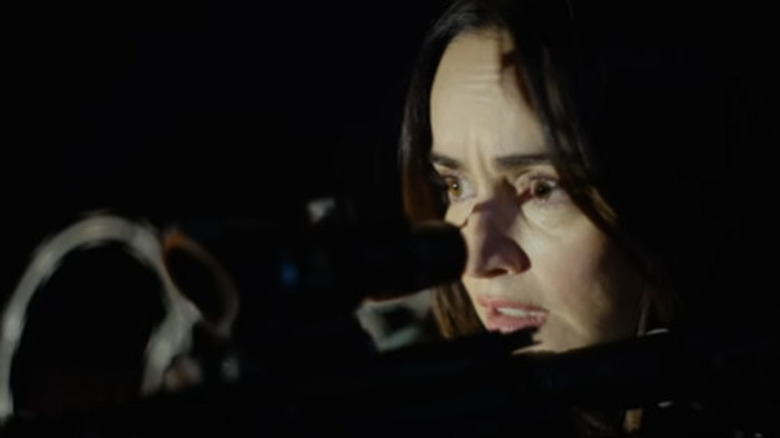 Universal Pictures
According to the logline published by SlashFilm, the movie focuses on a couple named Adela (de la Reguera) and Juan (Huerta), who have fled a drug cartel in Mexico to take up a peaceful life on a Texas ranch. Unfortunately, they've unwittingly walked into a world of trouble, as a group of angry locals have decided that they're going to take the law into their own hands and extend the typical 12-hour Purge curfew beyond its statutory time limit. Cue anarchy, as Adela, Juan, and their newfound friends team up to drive the outsiders away and restore order — or at least flee to safety and freedom in Mexico, if they cannot. This sounds like another exploration of class and racial animus, themes the series has previously plumbed for rich narrative material.
"It's an amazing story of Latinos and Americans coming together to overcome despair and evil," Everardo Gout told Total Film. "It's dystopian, but he's trying to get us to look in the mirror. It makes you think, 'S***, if I get pushed into a corner, would I do the same?' Once you open that door, how do you close it again?" 
James DeMonaco told Total Film that he hopes to "set the record straight" with this final edition of the franchise, hoping to set the franchise's themes in stone and strongly condemn the actions of the chaos-seeking Purgers once and for all.
Since "The Forever Purge" directly follows the Purge night detailed in "The Purge: Election Year," it would be fitting if Charlie Roan (Elizabeth Mitchell) showed up in the film somehow. But since her election takes place two months after that particular Purge night, her policies will likely not effect the events of "The Forever Purge."
Where can I see a trailer for The Forever Purge?
Universal released a first-look trailer for the movie to IGN on May 12, 2021, which promises a terrifying final chapter to the saga. 
In it, you can see the cast of characters relaxing as another Purge night passes, getting on with life and working on a quiet, plush ranch. Everything seems peaceful ... until it's not. One character finds herself trapped inside of a "Saw"-like hutch, ready to be sacrificed to a group of rabbit costume-wearing Purgers. While the characters can be heard crying out that Purge night is over, we quickly see that in the hearts of these Purgers that's simply not the case. Anarchy has officially descended on this quiet town. 
"There's no crime anymore. Anything goes," one character tells another.
"You rich can't hide behind your steel walls no more," says a cowboy hat-sporting character holding several characters hostage at gunpoint. "Powerless. How does that feel? This is the real Purge! The forever Purge!"
Bloody anarchy and mayhem proceeds to play out, as characters are battered, cars overturn, and houses burn. One character is pulled through a wall, and a motorcycle bursts through it moments later. The order maintained by the Purge nights has clearly begun to fall apart, and the bonds of society are entirely frayed. One character declares aloud that the nation is collapsing thanks to the actions of the Purgers. A group of characters hear that Mexico is opening its borders to the United States for six hours, which seems to set up a race for freedom toward Mexico. Among the many notable elements in this trailers is the unique, rural setting, a first for a franchise that has so-far preferred the claustrophobic confines of America's urban centers.
Where is The Forever Purge set in The Purge's timeline?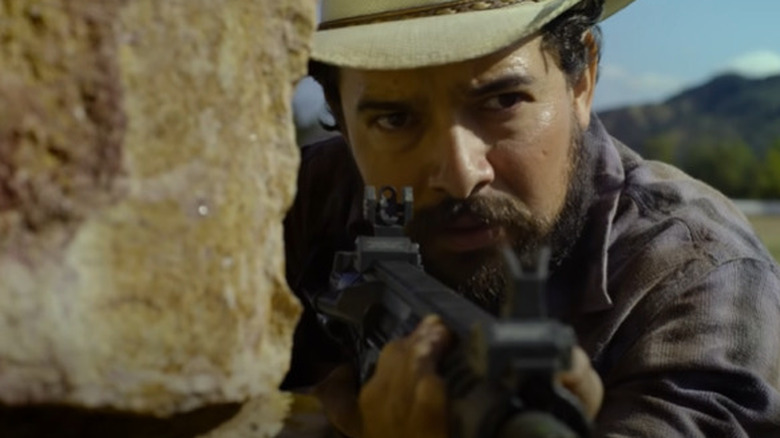 Universal Pictures
"The Purge" franchise's timeline has been pretty consistent over the previous four films. "The First Purge" is a prequel to "The Purge," which is followed by "Anarchy" and then "Election Year" in the timeline. USA's two-season long "The Purge" TV show takes place between "Anarchy" and "Election Year." "The Forever Purge" fittingly takes place after "The Purge: Election Year," according to SlashFilm. Since "Election Year" sets up a future where the Purge stands a strong chance of being completely concluded by the incoming president elect — in spite of violent counter-protests — this is perhaps a fitting starting point. 
Plot-wise, the series has always taken the form of an anthology, which gives the viewer a look at how different social classes react to the stressful hellscape that is "The Purge." There have only been two characters who have crossed over between editions of the franchise. Those characters are Edwin Hodge's "The Stranger," who appears in "The Purge" and "The Purge: Anarchy," and Frank Grillo's Leo Barnes aka "The Sergeant," who appears in "The Purge: Anarchy" and "The Purge: Election Year." Another constant across all iterations of the franchise is Cindy Robinson, who voices the public announcements that declare the Purge's ending and beginning. Robinson can in fact be heard in the trailer for "The Forever Purge."
Where can I watch The Forever Purge?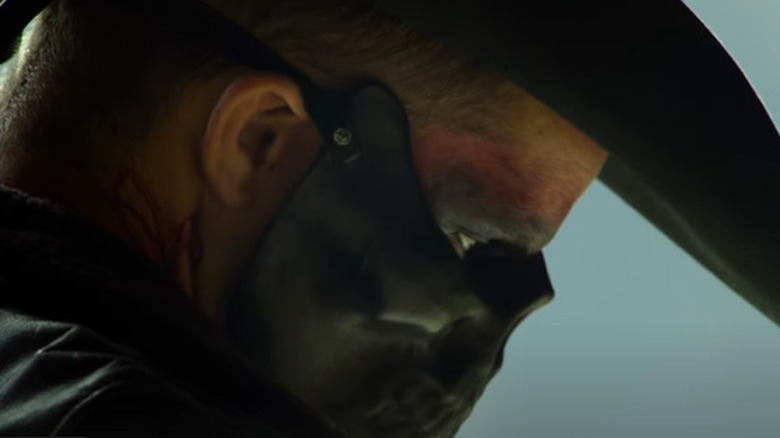 Universal Pictures
According to the trailer posted by IGN, "The Forever Purge" will be released theatrically, with no announced plans for a digital or streaming release, though one will surely follow eventually. It will be replacing Universal's previous pick for their July 4 weekend release, "Top Gun: Maverick," which has been shuffled over to November 19, according to Deadline. 
There's a financial reason why you won't be seeing the film on the small screen with any due haste. Universal recently struck a deal with Cineworld in the U.K. and Regal Cinemas in the U.S. for a new, post-pandemic, mutually agreed-upon theatrical window, according to Deadline. Regal Cinemas will have a 31-day exclusivity window on movies that open at above $50 million, and a 17-day exclusivity agreement for movies opening below that threshold. Cineworld will have a 31-day window prior to any sort of pay-on-demand service, extending to 45 days for any movie that opens at an agreed-upon box office milestone. 
What that means is that you won't be seeing "The Forever Purge" on demand for at least 31 days after its release. You will likely have to wait even longer for other streaming platforms to offer the movie if it happens to make a lot of money at the box office. All of this will definitely drive horror fans back to the post-pandemic movie theatre if they can't wait patiently for this final "Purge" installment to drop on demand.
No matter how long they have to wait to see the film's final installment, "Purge" fans will hopefully feel that "The Forever Purge" serves as a fitting final hurrah for one of the most bankable franchises in the modern horror canon.